This post has been kindly sponsored by Wayfair.
Happy fall! It's officially the season of giving, and Wayfair is ready to help you be generous with budget-friendly deals that also serve others! Wayfair's Save Big, Give Back sale starts today. During this sale, you can shop up to 70% off thousands of home decor items and get fast shipping! The holidays are approaching so now is the perfect time to spread the love to those in need.
During this annual charity sale, you can find discounts and deals on tons of home items and furniture. That means you can shop and feel good about yourself for supporting a great cause! Let's prep for all things hosting and festive and feel good while getting ready to make lifelong memories.
Best-Sellers on Sale
Here is my selection of some best-selling and highly-rated products on sale at Wayfair during this event!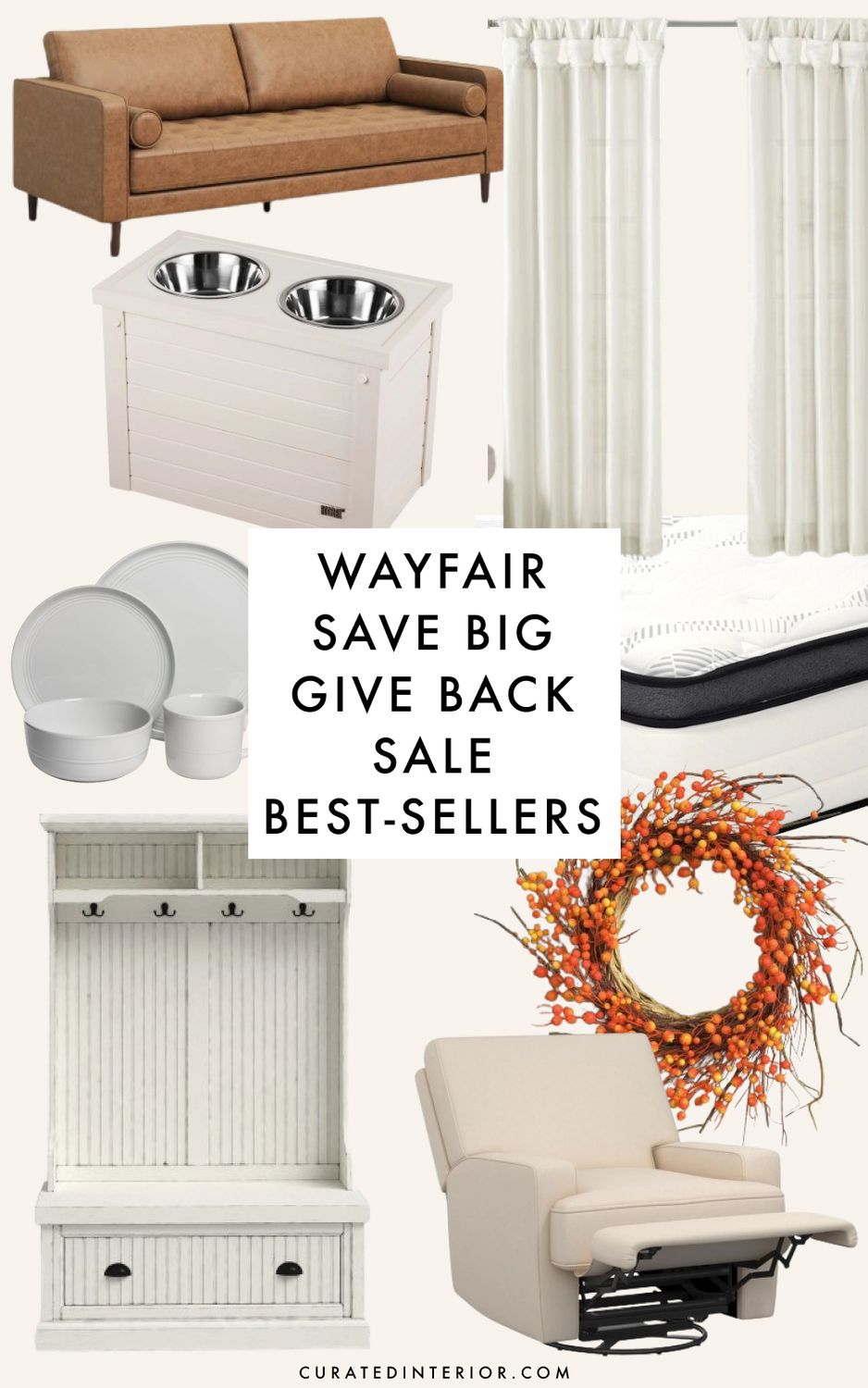 Deals You Can Expect
To get an idea of what you can expect to find during this sale, here are the main categories where you will find discounts!
Area Rugs Up to 70% Off
Bathroom Vanities & More Up to 50% Off
Bedding Up to 65% Off
Bedroom Furniture Up to 50% Off
Cookware & Bakeware Up to 60% Off
Curtains & Drapes Up to 60% Off
Entryway Furniture Up to 50% Off
Flooring & Hardware Up to 40% Off
Home Office Furniture Up to 50% Off
Kitchen Faucets & More Up to 60% Off
Kids Bedroom Furniture Up to 40% Off
Kitchen & Dining Furniture Up to 50% Off
Lighting Up to 60% Off
Living Room Seating Up to 50% Off
Major Appliances Up to 30% Off
Mattresses & More Up to 60% Off
Mirrors & Decor Up to 50% Off
Nursery Furniture Up to 40% Off
Pet Essentials Up to 40% Off
Small Appliances Up to 40% Off
Storage & Organization Up to 50% Off
Tableware Up to 50% Off
TV Stands & Living Room Tables Up to 50% Off
Wall Art Up to 70% Off
Fireplaces & Heaters Up to 40% Off
Seasonal Decor Up to 40% Off