Sectional sofas are the perfect sofa for medium to large-sized living rooms. When most people imagine their dream living room, there's usually a sectional sofa sitting front and center. A sectional sofa offers extra seating space without placing people too far apart the way accent chairs can.
Sectional sofas are integral to furnishing a cozy, intimate family room or living room. Most often, sectional sofas are found in homes with large families or people who host guests frequently. These sofas can easily accommodate 6 or more people with the right planning!
If you're thinking about purchasing a sectional sofa for your home, then keep reading to discover a few tips and considerations for this type of sofa. I'm confident that with the right research, you can find and purchase your dream sectional sofa and enjoy all the benefits that come with owning one.
Before Buying a Sectional
The most important thing you MUST do before buying a sectional sofa is to measure everything! Sectionals can easily overwhelm a room if you haven't properly measured the space and attempted to see how it will fit inside your room. You may want to move extra chairs or other furniture to stand in for a sectional you're thinking about buying. Make sure you have enough room to properly move about the space before deciding to buy.
Purchasing a sectional sofa is a big decision, but when correctly planned, it can be an amazing addition to your living room furniture!
How big should a sectional be? The size of a sectional sofa depends on various factors such as the available space, the number of people you want to accommodate, and the desired functionality. Your sofa should be the largest piece of furniture in the room, while still leaving ample space to walk around it if necessary as well as add 1 or 2 accent chairs nearby.
The size of the room is a crucial factor when choosing a sectional size. Measure the dimensions of your room and consider how much space you can allocate to the sectional. Make sure to leave enough room for movement and other furniture.
Determine how many people you want the sectional to comfortably accommodate. Pay attention to the proportions of the sectional in relation to the rest of the room and other furniture pieces. A sectional that is too large for the space can overwhelm the room, while one that is too small may look insignificant. Strive for a balanced and proportional arrangement!
Types of Sectional Sofas
There are many types of sectionals and some are even customizable. These are the three most common types of sectionals you can find.
Sectional Sofa with Chaise
These types of sofas are often called "L-Shaped Sofas" because the seat that sticks out from the normal sofa forms an L. This is the most common type of sectional sofa you will find for sale.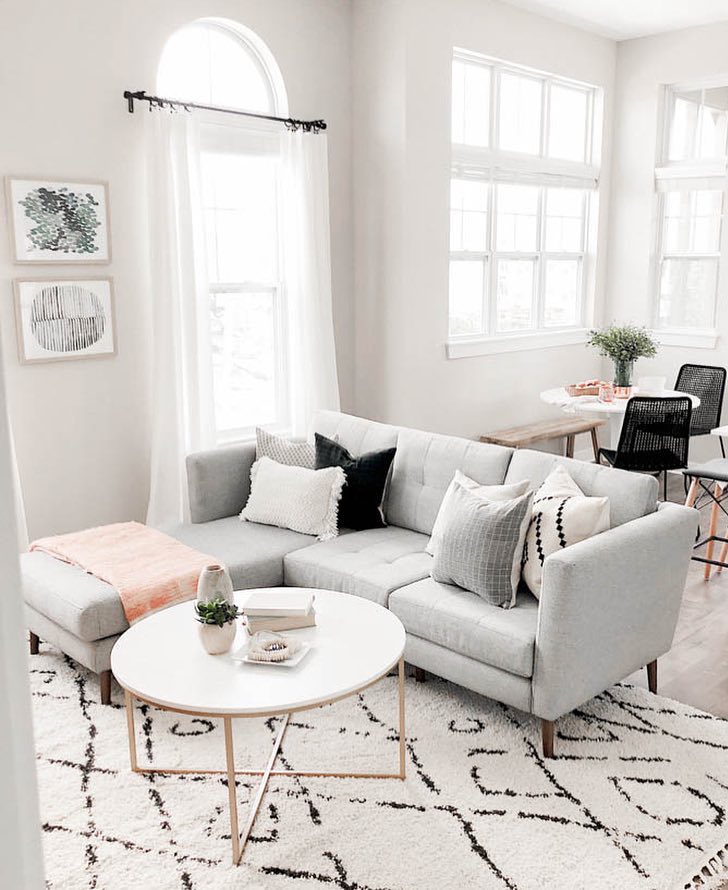 Corner Sectional Sofa
The corner sectional sofa is a symmetrical sofa with two equally long seating areas joined at the corner. These work best in long or square living rooms.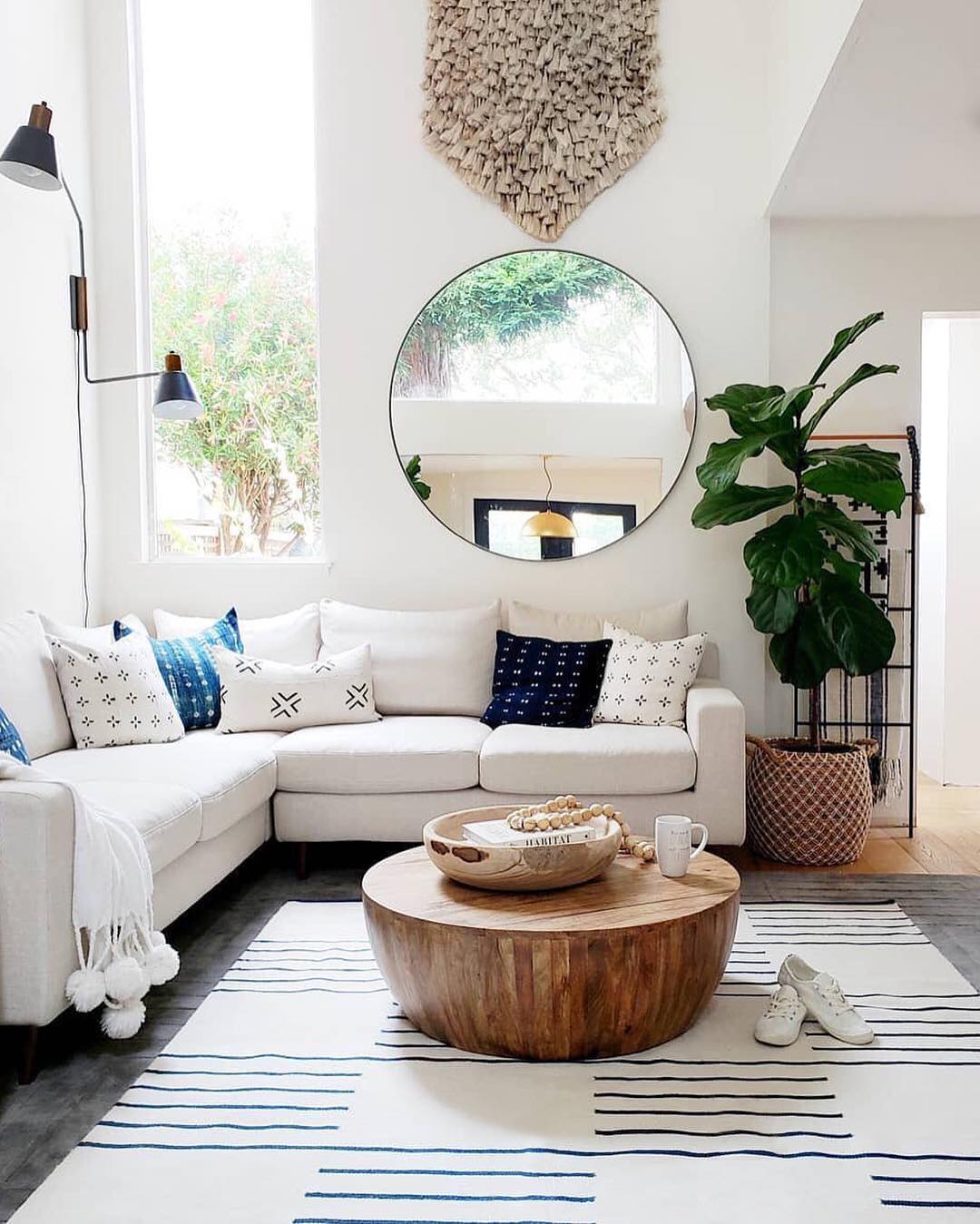 Three-Sided Sectional Sofa
If you have a lot of space, you may wish to purchase a 3-sided sectional which is essentially a conjoined sofa forming a U-shape. 3-sided sectionals foster conversations since people are sitting across from each other. Just be careful with this one – the three sides can close off the room to move. 3-sided sectional sofas are also called U-sofas.
Sectionals that Come Apart
Do sectional couches come apart? Some of them do! Some sectionals are assembled in pieces which means they need to lock together to be used. Sectionals that come apart tend to be cheaper and more versatile. They can be moved, rearranged, and configured to suit your needs. Make sure you have all the necessary parts to fasten and secure your sofa so it will stay together.
Left or Right Arm Facing Sectionals
One of the most important decisions you'll have to make when it comes to picking a sectional sofa with a chaise is deciding where it will be placed and which side you prefer to be extended.
Sectional sofas with the right side extended (when facing it) are known as "right arm facing" and sectionals with the left side extended are called "left arm facing."
When choosing between left or right arm facing sectionals, consider the layout and flow of your room. Stand at the entrance of the room and imagine facing the sectional—determine which side you would like the longer portion of the sofa to be on.
Think about the placement of other furniture, the location of doors and windows, and how you want the sectional to interact with the space. This will help you determine whether a left or right arm facing sectional will work best for your room.
Sectional Sofa Materials
Sectional sofas come in a variety of upholstery materials, just like regular sofas. When selecting materials for a sectional sofa, consider factors such as durability, comfort, aesthetics, and maintenance. Opt for sturdy and long-lasting materials like leather or high-quality fabrics that can withstand daily use. Consider the level of comfort you desire, such as plush cushions or firmer support. Choose materials that align with your desired style and complement the overall decor of your space. Lastly, consider the ease of maintenance and cleaning required for the materials, taking into account factors like stain resistance and durability against pets or children if applicable.
Leather
Leather sectional sofas are known for their sleek and luxurious appearance. They are typically crafted from high-quality leather, which offers durability and a timeless aesthetic. Leather sectionals can add a sophisticated touch to any living space and are relatively easy to clean and maintain.
Tufted
Tufted sectional sofas feature button or stitch detailing that creates a tufted effect on the upholstery. This style adds a touch of elegance and texture to the sectional, making it a visually appealing focal point in a room. Tufted sectionals come in various designs and materials, allowing for versatility in matching different decor styles, from traditional to contemporary. They provide a combination of comfort and visual interest, enhancing the overall aesthetic appeal of the living area.
Velvet
Velvet sectional sofas exude a sense of luxury and opulence with their soft, plush, and velvety texture. The rich and lustrous fabric adds a touch of elegance and sophistication to any space. Velvet sectionals are available in tons of cool colors, allowing for versatile styling options to match various interior design themes. While they may require a bit more care and maintenance compared to other materials, the luxurious feel and visual impact of velvet helps create a fashionable and inviting seating area.
Slipcovered
Slipcovered sectional sofas offer versatility and practicality. These sofas typically feature removable fabric covers that can be easily slipped on and off, allowing for effortless cleaning and customization. Slipcovered sectionals come in dozens of colors and patterns, offering the flexibility to change the look of your sectional to suit different seasons or decor styles. They also protect against stains, spills, and everyday wear and tear, making slipcover sectionals a practical choice for families with children or pets. Slipcovers can be washed or replaced when needed, ensuring the longevity and freshness of the sofa. That's always a good thing!
Where to Buy a Sectional Sofa
There are many high-quality sofa companies to shop from and find your dream sectional sofa. We rounded up a list of the most amazing sofa brands for your convenience!
Wayfair
Wayfair offers a vast selection of sectional sofas from various brands, making it a one-stop destination for finding the perfect sectional. The various styles, sizes, and price points ensure that there is something for every budget and design preference. Popular sectional sofas on Wayfair include the Mercury Row Morpheus Reversible Sectional and the Andover Mills Hemphill Reversible Sectional.
West Elm
West Elm is known for its contemporary and modern furniture designs. Their sectional sofas feature stylish aesthetics and quality craftsmanship. Popular sectionals at West Elm include the Build Your Own Andes customizable Sectional for contemporary homes, the Newport Modular sectional for coastal homes, the Urban L-shaped sectional for industrial homes, and the Harmony Down-Filled Sectional.
Pottery Barn
Pottery Barn offers modern country sectional sofas that blend comfort, style, and durability. Their sectionals are often made with high-quality materials and craftsmanship. Popular choices from Pottery Barn include the Pearce Upholstered 3-Piece L-Shaped Sectional with rolled arms for farmhouse and casual homes and the PB Comfort Roll Arm Slipcovered 3-Piece Sectional.
Crate & Barrel
Crate & Barrel specializes in timeless and well-designed furniture pieces. Their sectional sofas are known for their quality materials and sophisticated styles. Popular options at Crate & Barrel include the Notch Reversible Lounger sectional with storage and the Gather Deep 2-Piece Left Arm Chaise Sectional Sofa which is fully customizable. The store also sells an impressive collection of coastal sectional sofas for beach homes like the Oceanside, Pacific, and Tidal sofas.
Ashley Furniture
Ashley Furniture is a well-known brand selling affordable, casual sectional sofas to suit everyday tastes and budgets. Their sectionals often combine comfort, style, and affordability. Popular options from Ashley Furniture include the Cambri 2-Piece Sectional with Chaise and the Carnaby 5-Piece Sectional with Chaise.
Burrow
Burrow is a direct-to-consumer brand that focuses on modern, modular, and customizable sectional sofas. Their sofas are known for their high-quality materials, easy assembly, and built-in USB chargers. Popular options at Burrow include the Nomad Sectional and the Range Sectional.
Article
Article manufactures stylish and contemporary sectional sofas designed with both aesthetics and comfort in mind. Their sectionals often feature clean lines and minimalist designs. Popular choices from Article include the Sven Sectional and the Timber Charme Sectional.
IKEA
IKEA is recognized for its affordable and functional furniture options. Their sectional sofas often feature modular designs that can be customized to fit different spaces. Popular choices from IKEA include the KIVIK Sectional and the FÄRLÖV Sectional.
Designing a Living Room with a Sectional Sofa
Here are some tips for designing your perfect living room with a sectional sofa.
Where to Face the Sectional
Which way should a sectional sofa face? When thinking about the layout of the room, it's best for the chaise lounge part of the sofa to be placed at the far end of the main entrance to the room. This is to prevent blocking the natural flow of movement and traffic in your living room.
If there are frequently used entryways, pathways, or doorways, ensure that the orientation of the sectional does not obstruct the movement and allows for easy access to other areas of the room.
Placement Against a Wall
Should sectional sofas be placed against the wall? Placing a sectional sofa against the wall can be a practical choice in smaller or narrow rooms where space is limited. It can help optimize the available space and create a more open flow in the room. However, in larger rooms, pulling the sectional away from the wall can create a more spacious seating arrangement.
If your room has a natural focal point like a fireplace, a window with a view, or a TV, positioning the sectional facing that focal point can enhance the overall functionality and aesthetics. In this case, placing the sectional against the wall may not be the ideal choice.
Distance from the TV
How far should a sectional be from the TV? As a general guideline, it is recommended to place the seating area of the sectional at a distance that is approximately 1.5 to 2.5 times the diagonal screen size of the TV. For example, if you have a 50-inch TV, the seating area of the sectional should be around 75 to 125 inches (6.25 to 10.42 feet) away from the screen.
---
I hope this post helped you decide which sectional sofa is right for your home. Purchasing a sofa is never easy, but we're here for you if you need help! If you're designing for a small living room, then don't miss our guide to sectional sofas for small spaces.
Happy sofa hunting!