A lot of homeowners overlook their patio when it comes to decorating their house. But a patio can add a lot of uniqueness and personality to someone's home.
The right patio furniture can make your patio or porch feel like an extension of your home. That's why we recommend you invest in the best outdoor furnishings!
Here is how you can make your patio a relaxing and inviting place. These fixtures will make anyone want to stay outdoors every time.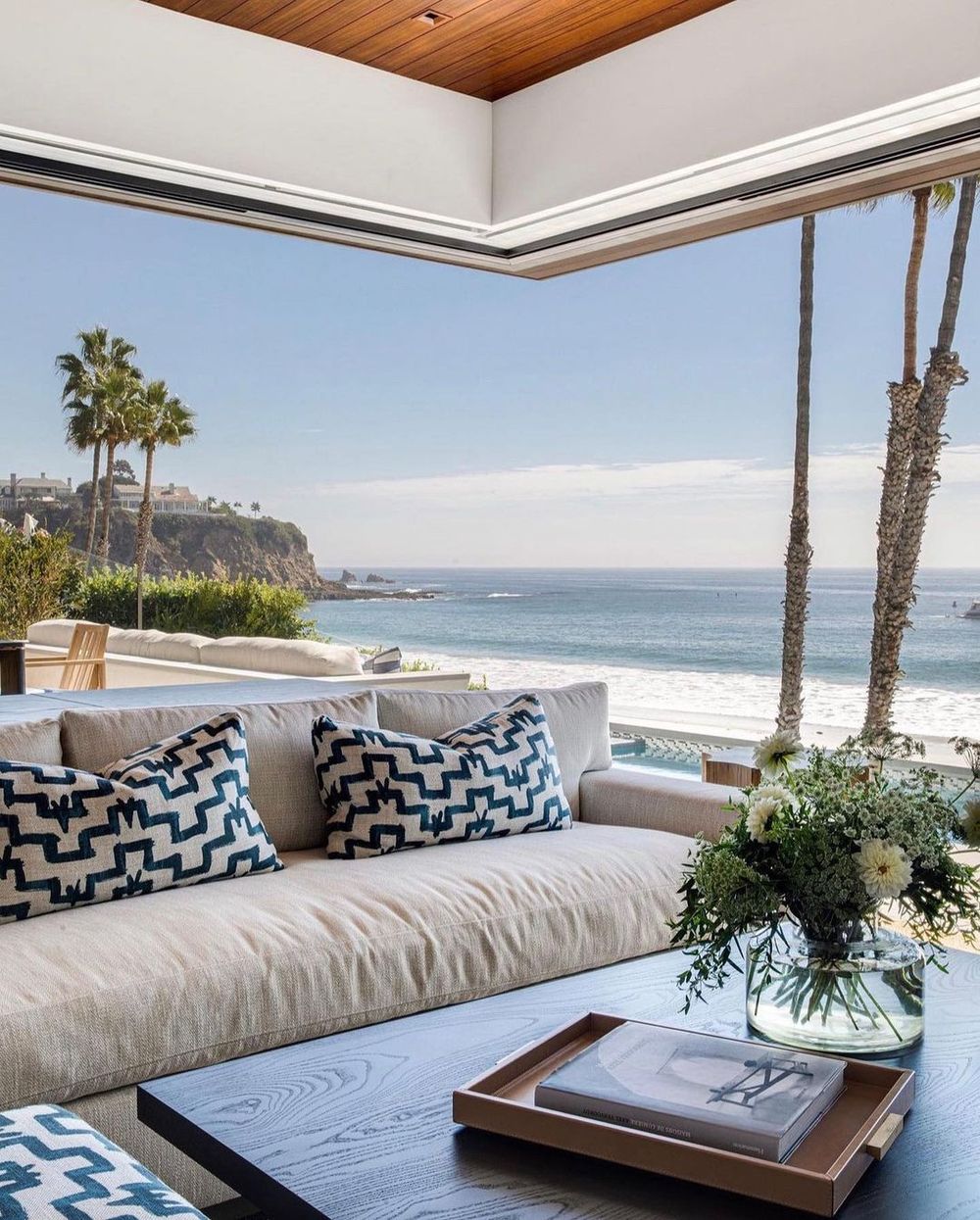 Patio Furniture: Make Your Patio Comfy and Homey
Spending time outdoors with the family is always a fun spring and summer activity. Make sure everyone is comfortable on your patio with these tips!
Patio Furniture Sets
When buying new furniture for your patio, you might come across different furniture sets. These sets will feature things like tables, chairs, and decor that will fit nicely in your outdoor space. They are a good option if you are on a tight budget. They are also uniformed in style, so you don't have to worry about mixing and matching.
However, if you are an adventurous decorator, a set may not be for you. A lot of furniture sets can be bland and uninspired. That cheap price tag can also mean a compromise in some departments, like in durability. So if you have an eye for decorating and some extra cash to spend, you can consider buying things separately.

Outdoor Patio Sofas
Patios are a great place to lounge with your friends and family. While having stylish furniture is good, you also want to think of comfort. That's where we recommend you buy a nice outdoor sofa.
A lot of sturdy outdoor sofas are made of heavy-duty material. They are made to withstand the toughest conditions while maintaining their appearance. Acacia wood and wicker are two outdoor-friendly furniture materials to consider when you search for patio furniture.
High-quality sofas are also ready to handle a lot of weight from sitting and lying down.

Patio Sectionals
If you have a large family, or you just want everyone to be able to sit comfortably, consider a patio sectional sofa.

Wood Bench
A great wood bench can seat several people comfortably on your patio. Benches can sit by themselves against a wall near your front door or on their own elsewhere.

Porch Swing
Hang a porch swing from your roof and sway gently to create a soft breeze. This is a classic patio furniture piece that will bring you plenty of enjoyable moments outdoors.

Outdoor Patio Chairs
Like sofas, a good outdoor patio accent chair can make your patio look stunning. Patio chairs can be both fashionable and practical. Similar to sofas, a lot of accent chairs are made with sturdy and stylish material. They also come in different shapes and sizes that can fit your patio perfectly.
Accent patio chairs work great when matched with the right table. You can also combine your accent chair with a good-looking outdoor plant or accessory.
Egg Chairs
Patio egg chairs have become hugely popular on Instagram! You can find a variety of black or beige patio egg chairs online from different retailers. Here are the ones we recommend:

Adirondack Chairs
There's nothing that says summer in America like a good old-fashioned white Adirondack chair! Having a pair of these on your porch or backyard is always a smart idea for that all-American look. Made of sturdy acacia wood that can weather the elements, this is one piece of patio furniture that will last a lifetime.

Patio Rocking Chairs
My parents always loved sitting on their front porch and slowly rocking each morning in their patio rocking chairs. You really can't go wrong with a great set of patio rocking chairs!

Outdoor Chaise Lounge Chair
If you want to recline and keep your feet up, then a patio chaise lounge chair is the perfect idea for you!

Hammocks
Many people love lounging on a hammock – which is a netting that stretches from one tree to the next allowing one or two people to gently sway while being suspended in the air. It's a lovely experience on a warm summer day and I highly recommend installing one if you have the space! You can also purchase freestanding hammocks for your patio if you don't have trees available.

Patio Tables
Whether you go for a larger coffee table or just a small side table, make sure you have a low to the ground table available for keeping coffee, flowers, and other small items on your patio nearby.

Patio Umbrellas
Lastly, a good patio umbrella is a must if you live in a hot climate with a wide-open space. While trees can often do the job of providing shade from the hot summer sun, sometimes you need a dedicated patio umbrella to shield you from UV rays. Patio umbrellas come in a variety of sizes and shapes these days so you can surely find one that suits your needs.s Just be sure to measure your space and the area you need to cover beforehand!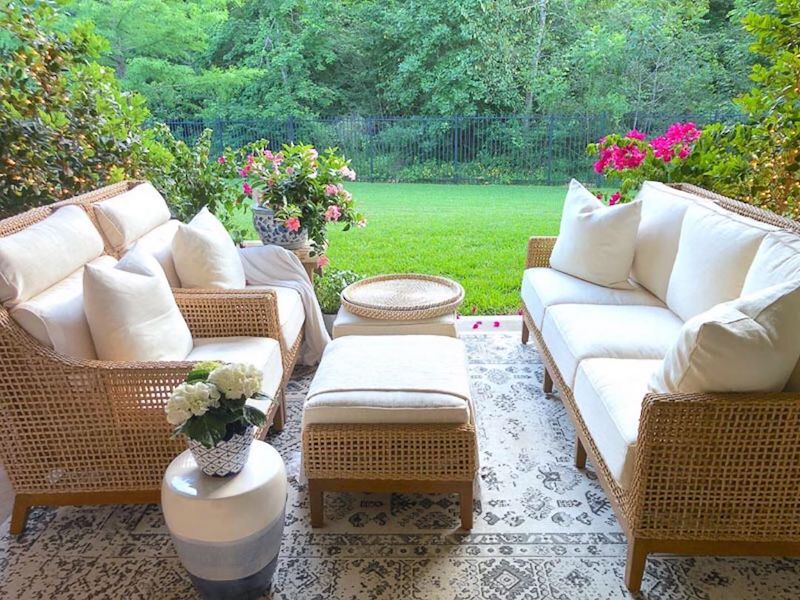 Caring for Patio Furniture
Patio furniture, like anything in your home, requires care and maintenance. A big difference with outdoor furniture is that they are made to handle the toughest of conditions. Still, your furniture needs regular cleaning to stay in mint condition.
Regularly wiping your furniture is the first step in the right direction. You can also periodically wash your sofa and chair covers to maintain their high quality. Make sure to use gentle cleaning products to avoid damaging your fixtures.
The environment also plays a big role in the lifespan of your furniture. Mold and mildew are things to consider when treating your furnishing. You may also want to store them away when calamities come.
Patio furniture can bring your outdoor space to life. Buying the right ones can make the outside of your house feel like a part of your home. Investing in your patio will be worth it for you and anyone who happens to be in your residency.
More Outdoor Decor Ideas
Decorating the outside of your home is always a priority during the warmer months! Here are some related ideas to inspire you!