If you are due for a good to remodel, think about adding a large kitchen island. Developing a plan and getting ideas of how you want it to look is essential before knocking down walls. However, there are a variety of kitchen islands available to chose from. A kitchen island will add drawers and free up counter space especially if you replace your countertop sink.
Kitchen islands are an amazing addition to any kitchen. If you are removing a wall or just adding a kitchen island to clear up counter space, the kitchen island is a perfect addition. Several types of kitchen islands are available. Permanent islands are the most common type of kitchen island installed in homes.
But you don't have to do construction if you don't want to. A portable island is a budget-friendly way to create additional space to work or extra seating for the kids. You can easily buy one for a couple hundred bucks at a home improvement store. They often have wheels making them movable where you would like!
If you do want to build a built-in kitchen island, the main appliances to consider installing on the island are a sink or a stovetop. A cut-out will be needed for these on the countertop. You could also leave the island purely for storage with cabinets beneath and a solid countertop with no cut-out.
Reap the Benefits of a Kitchen Island
Contractors find that a kitchen island is a huge marketing bonus for the home buyer. I would buy a home with a large island before I would choose a kitchen without one. Simply for the fact of having a place for kids to gather and grab a quick bite or to come to share about their day as I cook the evening meal. I have everything right at my fingertips. I have a sink, a stovetop, cupboards, and drawers with all my utensils and gadgets. I can rinse my vegetables and fruits before preparing them and have the space to let them dry.
I simply cannot imagine living without a kitchen island anymore. Everything I need is right there. Most commonly, homeowners will hang their pots and pans above the island to allow for even more cupboard space. I personally love the look of an island with pots and pans suspended from the ceiling on a nice pot rack. It looks organized and expensive. Tons of counter space allows for nice decor and appliances like a stand mixer or toaster oven. Central cooking and cleaning space seem more organized and convenient.
What Does a Kitchen Island Cost?
How much does it cost to build a kitchen island? A kitchen island build will cost around $5,000, but depending on where you live, the price to add a kitchen island could range from $3,000 up to $7,000. If you live in an expensive city like L.A. or New York, the price could go even higher!
Kitchen Island Cabinets
The majority of kitchen islands will have cabinets for storage. Sometimes people use a long table as a kitchen island, which has a lower open shelf. The good thing is that your kitchen island cabinets don't necessarily have to match your existing kitchen cabinets along the walls. Contrasting kitchen islands are a thing, so you don't have to worry about the design matching if you have an older kitchen!
Kitchen Island Countertops
The kitchen island countertops, on the other hand, should probably match your existing kitchen wall countertops. You can likely make it work regardless, but now could be a good time to replace your old kitchen countertops if you're adding an island so that everything matches!
How high should your kitchen island countertops be? Should you install an upper eating level and a lower food prep level? No. Generally speaking, the island countertops should be on the same level. Multi-height island countertops went out of style several years ago, and in most remodels I've seen, a single-level countertop has been installed!
Types of Kitchen Islands
Let's go over the major types of kitchen islands so you can start thinking about which one is right for your kitchen space!
Kitchen Islands with Seating
A kitchen island with seating is always a safe bet. Having the ability to host breakfasts, apéritifs before dinner, and other small meals is a huge benefit to having a kitchen island. You'll want to purchase some counter chairs or bar stools to ensure your guests are comfortable at the kitchen island!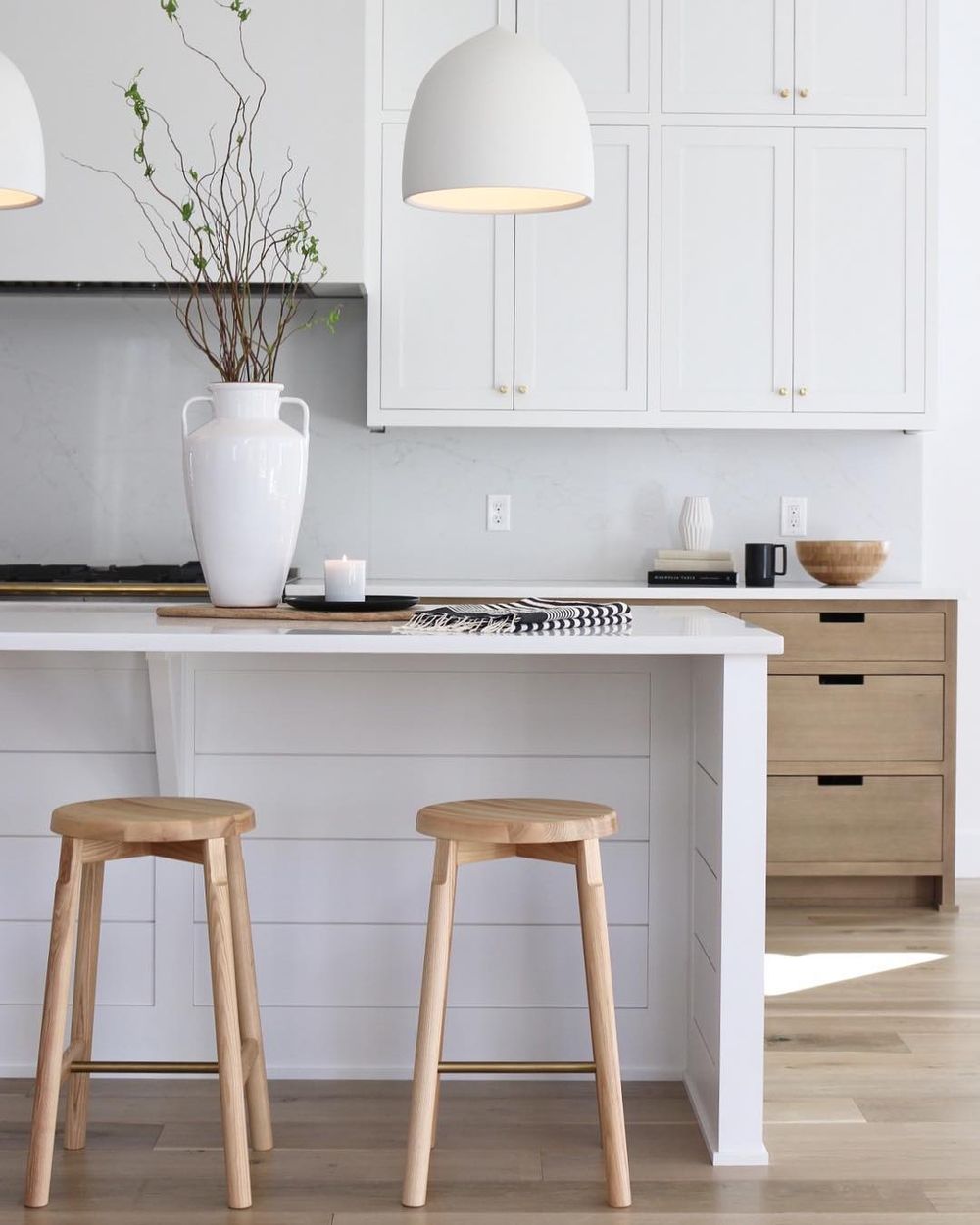 Kitchen Islands with Storage
Another big benefit of having a kitchen island is the ability to have storage beneath the countertop. Kitchen islands with storage typically have cabinets or open shelves on all sides. You can find some with a mixture of the two which always makes for an interesting design. Sometimes appliances like a small wine cooler can be installed below the kitchen island for easy access, too. Let's be honest; you can never have too much storage at home!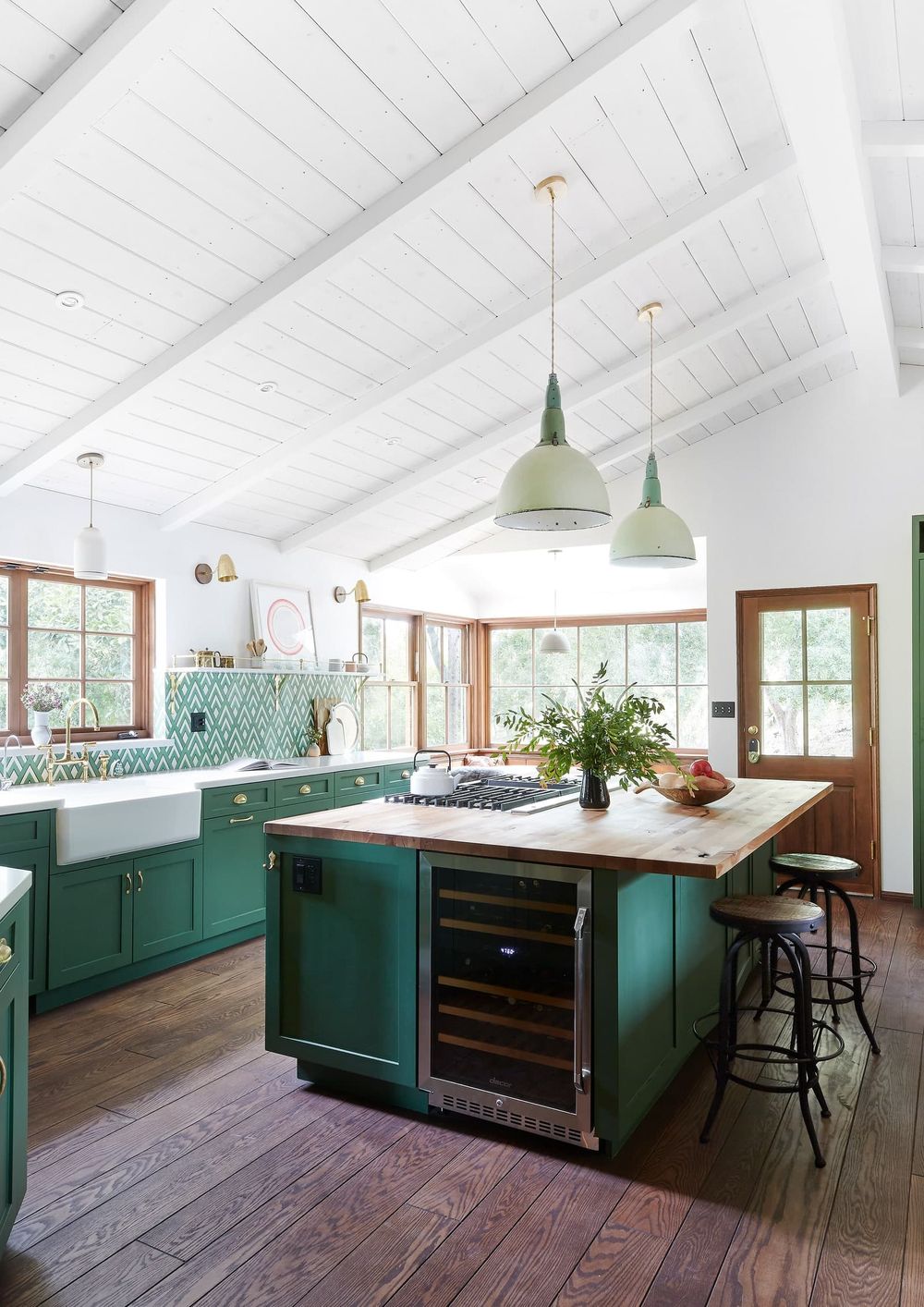 Double Kitchen Islands
Double kitchen islands are kitchens with two separate islands in one kitchen. They allow you to make use of different spaces for different purposes. One could be for making meals while the other one is for serving meals and light snacks. Here are examples of kitchens with two islands!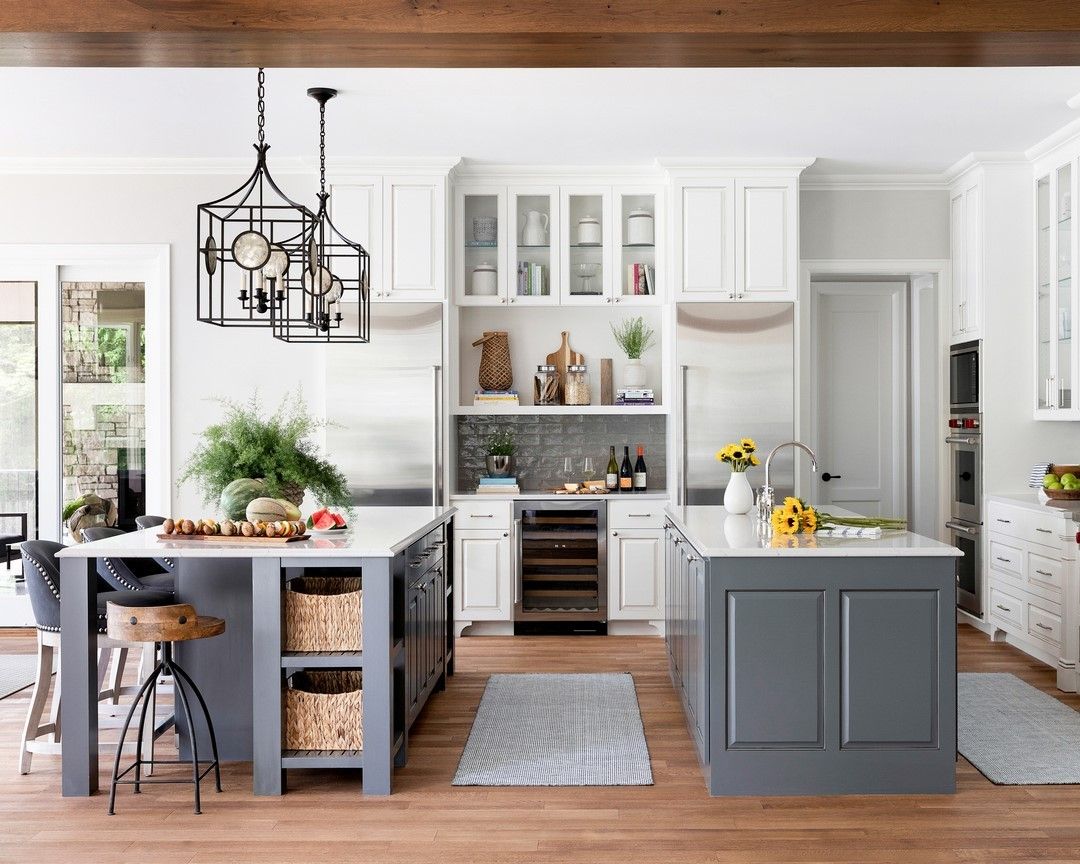 Common Kitchen Island Shapes
You can find kitchen islands in many different shapes, but the ones that I believe are the most beautiful are simply rectangular. Square kitchen islands won't give you much space to work on, and I believe oddly rounded ones just won't age well.
Rectangular
Rectangular kitchen islands are straightforward and I believe that they will stand the test of time for their simplicity and practicality. They offer the most amount of storage, too, when designed for your space.
Square
Square kitchen islands work best in large kitchens that are shaped like a square. This design will certainly give you the most storage space since they tend to be on the larger side.
Rounded
Rounded kitchen islands are typically rounded at just one side and they allow for a more interesting design in the kitchen. The big benefit is that they allow people to slightly face each other if they are said seated around the rounded edge of the island. This makes for an environment that is more conducive to conversation and community.
Islands for Small Kitchens
If your home is on the smaller side, a small kitchen island is perfect for you. I don't make the mistake of thinking that kitchen islands are only for large homes. What are you go for a mobile kitchen island or a very small stationary one there are plenty of ways to incorporate a small kitchen island in your home.
Narrow Kitchen Islands
Working with a small kitchen space can be tough and even more so if the area is narrow. Kitchen islands aren't commonly found in galley-style kitchens but you can still make it work if it's really your dream to have a kitchen island in a narrow space. You could tear down the upper cabinets of one wall and open that up to the adjacent room. The lower cabinets would be turned into an island (rather, a peninsula) and you could use it as a serving bar if space allows.
Extra Large Kitchen Islands
Large and oversized kitchen islands are great for large families and people who have lots of guests over often! These islands tend to be square since they can cover large floor space. Installing an extra large kitchen island at home will obviously increase your construction costs.
Kitchen Island Materials
Kitchen islands can be made from several different materials. The island cabinets are typically wood and the countertops can be made of different surface materials.
Marble Kitchen Islands
The hottest kitchen design trend is definitely installing a beautiful marble island in the middle of the room. Marble kitchen islands are stunning and practical for adding value to your home.
Butcher Block Kitchen Islands
Butcher block kitchen islands are similar to your standard kitchen island, but instead of a stone covering a portion of it, a large piece of wood is installed, which serves as a place to cut fish, meat, vegetables, and other household foods. Wood is perfect for preventing your knives from dulling, and it can be sanded down once it gets too cut up. Kitchen islands with butcher blocks are best for people who want professional elements in their kitchen!
Creative Kitchen Island Ideas
There are lots of creative ways to install a kitchen island in your home and really make it your own! Here is an example of a standard kitchen island with a dining table attached to the end of it. This creates ample space for quick meals like breakfast without using a formal dining room.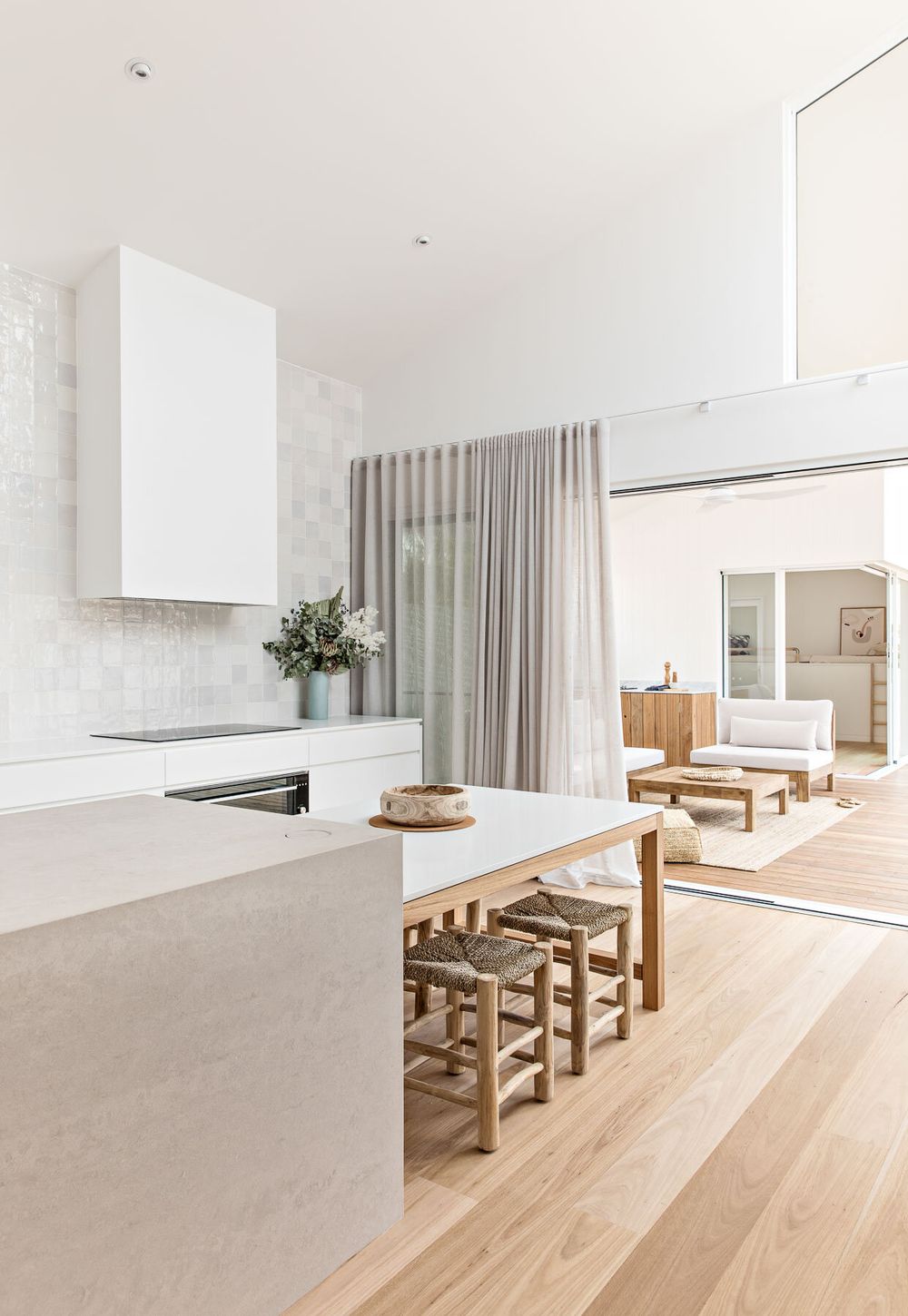 Kitchen Islands Styles
Here are some popular kitchen island styles to keep an eye out for if you're going for a contemporary kitchen design.
Warm Neutral Kitchen Islands
Having a warm and neutral kitchen design filled with brown and beige tones is a great way to set a calming mood in your kitchen.
Farmhouse Kitchen Islands
We love modern farmhouse kitchen islands for their practical design and family-friendly appeal.
Modern Kitchen Islands
Contemporary homes will benefit from having the most modern kitchen island design possible. Check out these modern kitchen design ideas.
Kitchen Island Lighting
The last thing to consider is how you want to light the area. Many people turn to pendant lights to brighten up the working space of a kitchen island since they are not next to the windows bringing in natural light. Plus, you may even block the sunlight if you are standing against your kitchen island as you work. Adding two to four pendant lights is typically the best way to illuminate the kitchen island countertop!
---
As you can see there is an extensive selection of kitchen island design options available for you to choose from.
Whether you are remodeling or looking for a house, think of kitchen islands and their options for more space and centralized cooking and gathering. Design and space are extremely important to your taste and style. I have a deep fryer, grill, and griddle on the side of the stovetop. These enable me to cook anything in any style at the same time. I didn't like how I had to eat whatever was put on the table when I was young. I like to cook to make everyone happy. I can cook a pancake, a steak, and a plate of french fries all at the same time.
Talk to a contractor and make sure your needs are met and you get your money's worth. This is an expense that shouldn't be taken lightly – to meet the needs of your family and make your job easier. On the last note, I am now able to teach my kids how to cook! I have tons of space to move around and be able to watch them and assist them while showing them what to do.