When deciding what features to include in your kitchen, a kitchen with a contrasting color island may be a great option for maximizing space while also designing a unique and custom look. Contrasting kitchen islands that are a different color than the surrounding wall cabinets can really make a space pop!
No matter what color you choose, kitchen islands are particularly useful for large kitchens, adding additional countertop space and making extra options available such as a small sink or dining area. Your kitchen is essential for living the lifestyle you desire most, and putting a kitchen island in place can contribute to meal prep activities, cleaning, dining, and more.
Depending on what you enjoy doing most in your kitchen, kitchen islands are a powerful way to create a more practical space that's customized to your needs. Whether it's baking bread, making coffee, or simply storing cooking appliances, kitchen islands can be customized to your liking to enhance your daily routine.
Add an extra oven, or enjoy TV time while eating, and kitchen islands may feature a wide range of colors and styles to choose from for a complimentary look that won't go unnoticed. Those looking to add value and usability to their home should strongly consider a kitchen island as a functional update that will last long into the future.
Each kitchen area is unique, and so should be the design of your contrasting kitchen island. Smaller kitchens will need a smaller island, which could feature a small sink or simply added countertop space for meal preparation such as cutting vegetables or grilling. Larger kitchens may have a kitchen island with a dishwasher, trash compactor, or a small beverage refrigerator for wines or any drink of choice. These areas can feature gorgeous hardwoods, marble, or a select material that matches your existing countertops and creates the look you want.
Contrasting Kitchen Islands
Including a contrasting kitchen island in your home is a considerable option for families looking to add dining space where conversation and casual meals can take place. Add stools for a convenient breakfast bar, or enjoy fast access to your most often used blenders, food processors, waffle irons, or anything you choose.
Designing a kitchen with a contrasting kitchen island color for cabinets can add visual interest and depth to your space. Here's a guide to help you get started:
Choose a color scheme: The first step is to select a color scheme that complements the rest of your kitchen. Consider the color of your cabinets, countertops, backsplash, and flooring. You can choose a contrasting color that complements your existing color scheme, or you can go with a bold, contrasting color that makes a statement.
Select a countertop material: The countertop material you choose can make a big impact on the overall look of your kitchen island. Consider the durability, maintenance, and aesthetics of materials like granite, marble, quartz, or butcher block.
Choose a cabinet style: The style of your cabinets can also impact the overall look of your kitchen. Choose a cabinet style that complements your existing cabinets or opt for something completely different to make your island stand out.
Select a finish: The finish of your cabinets can also impact the overall look of your kitchen. Consider finishes like matte, gloss, or satin to add texture and dimension.
Determine the size and layout: The size and layout of your kitchen island should be determined based on the size of your kitchen and the function of the island. Consider how you will use the island and how much space you will need for storage, seating, and preparation.
Choose contrasting hardware: Consider adding contrasting hardware to your kitchen island to add visual interest. This could include drawer pulls, cabinet handles, or knobs that are a different color or material than the rest of your kitchen.
Consider lighting: Lighting can also make a big impact on the overall look of your kitchen island. Consider pendant lighting or cabinet lighting to highlight your island and add warmth and ambiance to your space.
Add finishing touches: Once your kitchen island is installed, add finishing touches like bar stools, decorative accessories, or plants to make your island feel like a cohesive part of your kitchen design.
Make the Island Pop
This kitchen is mostly white but the kitchen island pops with a forest green color. This prevents the kitchen from being too overwhelmed with color at once.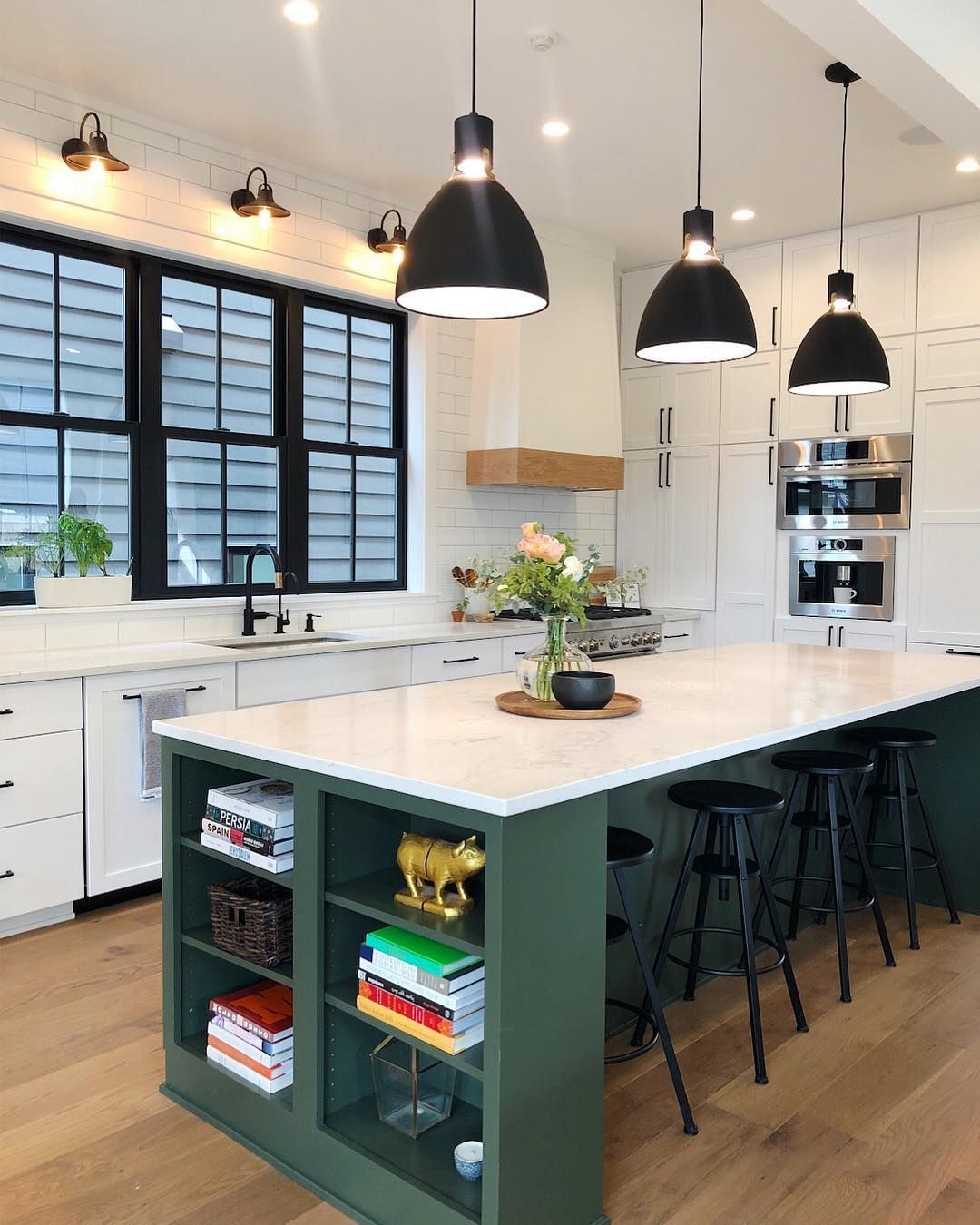 Contrasting kitchen islands should integrate into the design found throughout your kitchen in other ways besides the cabinet color for an elegant and seamless appearance that makes your time spent in the kitchen more enjoyable. Commonly found in many of today's homes, these features are a thoughtful focal point that can add balance to the flow of a variety of kitchen areas.
Match it with the Wallpaper
This bright pink kitchen island suddenly matches the tones in the wallpaper backsplash against the wall.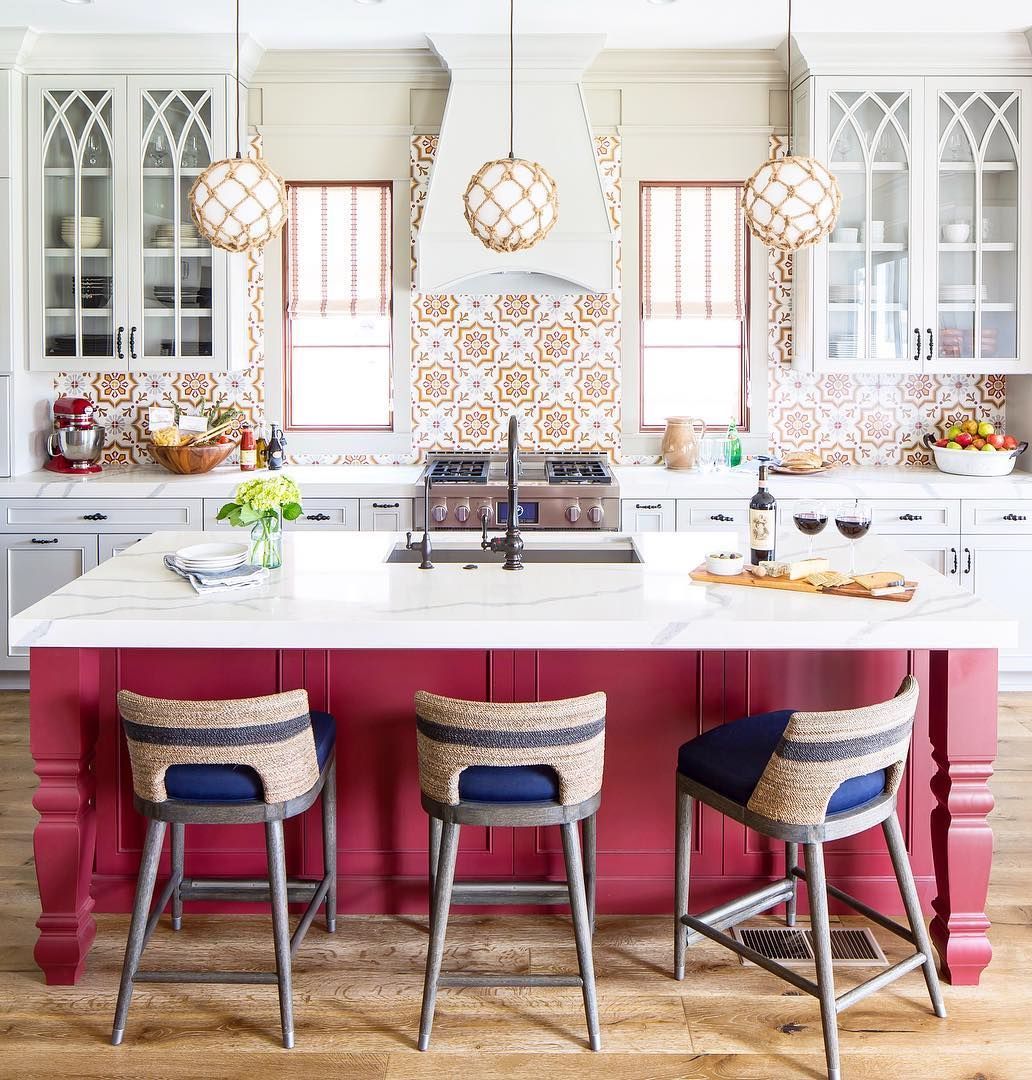 When deciding whether a contrasting kitchen island is right for you, don't forget to consider what you spend the most time doing in your kitchen. This will help you install a kitchen island that you'll get the most value from and help you make meals and drinks you'll truly enjoy. Also, take note of how much room you have to work with and how many people you'll be cooking for regularly. With the proper vision and goals, you may find that a kitchen island quickly becomes an indispensable part of each and every mealtime. Make sure to assess all available options, and don't forget to consult with a professional renovator or designer to answer any questions you may have along the way.
Go Neutral
A neutral wood kitchen island is always a safe bet. This blonde wood kitchen island looks great paired with white cabinets and white subway tile backsplash. The brass cage pendant lights hanging from above also bring some warm tones into this cool white kitchen. The wood is also reflected on the edge of the range hood.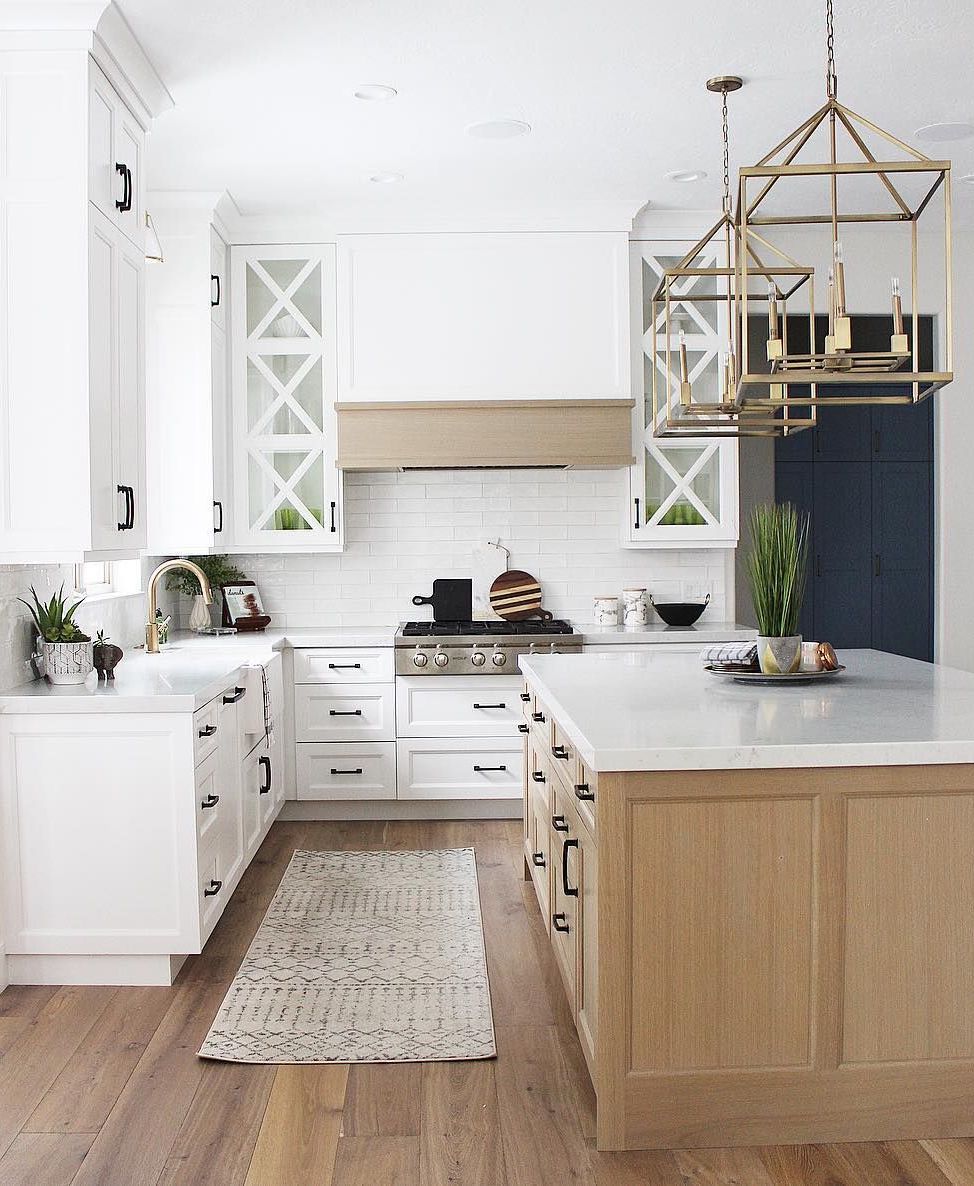 More Kitchen Design Ideas
I hope you found this article on contrasting kitchen islands useful and inspiring. If you are in the process of redesigning your kitchen, then you might be interested in some of these recent kitchen decor and design articles: