When it comes to decorating the central piece of furniture in your bedroom, you may be considering a headboard. Headboards are a great way to show off your personal decorative style. They are typically easier to install than a large frame bed, and add just as much charm if you choose the right one.
Headboards are not only pretty, but they are functional too. Headboards hold the mattress and bed frame in place, so they don't slide around as you get in and out of bed. They also provide back support if you want to sit up while in bed.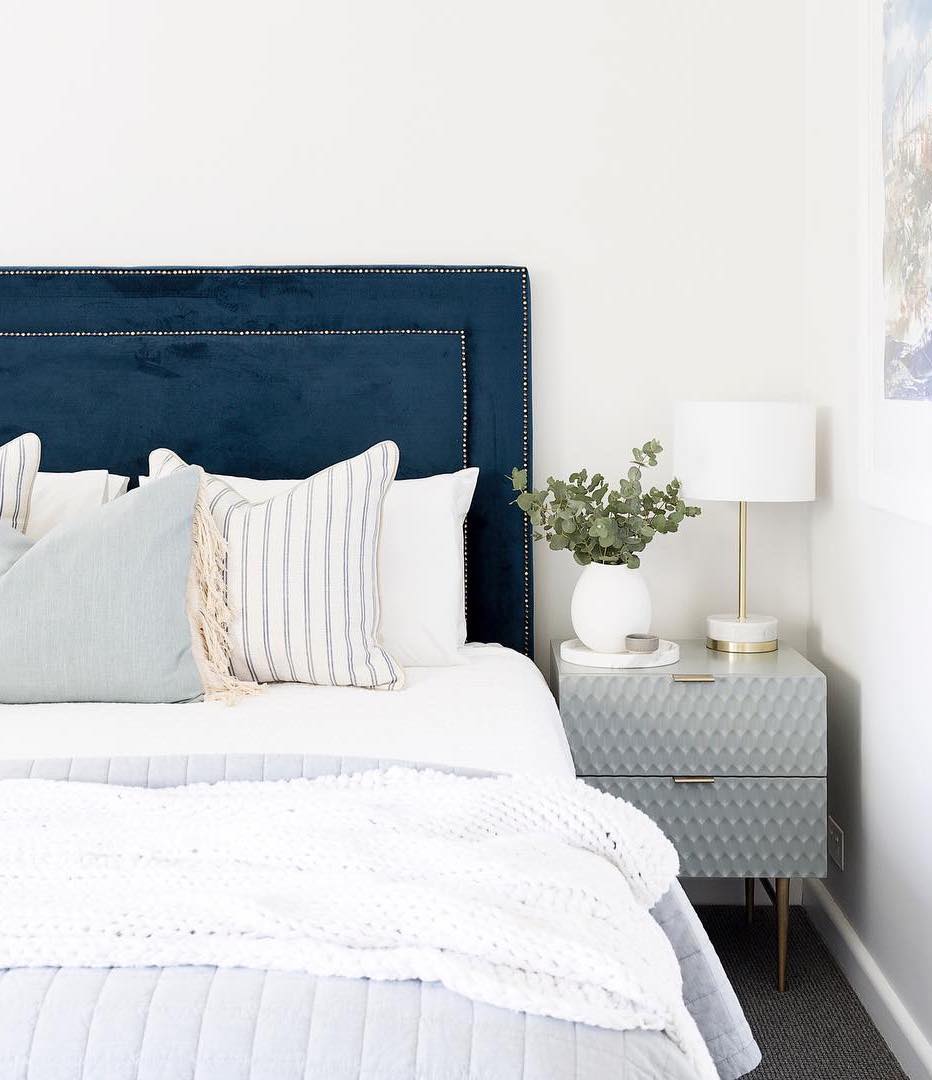 @heliconia.com.au
Types of Headboards
There are many different types and styles of headboards. The most popular options are:
Upholstered Headboards
Upholstered headboard are soft boards that can be upholstered in a variety of fabrics from linen, to cotton, velvet or even polyester.
Wood Headboards
Wood headboards can come in a variety of styles, and give your bedroom a rustic feel. Sometimes wood headboards frame upholstered sections, and other times they are just solid wood.

Iron & Metal Headboards
A wrought iron headboard will add a vintage, industrial feel to your bedroom.
Rattan & Cane Headboards
Cane back headboards are often found in French style bedrooms. Rattan is a great material for coastal headboards.

What to Consider Before Buying a Headboard
There are a few things you need to ask before buying a headboard. Namely, you want to make sure it's something you really want. Reflect on the headboard you choose. Don't purchase it on a whim, as you'll have to see this headboard every night before bed!
Ask the retailer if the headboard comes with a warranty. Headboards made of synthetic materials are more likely to break down, and the last thing you want is to have to change out your headboard shortly after installing it.
You'll also want to make sure the headboard you choose can fit through your home's doors, stairways and walkways. You would be surprised how large headboards can be when packaged, and the last thing you want to do is bang up your home trying to get it to the bedroom!
Headboards by Style
If your home is already decorated in a particular theme, you may wish to stay consistent with the headboard you choose. Luckily, you can find a plethora of headboards by decor theme online. Here are a few examples:
Farmhouse
French Country
Industrial
Mid-century
Scandinavian
Coastal
Parisian
Bohemian