It's the most wonderful time of the summer! One of the most anticipated summer celebrations is the 4th of July. Not only does this festive holiday celebrate American independence, but it also comes with an array of festivities such as fireworks, picnics, sparklers, family gatherings, beach parties, and parades. The red, white, and blue color scheme is simple, yet offers so much versatility when it comes to patriotic decor and home decorations. Let's explore the best ways to decorate your home this 4th of July and read up on the latest trends.
Farmhouse 4th of July Decor
One of the most popular and admired decor themes is the modern farmhouse style. From rustic and charming to cozy and relaxing, farmhouse decor is full of character. Farmhouse decor includes beautiful aesthetics and ties the old with the new. Farmhouse 4th of July decor is also a simple and practical method of patriotic decorating as it repurposes items you may already have at home! Here are the top Farmhouse 4th of July decor ideas.
Flags in Glass Jars
You can put American flags in glass jars of different sizes and decorate with them around the house. From the mantel to the entryway table, this is a simple and easy patriotic decor idea!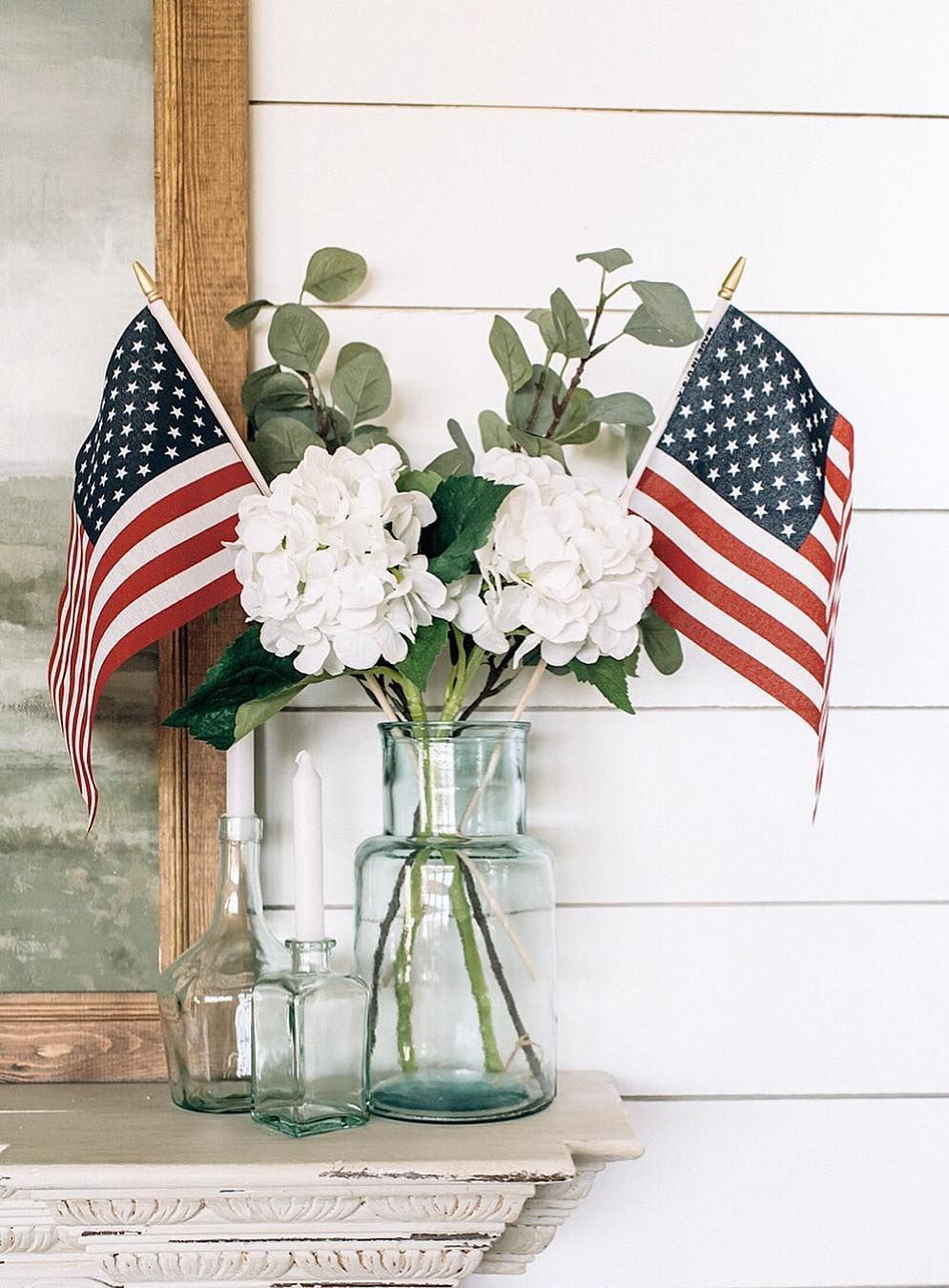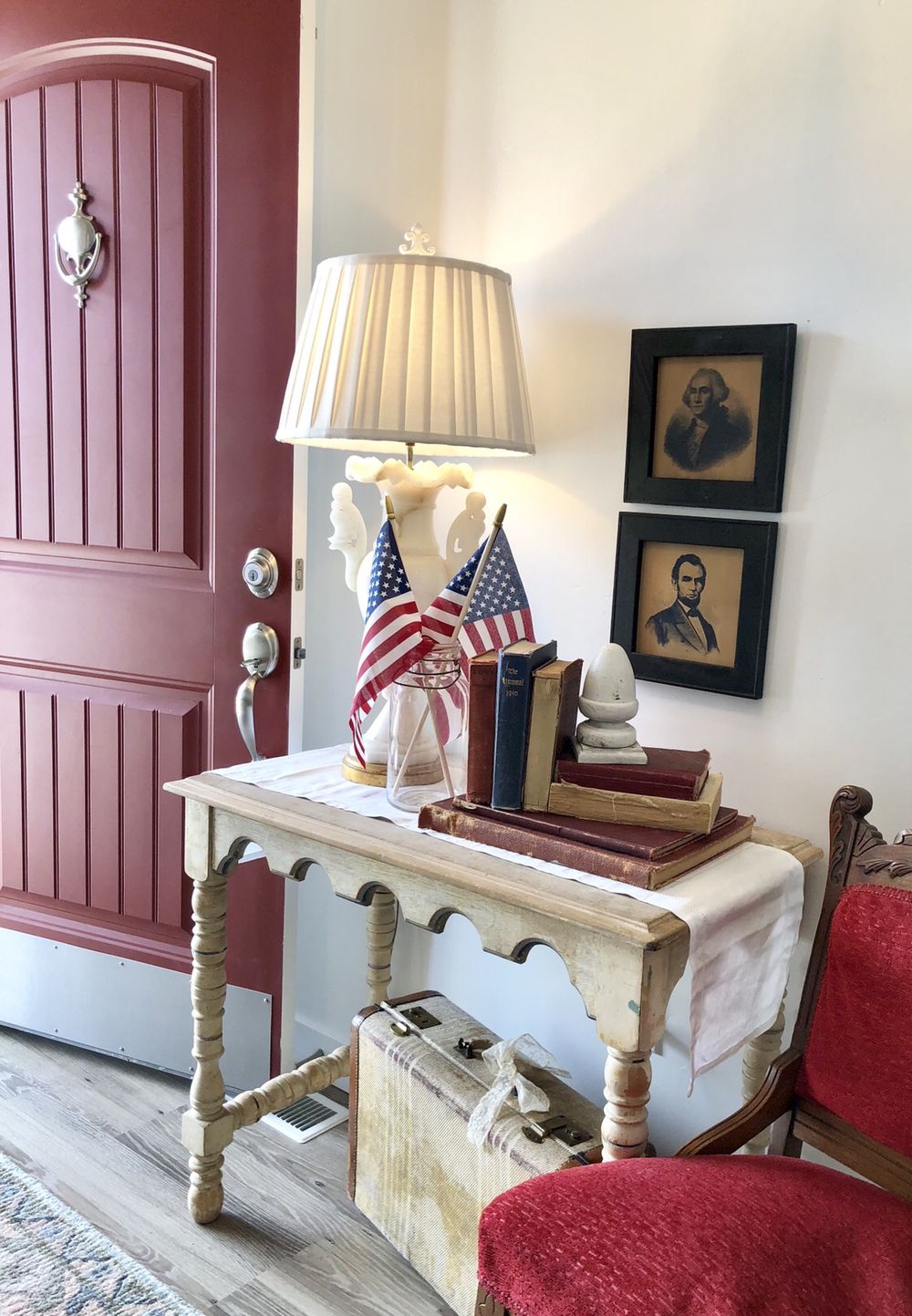 Long Lumbar Flag Pillow
This long lumbar flag pillow has been placed over a Farmhouse entryway bench seat.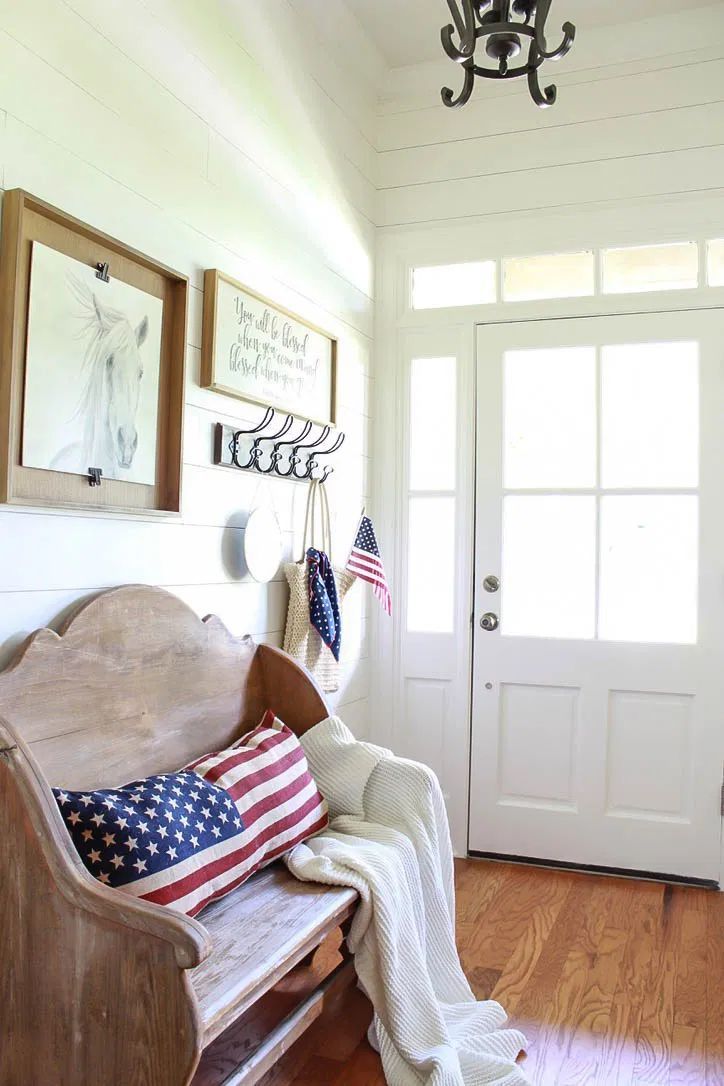 American Flag Draped Imperfectly Over a Mirror
I love how casual this flag looks above the white vintage mirror!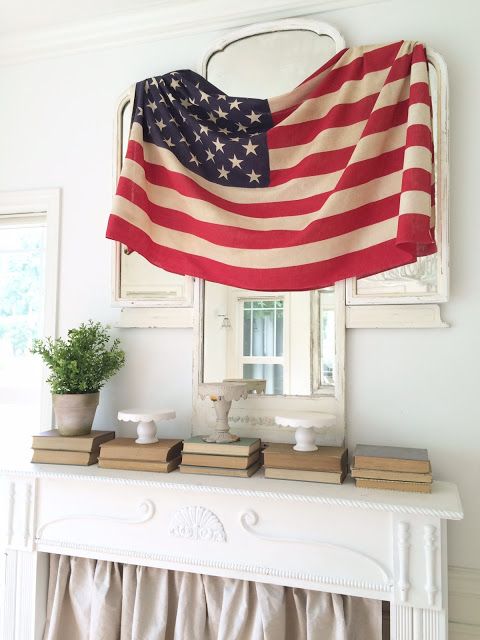 American Flag Throw Pillows
From outdoor patio chairs to cozy indoor sofas, American flag throw pillows add the perfect amount of celebration. Throw pillows have the ability to transform the look and feel of any chair, sofa, lounge chair, or wicker furniture. They can also be reused throughout the year and will be great additions to your home. We recently shared a few DIY 4th of July craft patterns for throw pillows.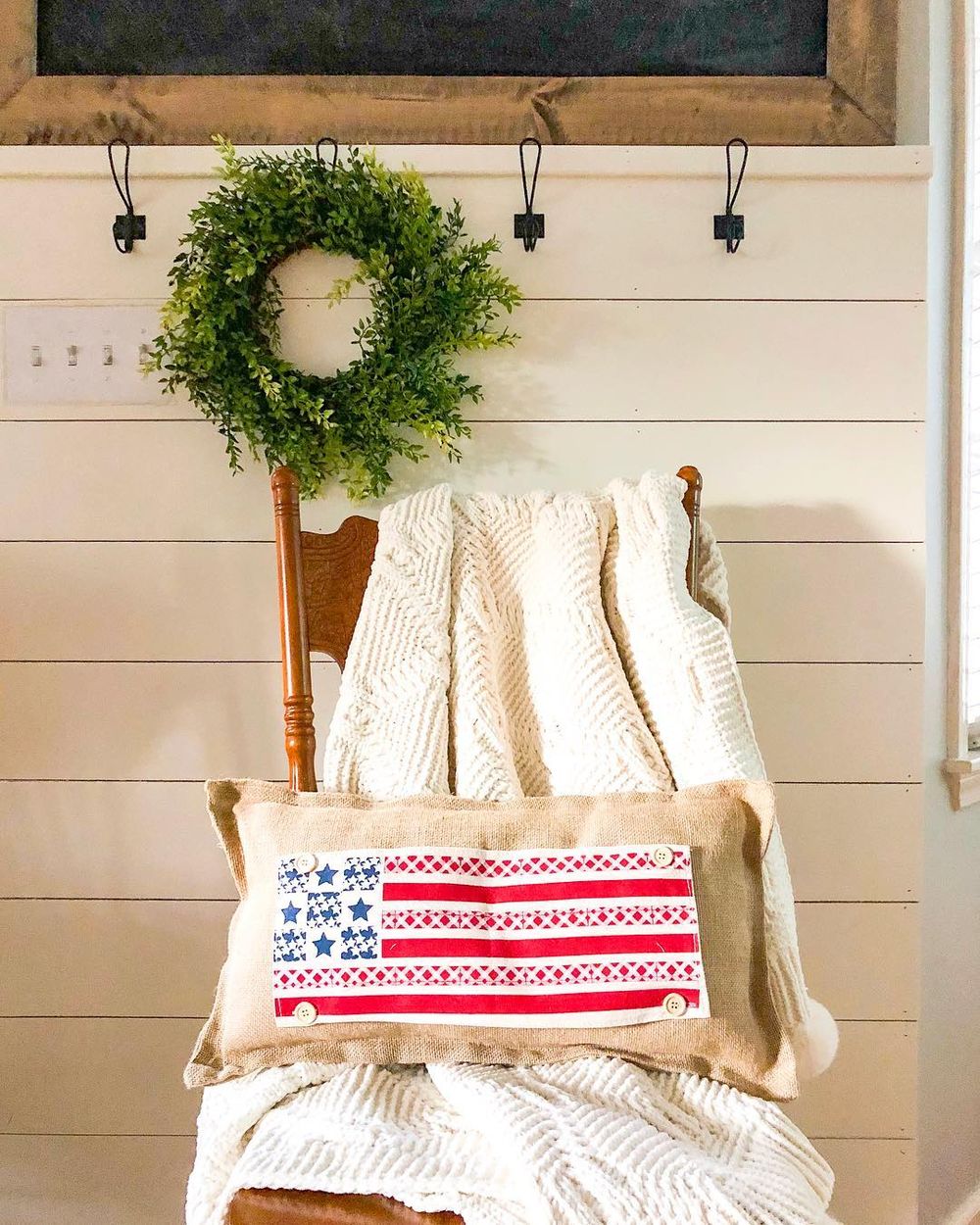 Burlap Garlands
Burlap garlands are the perfect touch of rustic charm for any 4th of July celebration. Unlike garlands made of leaves and grasses, burlap garlands add a bit more warmth to your summer decor. They are neutral in color and allow you to accessorize around them without overdecorating.
Distressed American Flag Above Mantel
The distressed American flag is perfectly suited for your mantel. The flag holds a special significance and will help your space feel patriotic and proud, especially when placed above your mantel.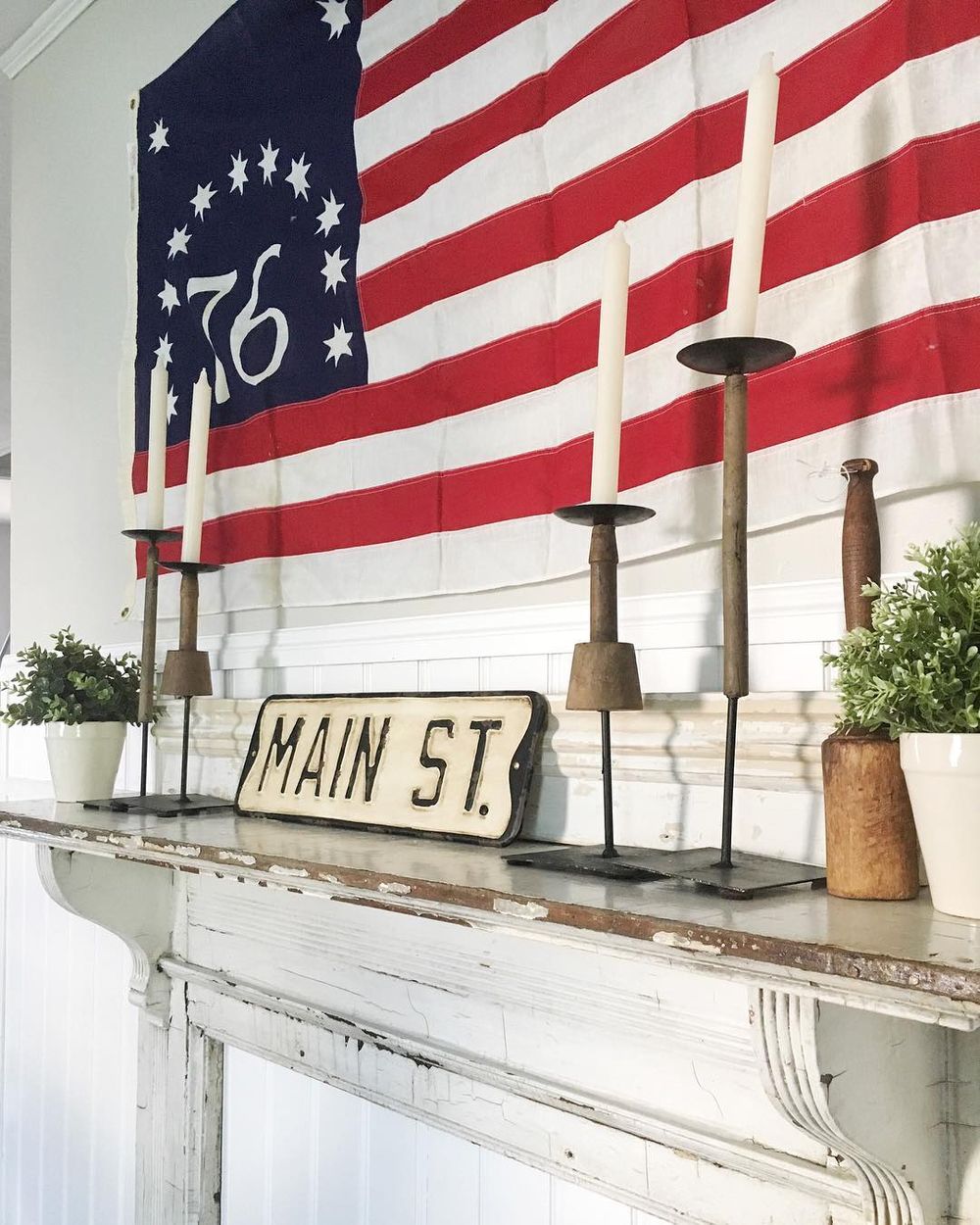 "USA" Wood Letter Blocks
Wood letter blocks are a great way to add natural wood textures to your decorations. They will draw attention wherever they are placed and help give your space more character and charisma.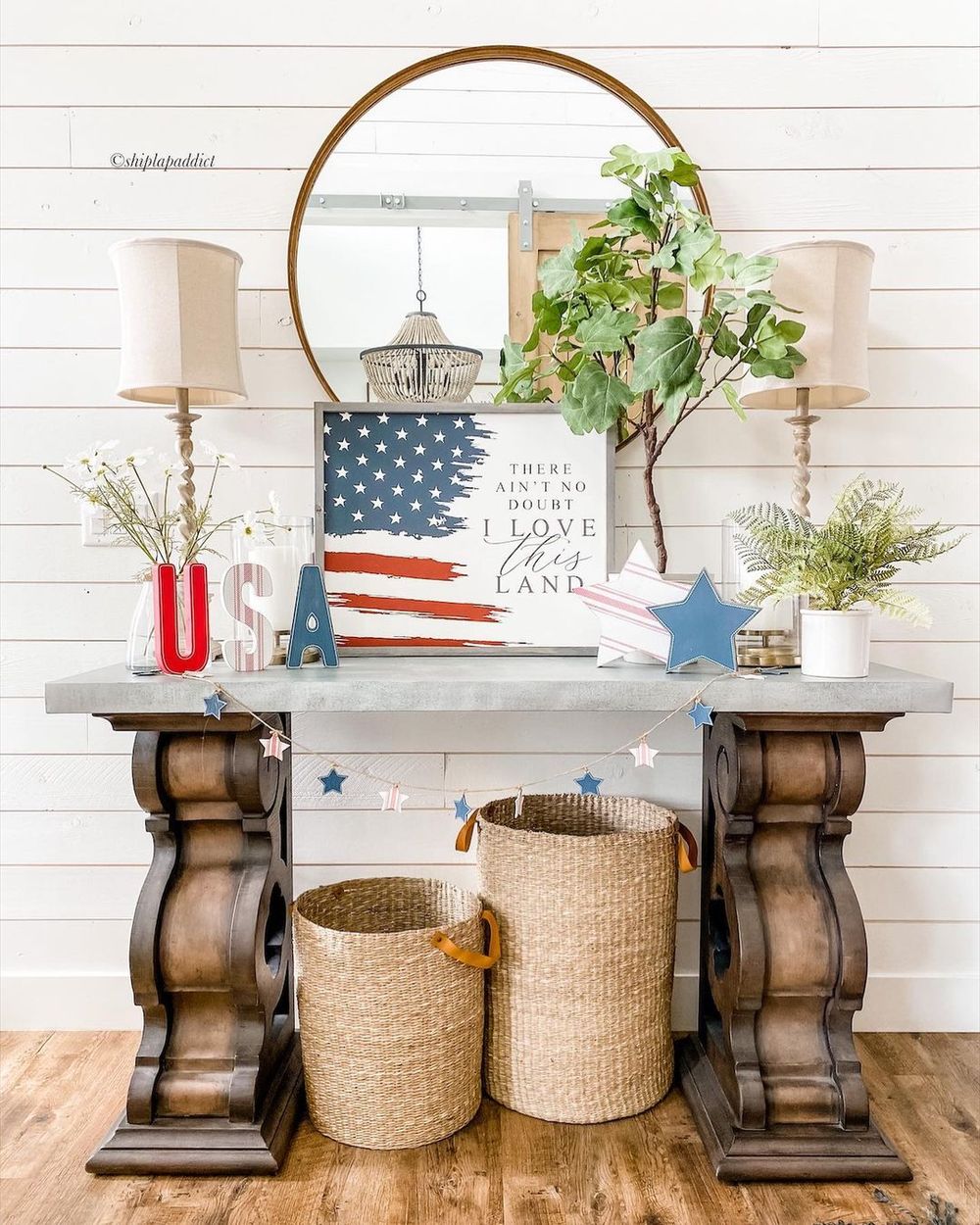 Small Flags in White Farmhouse Pitcher
Decorative flags in a clean, white pitcher offer a unique contrast and allow you to up-cycle some of the items you may already have around your home such as a white pitcher. This decoration is a perfect example of farmhouse decor. It is one of those Farmhouse 4th of July decor ideas that combines classic and rustic seamlessly.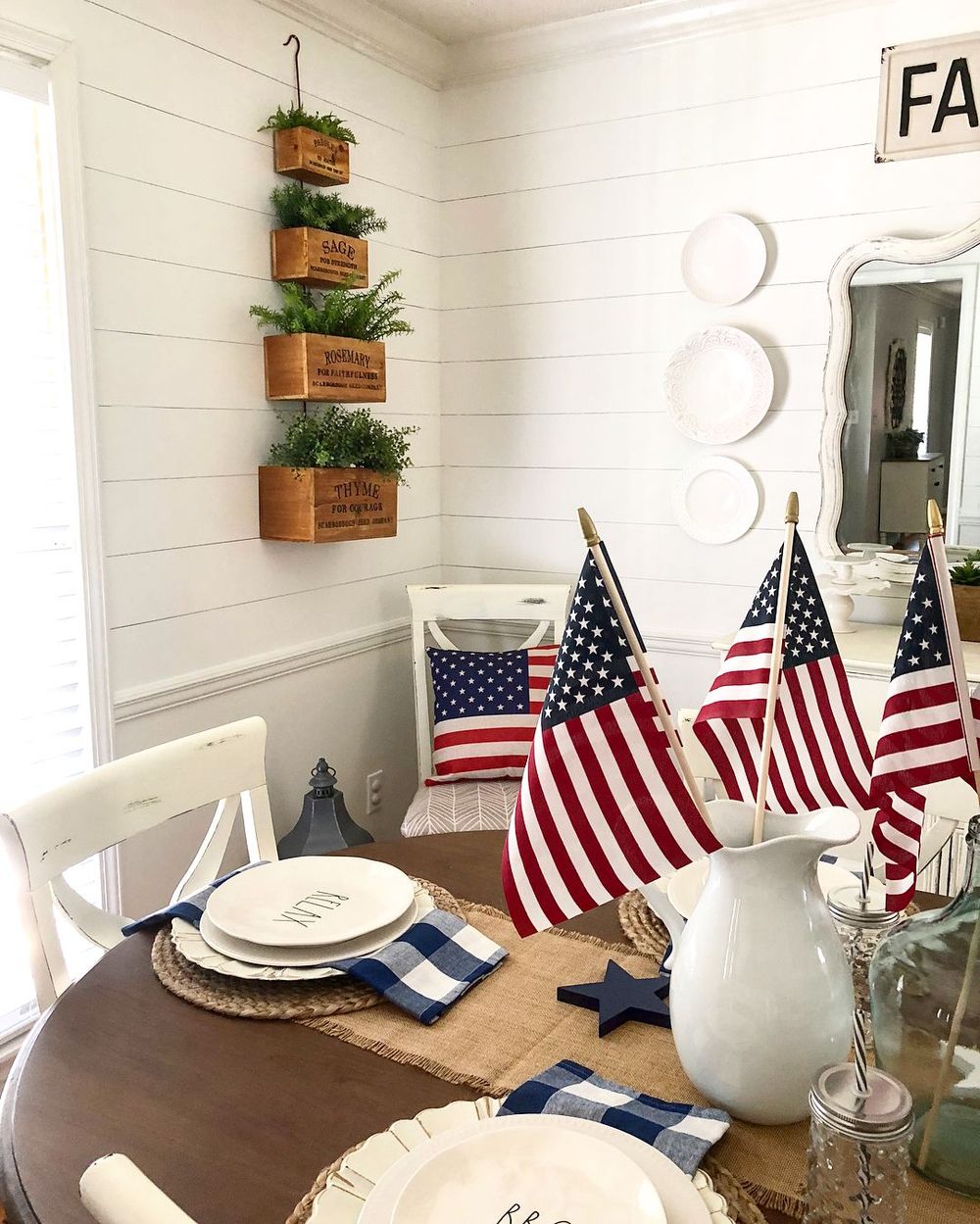 Flag in Ceramic Jar
A ceramic jar is the perfect farmhouse touch to this Americana entryway.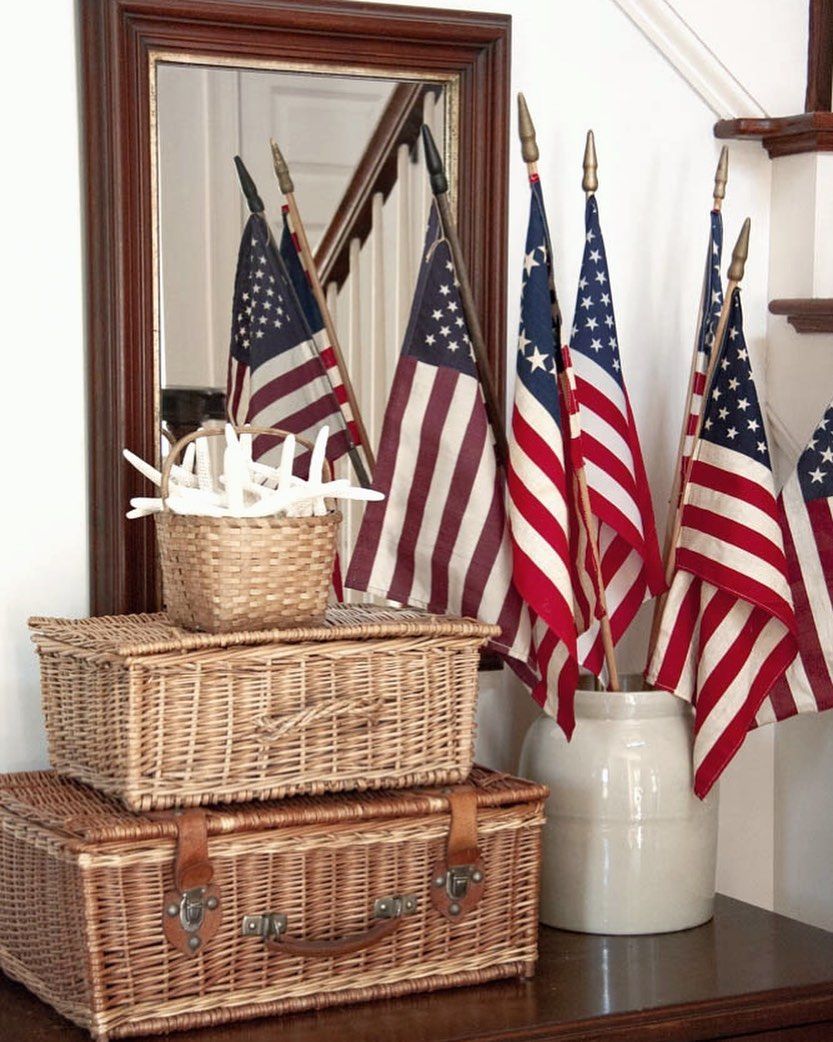 Outdoor Banners on the House
Banners have served an important role in history for sailors, as they would use them to send messages to other ships. Adding an outdoor banner to your 4th of July decor is a quintessential part of your festive celebration. You can put them on your front door or across the upper level of your home or porch.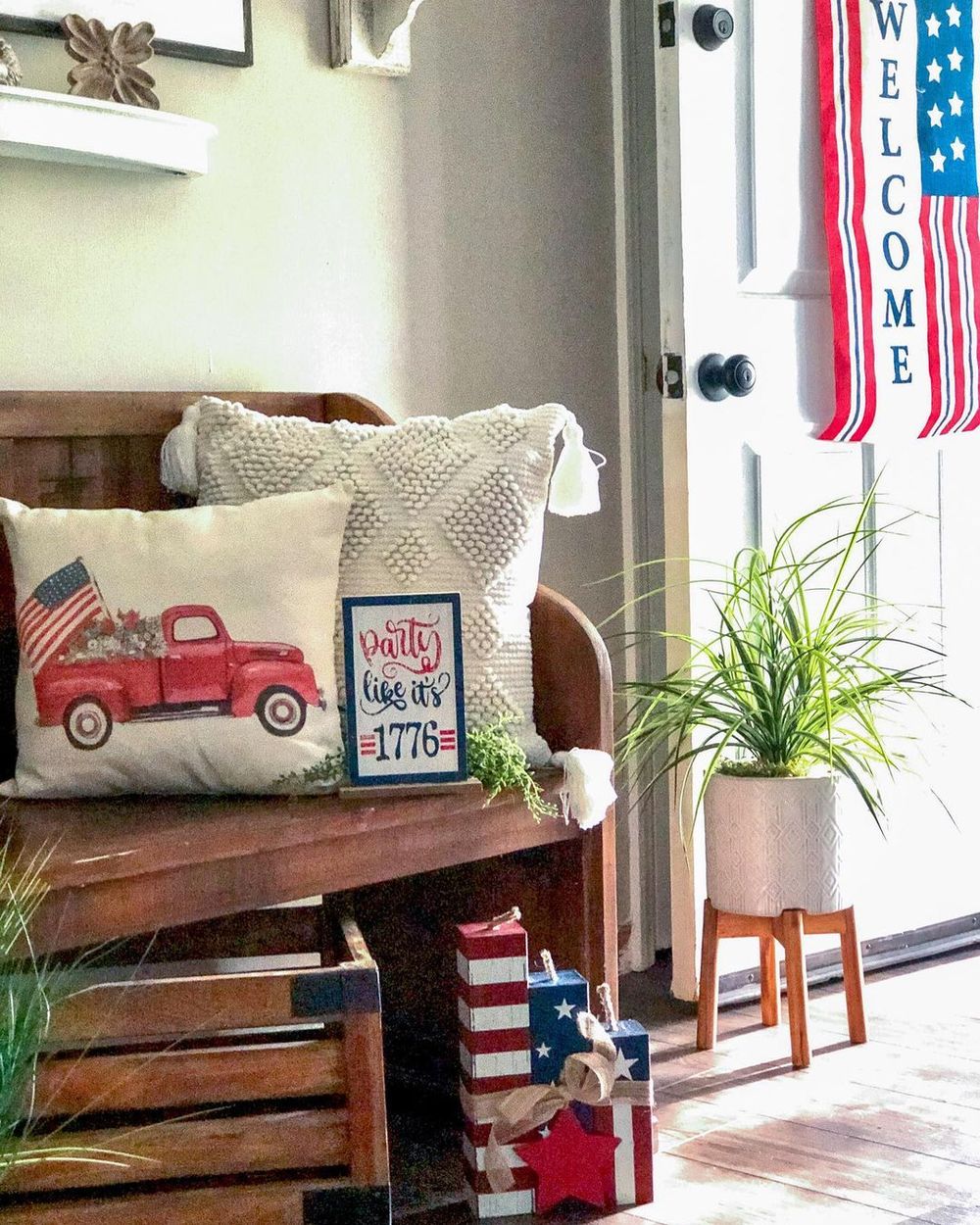 'America' Wall Sign
Wall signs are great for spicing up your home and adding color and depth to a plain wall. Since the 4th of July is all about America's independence, nothing screams "patriotic" more than an America wall sign.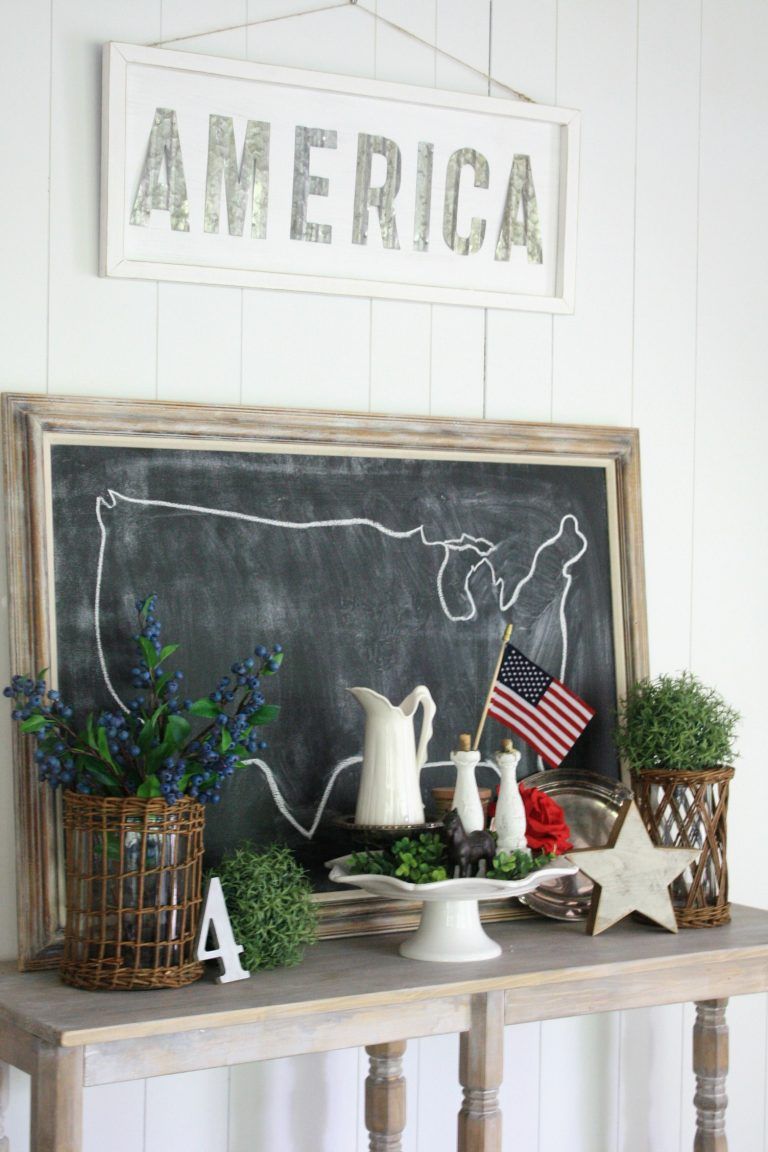 Galvanized Buckets
Galvanized buckets are a classic Farmhouse decoration. You can decorate with these beauties in so many creative ways.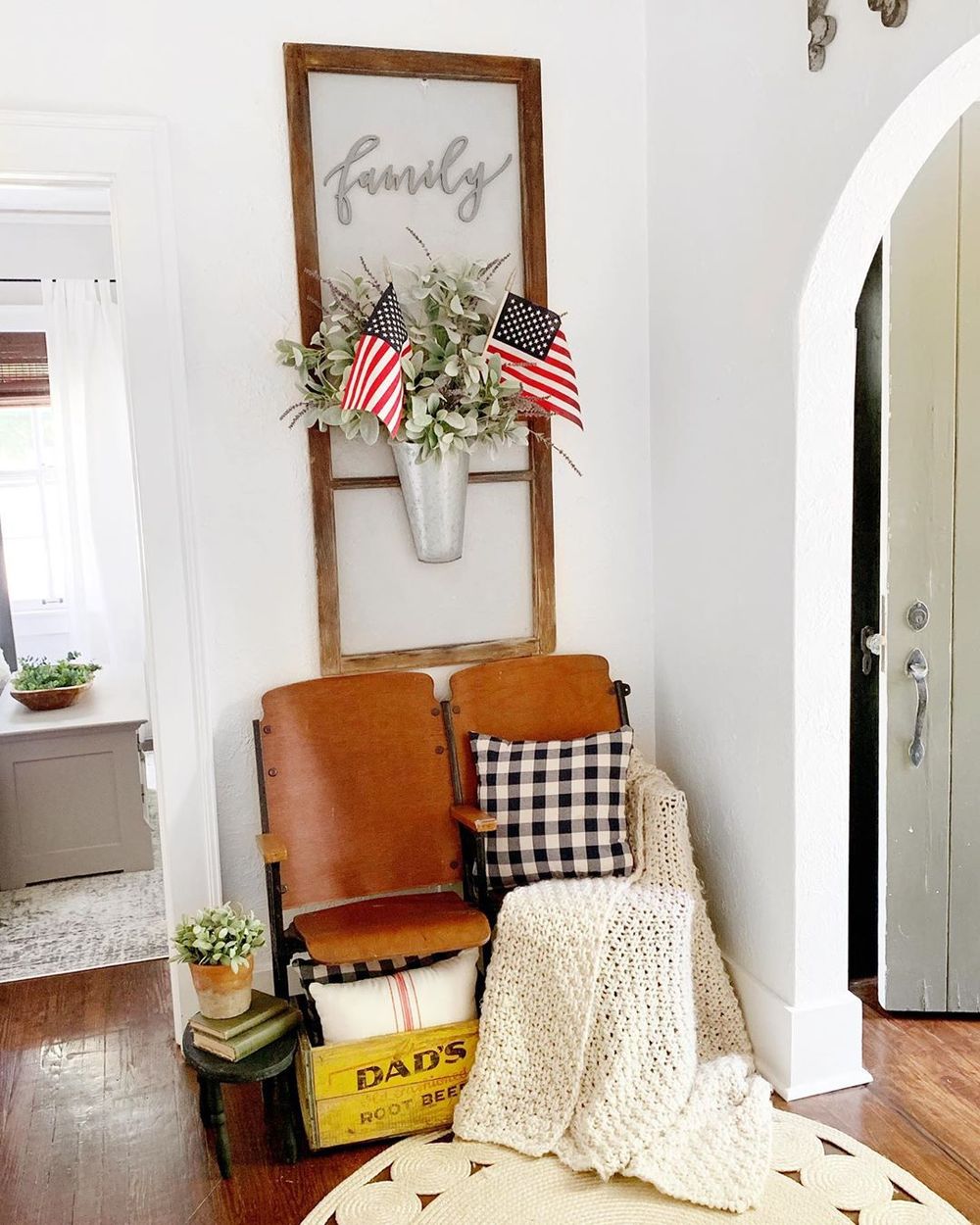 To Sum Up, Make Your Home Special this July!
From backyard BBQ cookouts to everlasting memories of dreamy fireworks, the 4th of July evokes feelings of pride, celebration, and love. Make sure your home feels the same with these lovely Farmhouse 4th of July decor ideas!