We are currently selecting lighting for our beach home up north. Finding the perfect coastal chandeliers for our home has been a top priority as we have several open spaces that could use one!
Chandeliers are one of my favorite types of lighting. The human eye is naturally drawn to light, so chandeliers tend to command attention inside a room. You can use a chandelier just about anywhere you like, but they tend to work better in rooms with high ceilings and wide-open spaces. Obviously, the size of the chandelier should be proportionate to the size of the room itself. I would say a 1:5 ratio in terms of width at a minimum is ideal.
Coastal Chandeliers
So what kinds of coastal chandeliers work best?
Well, that depends on the theme you prefer. There are lots of types of chandeliers that work great in coastal homes or beach homes. Rope lighting fixtures, rattan, wood, and other neutral materials are often found on nautically inspired chandeliers. You can also opt for mother-of-pearl embellishments on coastal chandeliers or even ones made of white seashell strings that form a shade around light bulbs. Capiz chandeliers are also commonly found in beach homes as they resemble shimmering seashells.
See Also: Coastal Decorating Guide
You can even purchase a chandelier that is crafted from objects typically found in or near the ocean! How about a pretty turquoise sea glass chandelier, an oyster shell chandelier, or a white coral chandelier?
We've also rounded up fifteen beautiful coastal style chandeliers for your home to give you some ideas for lighting up your beach home:

I hope you find one of these nautical chandeliers suits your beach home decor perfectly! You can hang one in the dining room, the living room, and even the bedroom as they tend to be on the larger size.
Which one is your favorite?
Here are a few inspirational photos for decorating with a coastal-style chandelier in your home. As you can see, there are many places to use a chandelier in your coastal home decor.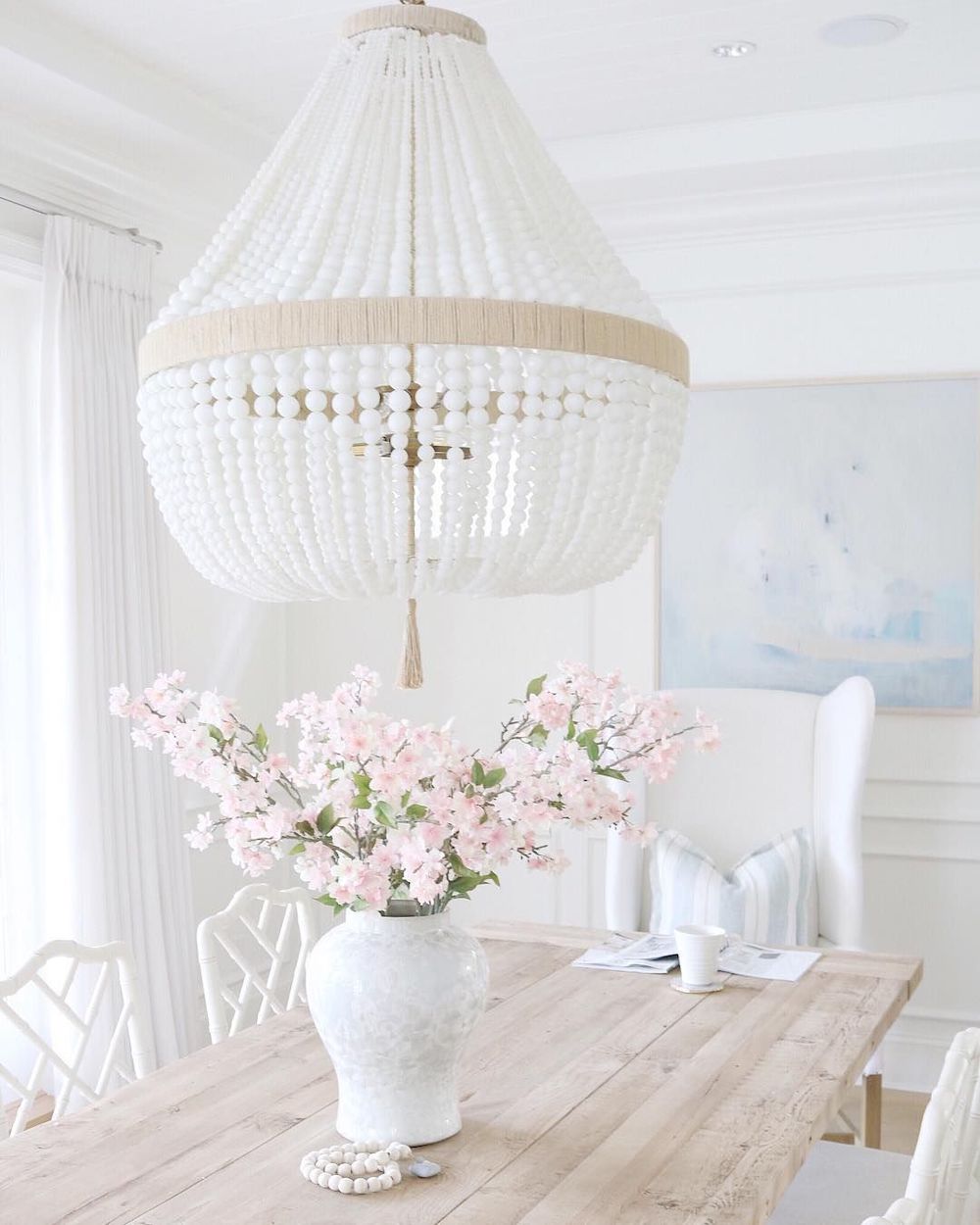 More Coastal Decor Ideas