One of my favorite things to do in December is hop in the car and drive around the neighborhood looking at the beautiful Christmas house decorations people have installed outside their homes.
The holiday season is upon us, and it's time to start thinking about how to deck your halls, porch, yard, and exterior of your home for Christmas! Nothing gets you in the holiday spirit quite like driving through neighborhoods and seeing houses lit up with beautiful Christmas lights and decorations.
If you're looking for fresh and creative ways to decorate the outside of your home for the holidays this year, you've come to the right place. I'll be sharing some of my favorite tips and ideas for festive outdoor Christmas decor that's sure to impress your neighbors and really make your home stand out.
From lighting displays and wreaths to Christmas trees and inflatable decorations, this is the inspiration you need to help you create a showstopping exterior that looks like it came straight out of a winter wonderland.
Let's get started on planning a gorgeous and gleaming outdoor Christmas decor extravaganza! Check out our favorite outdoor Christmas house decorating ideas below.
Welcoming Evergreen Wreaths
Adorn your front door or gates with festive, full evergreen wreaths with red bows or pinecones. The classic wreath is a welcoming sight.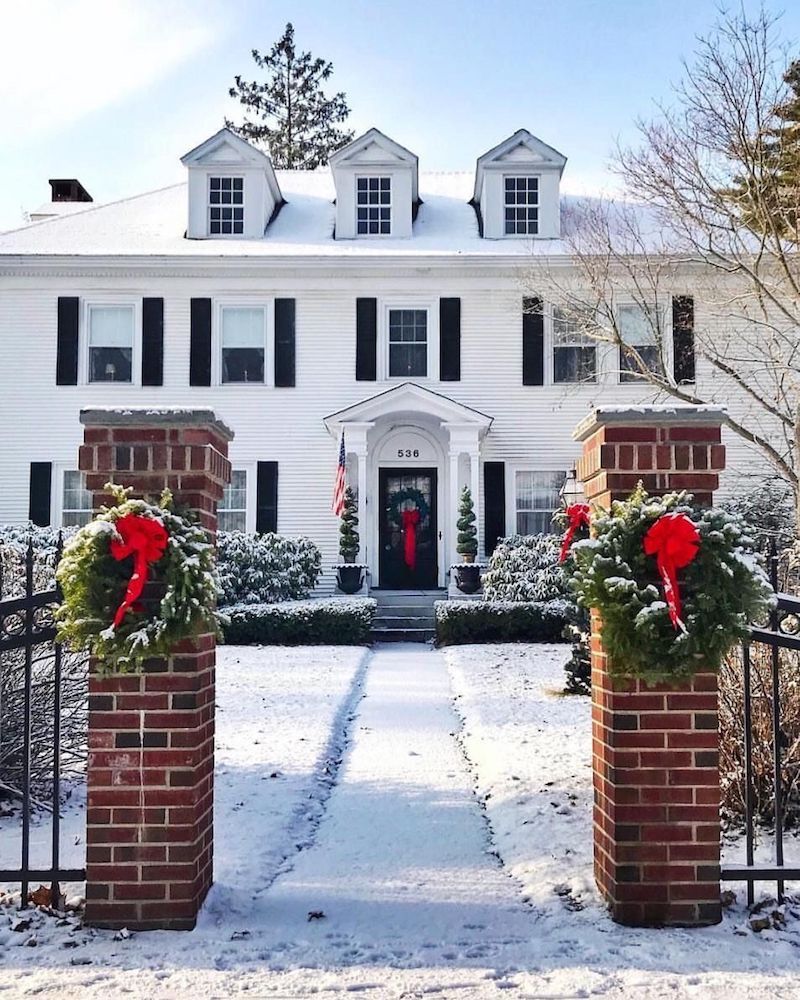 Red Front Door
Paint your front door crimson red or hang a giant red ribbon across it. A bright red door is eye-catching and cheerful.
Topiary Reindeer
Place two potted topiaries trimmed into the shape of reindeer on your front steps or porch. These living sculptures are whimsical and cute. They're sure to delight the neighborhood kids!
Red Christmas Trees
Flank your front walkway or entryway with slim red artificial Christmas trees for a modern twist on traditional greenery.
Oversized Front Yard Ornaments
Dot your lawn with gigantic Christmas ornaments, like red bulbs, spheres, snowflakes, and stars for big visual impact.
Garland-Wrapped Columns
Wrap sparkling evergreen garland around your front porch columns for a festive flourish.
Spelled JOY Wreaths on the Window
Hang individual letter wreaths J-O-Y on your front window panes to literally spell out the sentiment!
Christmas Front Porch Decor
Decorate your front porch with a festive Christmas tree, garland, wreaths, poinsettias, and other accents for a warm welcome.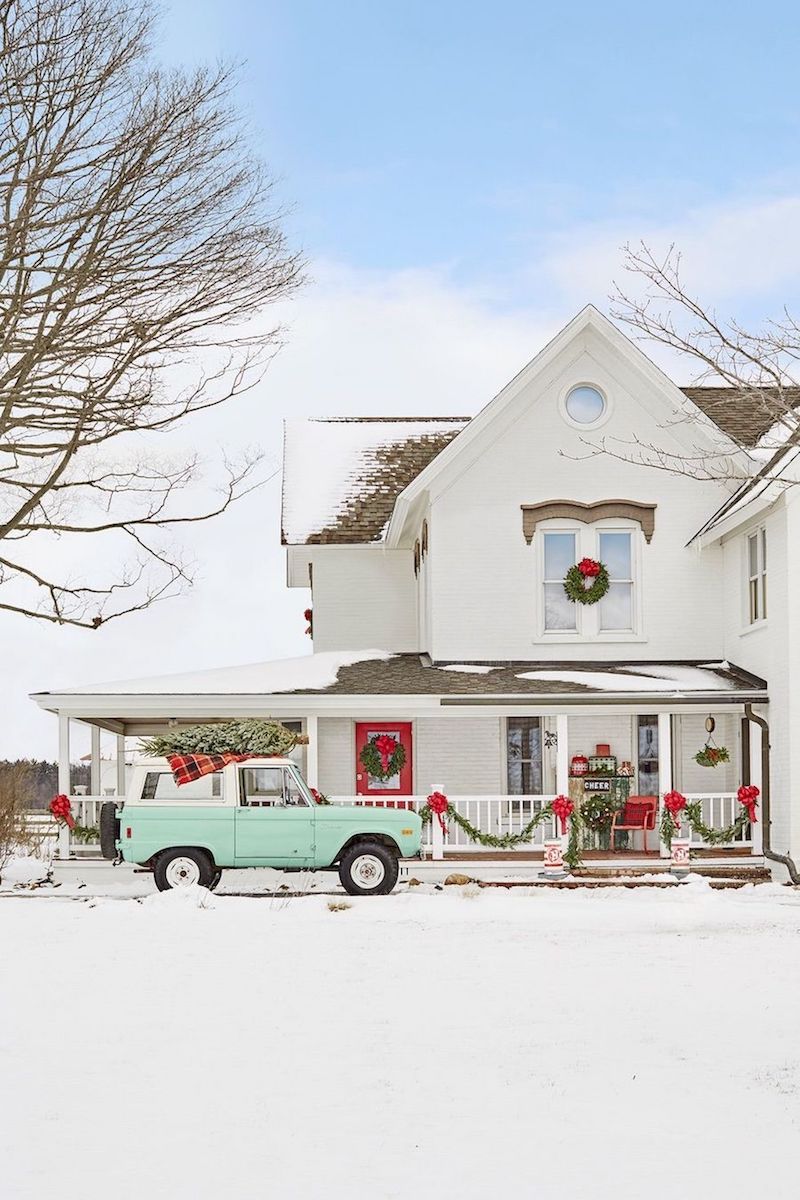 Evergreen Garland Roof Lining
Line the edge of your roof with fresh evergreen garland secured with red velvet bows for a traditional flourish.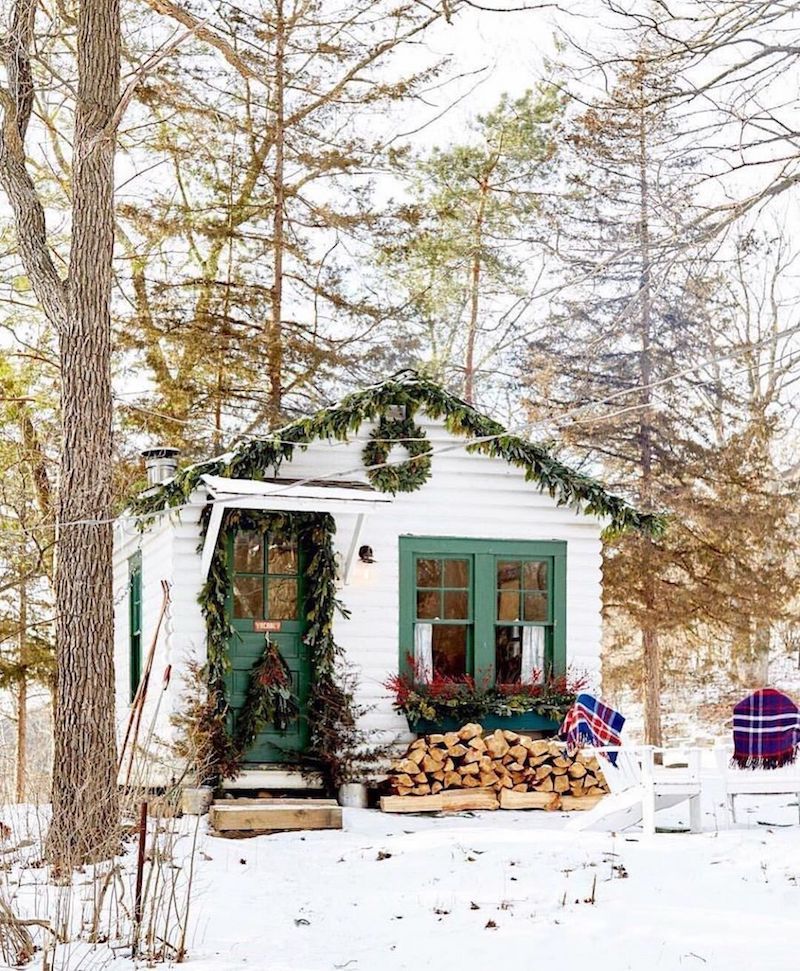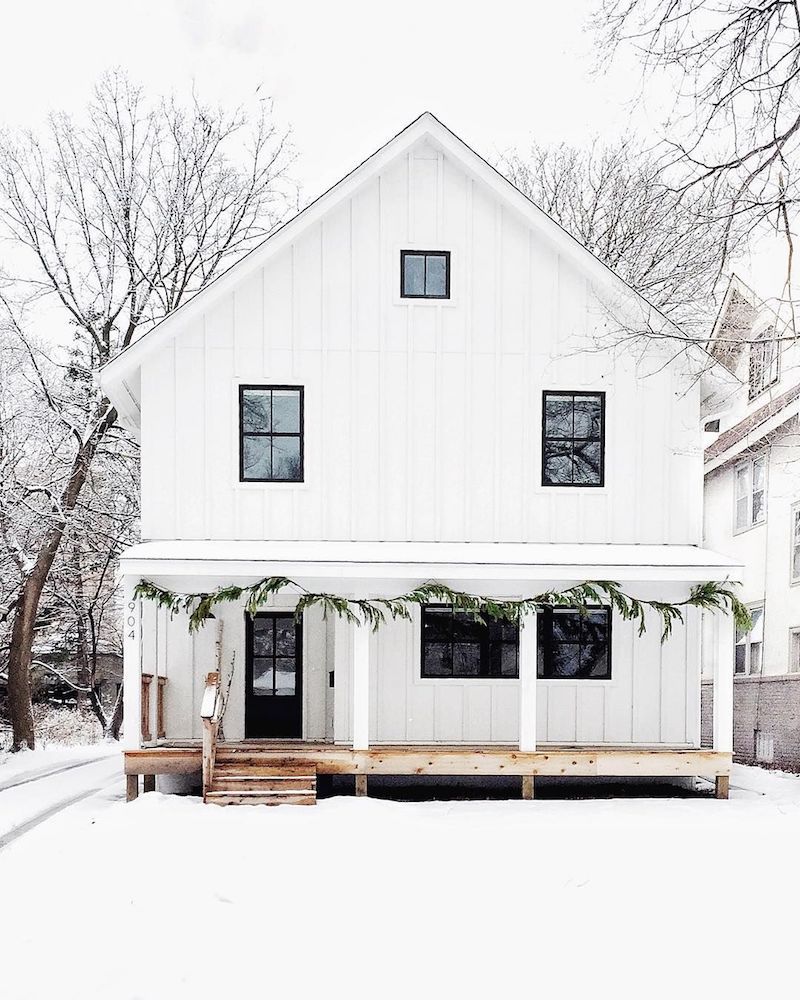 Red Ribbons and Bows
Tie big red velvet ribbons around trees, banisters, lamp posts, and mailboxes for simple holiday cheer.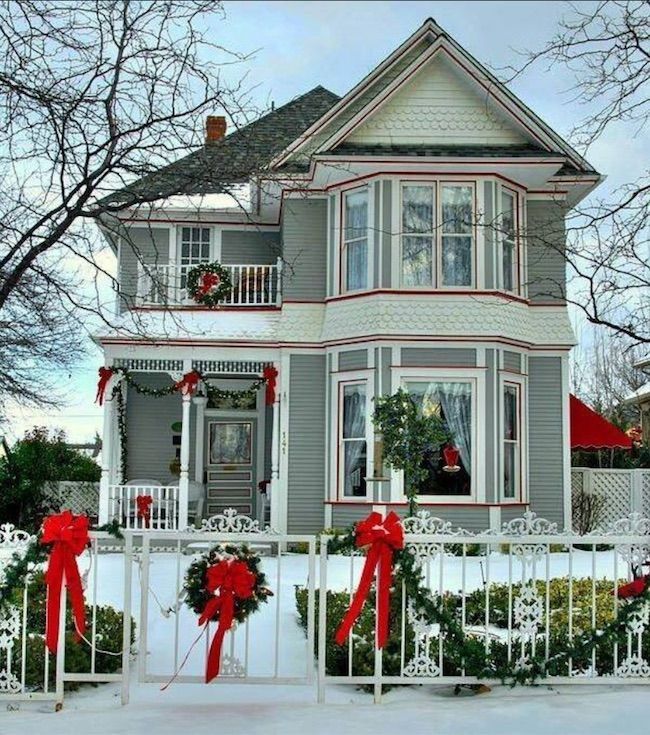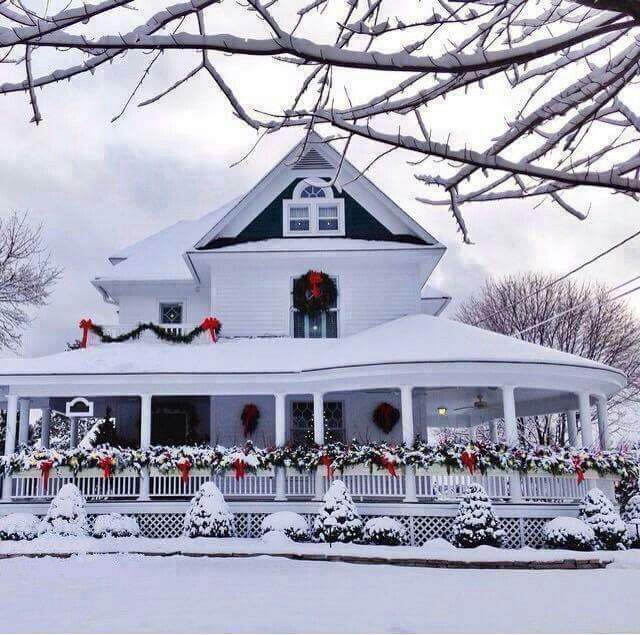 Santa Figurines in the Yard
Place large tasteful Santa Claus figurines or statues in your front yard as fun lawn decorations.
Wreaths in Windows
Hang different sized wreaths with plaid bows in each front window for a cohesive Christmas display.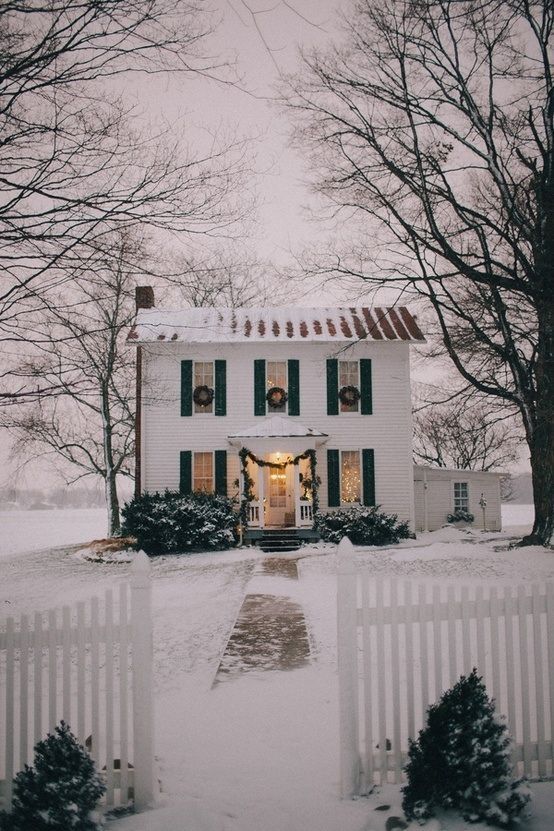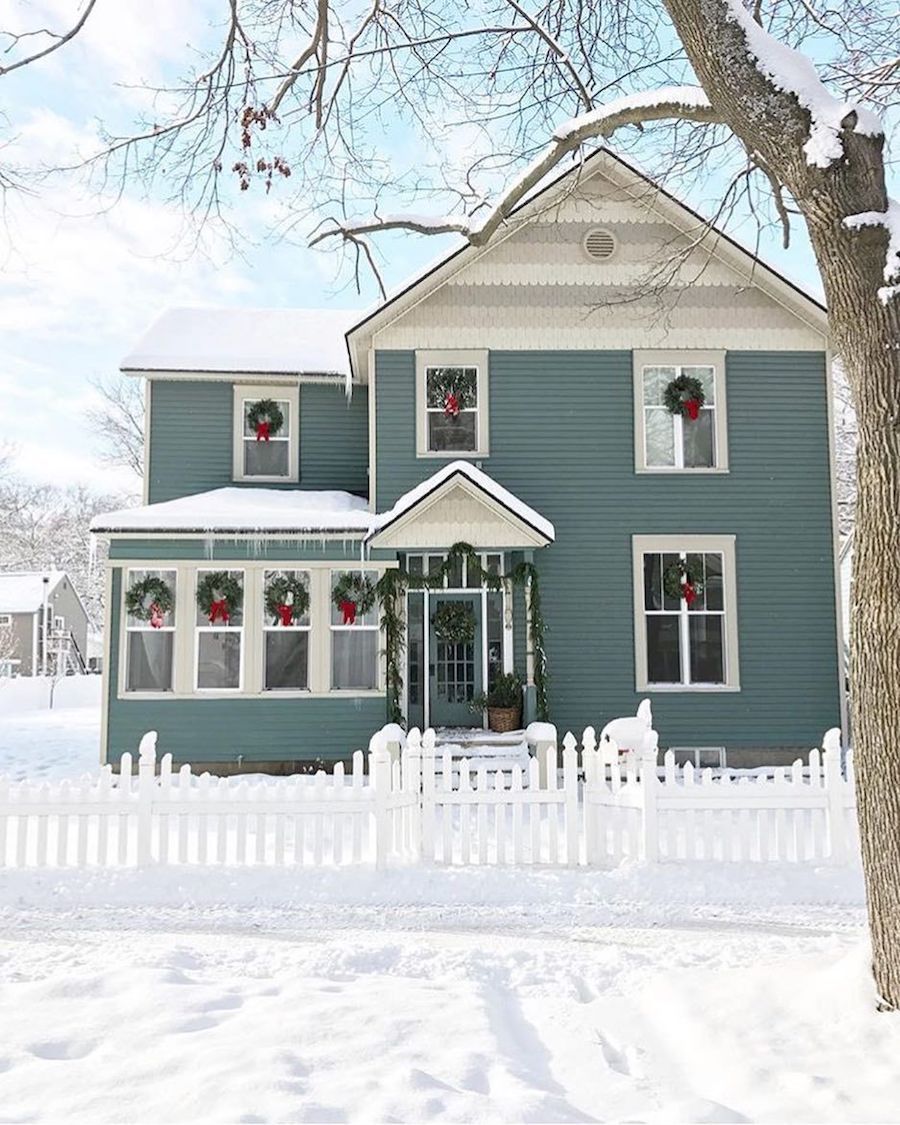 From green garland that lines the edge of the roof, to wreaths hung on the windows, to miniature trees that sit on either side of the door, there are so many outdoor house decorating ideas for Christmas.
When you put up Christmas decorations outside your house, not only do you get to enjoy it, but everyone around you does too! Outdoor Christmas decorations can add some serious curb appeal to your home.
Have fun decorating your house for Christmas this holiday season!
Merry Christmas!
Pin this for later: