Bouclé furniture refers to furniture pieces, such as chairs, sofas, and ottomans, that are upholstered with a fabric called bouclé. Bouclé is a fabric made of looped yarn that creates a textured and nubby surface. It's known for its softness, durability, and ability to add depth and dimension to furniture. Bouclé is a French word that is pronounced boo-clay.
The history of bouclé fabric dates back to the 1940s, when it was first introduced by the French fashion house Chanel. Chanel used bouclé fabric in their iconic suits and jackets, and the fabric quickly became associated with high-end fashion and luxury.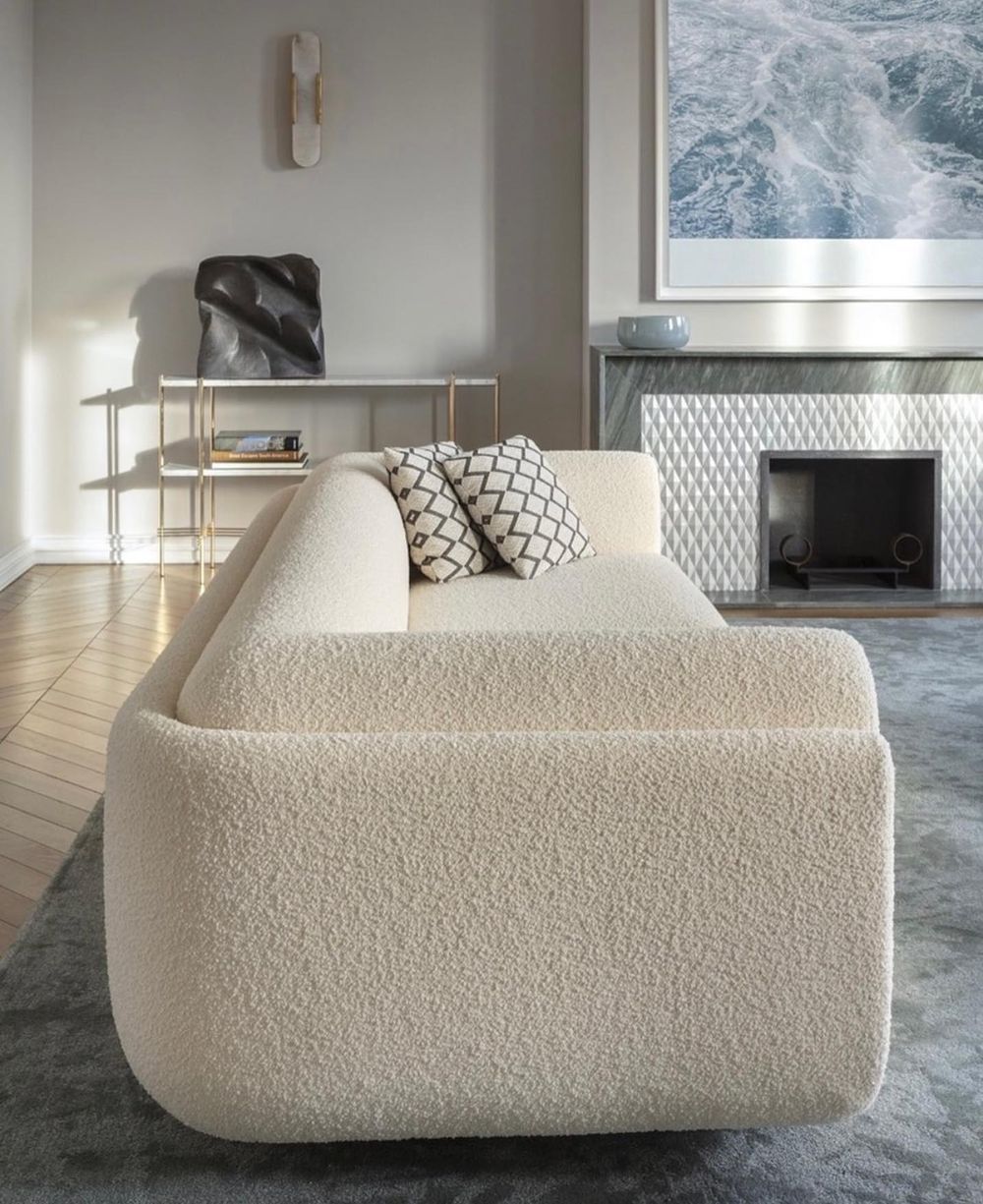 Bouclé furniture gained popularity in the mid-century modern era of the 1950s and 1960s. Designers like Florence Knoll and Eero Saarinen began incorporating bouclé fabric into their furniture designs such as the Womb Chair, and it became a staple in modernist interiors.
Bouclé furniture has made a comeback in the world of interior design as of late. Its soft texture and unique look have made it a popular choice for designers looking to add dimension and interest to furniture pieces. Today, you can find bouclé furniture in a variety of styles, from mid-century modern to contemporary.
On-Trend Bouclé Furniture
Here are some trendy bouclé furniture pieces to try in your home!
Sofas
Bouclé sofas are cozy and chic. They become the star of any room they're placed in!

Chairs
Bouclé accent chairs are the perfect addition to your living room to make a statement. You can also go with bouclé dining chairs for a more understated look.

Mid-Century Style
As you can see, bouclé fabric upholstery and mid-century furniture go hand in hand.

Where to Buy Bouclé Furniture
Bouclé furniture can be found at a variety of furniture retailers both in-store and online. Here are some places to look for bouclé furniture:
How to Clean Bouclé Furniture
Is bouclé furniture hard to clean? Bouclé furniture can be more challenging to clean compared to other types of upholstery, but it is not necessarily difficult if you follow the right approach.
Bouclé fabric is characterized by its looped texture, which can trap dust, dirt, and debris more easily than smoother fabrics. To clean bouclé furniture, you should first vacuum it regularly with a soft-bristled attachment or a handheld vacuum to remove any loose dirt or debris. Be sure to get into the crevices and corners where dirt can accumulate.
For spot cleaning, you should use a gentle upholstery cleaner that is specifically designed for delicate fabrics. You can also try using a mixture of mild detergent and water or a solution of white vinegar and water. Always test any cleaning solution in an inconspicuous area first to ensure it doesn't damage the fabric.
When cleaning bouclé furniture, avoid using too much water or rubbing the fabric too hard, as this can damage the looped texture and cause the fabric to lose its shape. You should also avoid using harsh chemicals, bleach, or abrasive materials, as these can damage the fabric and cause it to discolor.