Modular furniture is a contemporary and innovative way to furnish your living space. It's an ideal solution for customizable, flexible, and space-saving furniture to suit multiple purposes that may change from day-to-day. This type of furniture consists of modules or sections that can be connected or separated easily, allowing you to create different configurations and styles according to your needs.
What is Modular Furniture?
The term 'modular' in modular furniture refers to the concept of designing furniture in separate pieces or elements that can be combined in various ways. These pieces may include sofas, shelves, desks, and other components that can fit together like puzzle pieces. The modular design allows you to create a unique piece of furniture by assembling the modules based on your preferred configuration.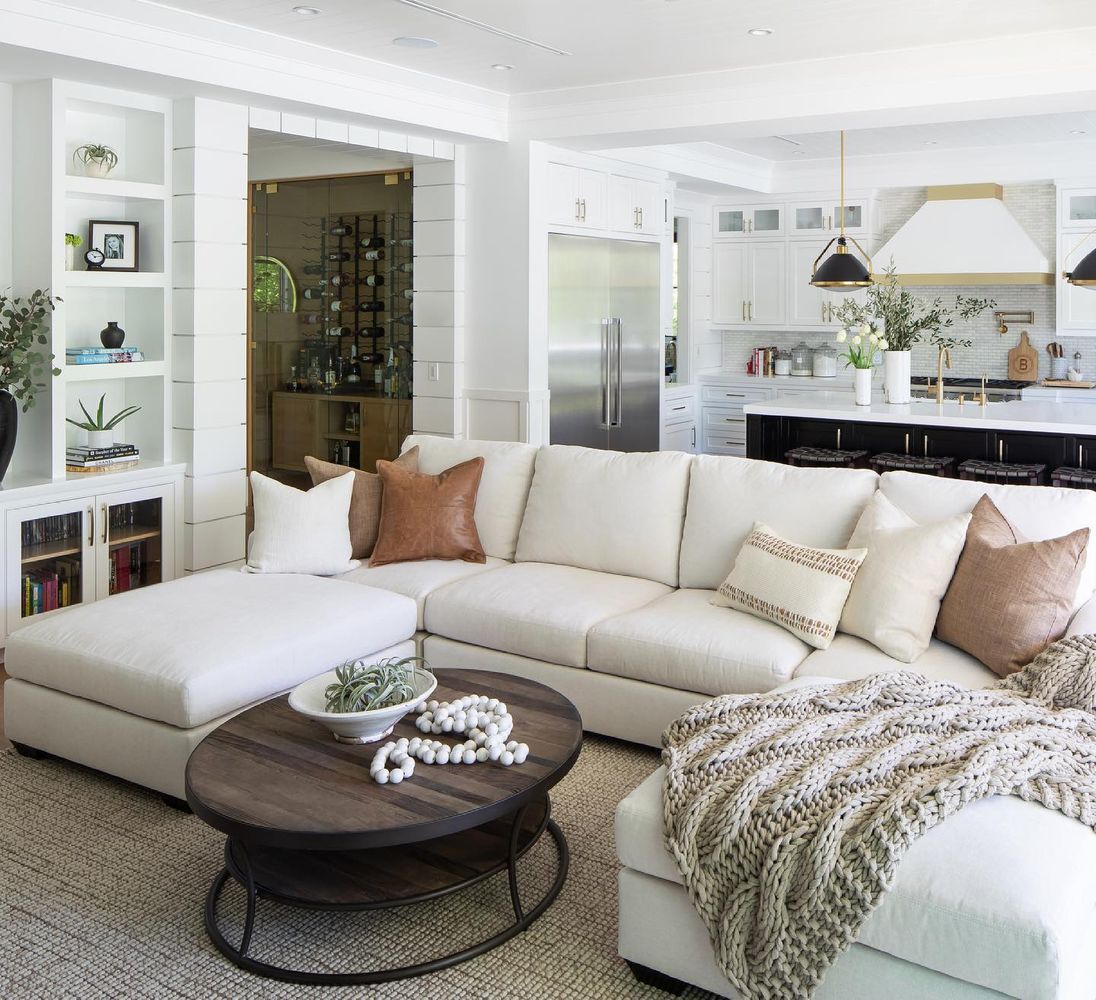 Brief History of Modular Furniture
The idea of modular furniture has been around since the early 20th century when designers started experimenting with new materials such as metal and plastic. One of the early pioneers in this field was Gerrit Rietveld, a Dutch architect, and designer who created a famous chair made entirely from wooden planks in 1918.
In the 1950s and 60s, designers like Charles Eames and Verner Panton popularized modular furniture designs with their iconic creations such as the Eames Lounge Chair and Panton Chair respectively. Today, modular furniture is widely available from different manufacturers around the world with innovative designs that cater to different tastes and preferences.
Advantages of Modular Furniture
Modular furniture offers numerous benefits that traditional furniture does not. From its personalized design to its space-saving features, it's no surprise that more people are choosing modular furniture for their homes and offices.
Customizable and Flexible Design
One of the biggest advantages to modular furniture is its customizable design. You can mix and match different pieces to create a configuration that works best for your space.
Whether you need a sectional sofa or a wall unit, you can find a combination that fits your needs. The flexibility of modular furniture also allows you to add or remove pieces as needed, making it easy to change things up often.
Space-Optimizing Design Features
Modular furniture is perfect if you live in a small space or apartment where every inch counts. Many modular pieces are designed with space-saving features such as storage compartments or hidden beds. These features allow you to maximize your living space without sacrificing style.
Conversely, modular furniture is also fantastic for large and oversized spaces where standard sofas are just too small. Adding on additional seating space with a custom sofa can really help you optimize your space and accommodate the most amount of people possible!
Cost-Effective
Another advantage of modular furniture is that it's often more cost-effective than traditional pieces. Because you can buy only what you need at the time, you don't have to invest in an entire set all at once. Plus, if one piece gets damaged over time, you only have to replace that piece instead of the entire set.
The benefits of modular furniture make it a smart choice for anyone looking for versatile and practical furnishings.
Types of Modular Furniture
There are several types of modular furniture to know about.
Modular Sofas
Modular sofas are designed to provide the ultimate comfort while also being incredibly versatile. They can be easily customized based on your preferences and needs. Modular sofas come with different components like armrests, backrests, seats, and ottomans.
These components can be rearranged into custom configurations that can fit any living room or office space. You can create a single-seater sofa, a two-seater sofa, or even a sectional that can accommodate more people.

Modular Shelving Units
Modular shelving units are perfect for creating your own unique storage solutions. They come in different sizes, shapes, and configurations that allow you to mix and match them depending on your storage needs.
You can use modular shelving units as room dividers or as standalone pieces of furniture. They're perfect for displaying books, art pieces, or collectibles while also providing practical storage solutions for everyday items.

Modular Desks and Tables
Modular desks and modular tables are functional and stylish pieces of furniture that offer plenty of options for customization. You can choose from different shapes like round, square, or rectangular desks and tables depending on the purpose they serve in your space. You can add or subtract pieces to the table depending on how many guests need to have a seat.
Some tables have removable legs or tops which allow you to easily adjust their height or convert them into other types of furniture like stools or benches. With modular tables and desks, you have plenty of options available to create the exact look you desire in your home.

Modular Furniture Materials
These are the best modular furniture materials you will find most often:
Wood is one of the most popular materials used in modular furniture. It is durable, versatile, and aesthetically appealing. Different types of wood such as oak, teak, pine, and maple are commonly used to make modular furniture due to their strength and durability. Wood can be shaped into various designs and styles to create unique pieces. Wood can be stained or painted to match different colors and decor styles.
Metal is another common modular furniture material chosen for its strength and durability. Steel, aluminum, brass, and copper are typically employed in modular furniture manufacturing because they are sturdy yet lightweight. Metal allows for a minimalistic design with clean lines that look modern and sleek. Metal also provides a contemporary finish that can be powder-coated or painted in a variety of colors.
Plastic has become increasingly popular as a material for modular furniture because it is lightweight and affordable compared to other materials. It can be molded into various shapes such as curves or angles which allows for innovative designs that cannot be achieved with other materials. Plastic also makes it easier to add color without having to paint or stain it since many plastic pieces come pre-colored.
There are many different types of materials used in the production of modular furniture including wood, metal, and plastic among others. Each material has its unique features which make them suitable for use in specific situations depending on factors like durability requirements or desired aesthetic appeal.
How to Choose the Right Modular Furniture
When choosing modular furniture, it's essential to think about your specific needs and space limitations. If you are living in a small apartment or office, you may need to prioritize space-saving features like furniture that can be easily stored or folded away.
On the other hand, if you have a large open space, you may be able to choose larger, more statement pieces. Think about how many people will be using the furniture and how often it will be used.
Choose a Color and Style
Modular furniture comes in a wide range of styles and colors, so it's important to consider your personal taste when selecting pieces for your home. Do you prefer clean lines and minimalist designs? Or perhaps you like bold patterns and bright colors?
Consider the overall style of your space as well as any existing decor when picking out modular furniture. You may want to choose pieces that complement or contrast with existing elements in the room.
Ultimately, choosing modular furniture is all about finding flexible pieces that can adapt to varying needs over time while also fitting seamlessly into your lifestyle and design aesthetic.
Where to Buy Modular Furniture
Modular furniture has come a long way since its inception, and designers have been pushing the limits of what's possible with these versatile pieces. Here are some of the best modular furniture brands to shop from.
Ashley Furniture
Ashley Furniture is a budget furniture maker with plenty of affordable modular furniture options. Modular furniture is designed to be versatile and customizable, allowing you to assemble various configurations to suit your needs and space. Some pieces of modular furniture offered by Ashley Furniture include sectional sofas, modular desks, and modular storage systems.
You can visit the Ashley Furniture website or one of their physical locations to explore their selection of modular furniture and find pieces that fit your requirements.
Burrow
Burrow specializes in modular furniture. The company was founded in 2017 with the goal of creating furniture that is both stylish and adaptable to different living spaces. Burrow has myriad modular seating options, including sectional sofas, loveseats, and armchairs, as well as modular tables and shelves. Their furniture is meant to be easily assembled and disassembled, making it convenient to move and reconfigure as needed.
Burrow uses high-quality materials and proposes tons of customization options, such as fabric and leg finishes, letting you design a personalized look that suits your space.
Inside Weather
Inside Weather is a furniture brand that sells customizable furniture pieces, including some modular options. It was founded in 2018 and focuses on creating stylish, high-quality furniture chosen custom to fit unique design preferences and living spaces. Their collection includes customizable sofas, chairs, tables, and storage units, among other items. You can choose the materials, colors, and configurations to create furniture that meets your individual needs.
West Elm
West Elm is a furniture company that makes mid-century modular furniture. The company was established in 2002 and is known for its modern, stylish designs.
Some examples of the "Modular Collections" of furniture offered by West Elm include:
Modular sofas: West Elm offers modular sofas that can be configured to fit small and large living spaces. Units can be set in different combinations to create a made-for-you seating arrangement.
Modular shelving units: West Elm makes modular shelving units arranged to fit unique storage needs. These units typically have shelves that are positioned to fit your storage needs.
Modular desks: West Elm designs modular desks that can be shifted to accommodate a plethora of home office spaces. These desks consist of elements configured to create a customized workspace.
Modular storage units: West Elm offers several mid-century modern modular storage units that can be organized to fit your family's storage needs. These units are made up of separate drawers or shelves to be placed in different layouts to create a fully customized storage solution.
Pottery Barn
Pottery Barn is a beloved home furniture manufacturer with some modular pieces. While the brand may not specialize exclusively in modular furniture, they do sell versatile modular seating and storage options.
Some "Modular Furniture Systems" pieces offered by Pottery Barn include:
Modular sofas: Pottery Barn offers a host of modular sofas for diverse living spaces. The pieces that can be arranged in different ways to give you a customized seating arrangement.
Modular storage units: Pottery Barn offers plenty of trendy modular storage cabinets that serve different storage needs. These units consist of individual drawers or racks to be positioned in distinct configurations to design a custom storage solution.
Modular bookcases: Pottery Barn sells modular bookcases that can work for different families' storage needs. These bookcases normally consist of shelves that can be stacked in different layers to create your dream storage solution.
Modular office furniture: Pottery Barn offers modular office furniture, including desks, file cabinets, and storage units, that neatly fit different home office spaces.
Maintenance Tips
Modular furniture can be made from different materials. Each material requires a different maintenance and cleaning method to keep it looking its best.
Cleaning Modular Furniture
For wood modular furniture, use a soft cloth with gentle soap and water to clean it. Avoid using harsh chemicals that may damage the wood.
Metal modular furniture can be wiped down with a damp cloth and mild soap. Be careful not to scratch the metal surface with abrasive cleaners or scrubbers.
Plastic modular furniture is the easiest to clean since it's waterproof and durable. Simply wipe it down with a cloth or use light soapy water for more stubborn stains.
Fixing Minor Damages
Minor damages are inevitable when you have modular furniture in your home. However, there are some easy fixes you can try yourself before calling in a professional repairman. For scratches on wood surfaces, apply some wood filler to the affected area and smooth it out with sandpaper once dry.
Chips or nicks in plastic surfaces can be filled in with epoxy resin or plastic adhesive glue and left to dry for 24 hours before sanding down any excess residue. Metal scratches can be buffed out using steel wool or sandpaper depending on the severity of the damage.
Modular furniture is an investment that requires proper maintenance and care if you want it to last long-term. With these simple cleaning tips and minor repair techniques, you'll be able to keep your modular pieces looking great for years to come!
Why Should You Choose Modular Furniture?
By choosing modular furniture over traditional pieces you'll have greater control over how your living or work environment looks. The ability to tailor pieces specifically to your needs will allow you to create an aesthetically pleasing space that suits your lifestyle while being highly functional.
---
Whether you're looking for a customized sofa system or flexible storage solutions, investing in modular furniture is well worth it in the long run. So why not take advantage of this modern trend?