Task lamps are the perfect lighting choice if you are looking to illuminate a surface such as a desk or working table. These handy lamps serve a very practical purpose by lighting a targeted area, without blinding the person at the desk or workstation.
What is task lighting? Task lighting refers to lighting fixtures that direct light downwards onto a surface below them. The downward-facing light is strong because of the short distance it travels. The lightbulb also is out of sight, covered by the lampshade, so it does not blind anyone using it.
It's called "task" lighting because the light is focused on the subject or "task" at hand! Task lamps are also called desk lamps because they are often found on office desks. They get their name because they help you accomplish a task!
Task lighting is one of the most practical lighting fixtures you can purchase for your home. We hope this handy buying guide will help you decide on the right one for your space! Lighting is something you can never have too much of at home!
Shop a few popular task lamps:
Where to Put a Task Lamp
What is task lighting used for? If you don't know where you might put a task lamp in your home, then let us help you with a few creative ideas!
On a Desk
The most obvious and useful place to put a task lamp is on a desk, of course! Using a task lamp on a desk will help illuminate the surface so that you can see what you're doing and get as much work done as possible. The lamp should have a switch on it so that you can easily turn it on once you're sitting down.
At a Workstation
If you work with your hands a lot, then you may want to consider putting a task lamp at your workstation. Directing the light downwards will help you focus without blinding you.
Near a Reading Nook
Another useful place to put a task lamp is by your reading nook. Whether you have a beautiful home library or just a corner where you like to read, having a task lamp is one of the best lighting decisions you can make.
On the Nightstand
Lastly, the nightstand is a piece of furniture that could definitely benefit from having a task lamp. By turning on this fixture, you create a small source of light that can help you see what's in the drawer of your nightstand. This targeted light will be small enough so as to not distract other people in the room, while at the same time helping you see perfectly in that particular area.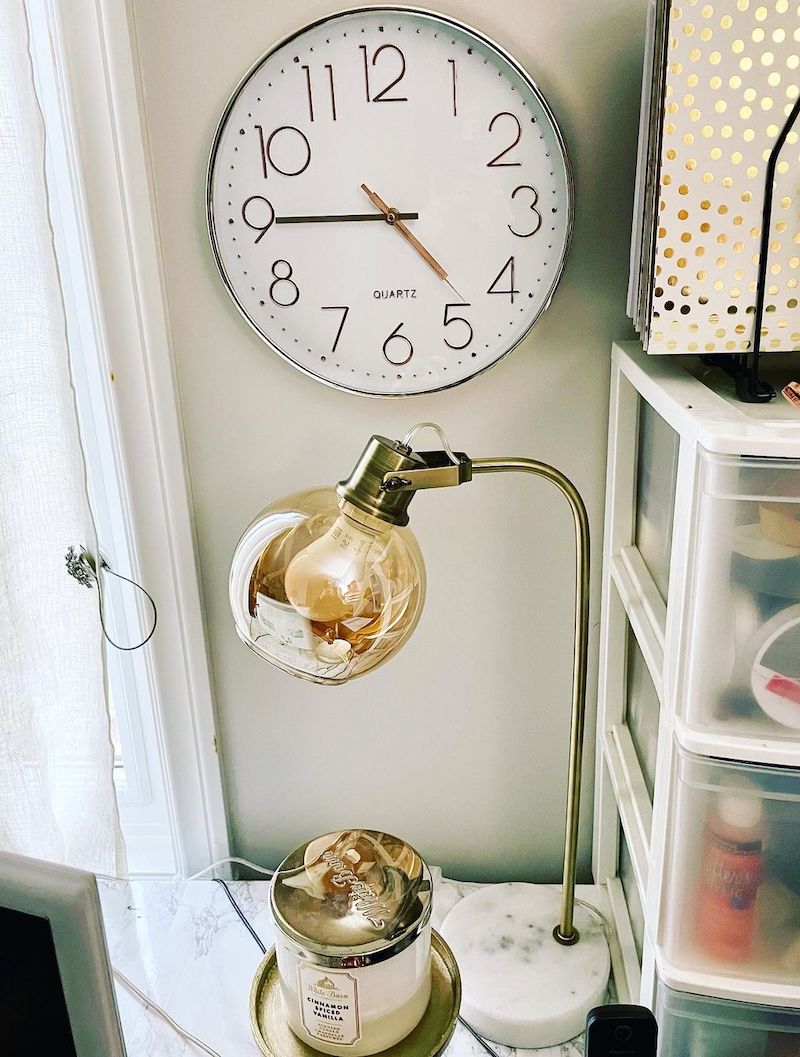 Task Lamp Styles
Because task lamps are associated with working and productivity, you can often find them in the industrial style of design. That being said, you aren't just limited to this aesthetic and you can find many other styles available such as these popular ones!
Modern tasks lamps
Farmhouse task lamps
Scandinavian task lamps
Industrial task lamps
Traditional task lamps
The Benefits of Task Lamps
There are so many benefits to using task lamps. One of the primary reasons is that they help us focus. With so many distractions all around us, light is something that helps us keep our minds centered on the task at hand.
Darkness is well-known to make us tired. Having a properly illuminated space to work is key to staying productive and motivated. Light will ensure that your attention stays directed where it is needed. Furthermore it will reduce eye strain and it can even improve your mood.
Blue-toned LED lights especially help to stimulate the brain and reduce melatonin so we can stay awake and ready to tackle the day.
---
I hope this post helped you learn more about task lamps and why they make great lighting fixtures for your home. If you have any questions, don't hesitate to let us know in the comments below. If you found a great task lamp that you're very happy with then please share that with our other readers as well. We would be so grateful!
Don't miss our other guides to the lighting fixtures that make your home spectacular! Read more below:
Happy curating!