Window treatments are an essential yet often overlooked element of home decor. The right window coverings can completely transform the look and feel of a room, strengthen its interior design, enhance natural light, and provide necessary privacy.
In this comprehensive guide, I'll share the most popular styles of window treatments, from classic curtains to up-and-coming trends like Roman shades and plantation shutters. We'll cover the advantages and disadvantages of each option so you can determine what's best for your space, style, and budget.
You'll learn insider tips on choosing the right fabrics, patterns, and hardware for any window. We'll also provide advice on proper measuring and installation so your window treatments fit right and operate smoothly. Whether you live in a stately Victorian or a sleek contemporary home, this article will inspire you to rethink your windows and take your decor from drab to fab. Let's get started on an inside look at the wonderful world of window treatments!
Most Common Window Treatment Styles
These are the most popular kinds of window treatment styles for residential homes.
Curtains
Curtains are made of fabric and hang from rods above windows. Some common types of curtains include blackout curtains that block out light and noise and sheer curtains that allow natural light to filter through. Curtain styles range from traditional pinch pleats to modern grommet tops. Most curtains are hung using small rings. They're easy to open and close by sliding them along the rod.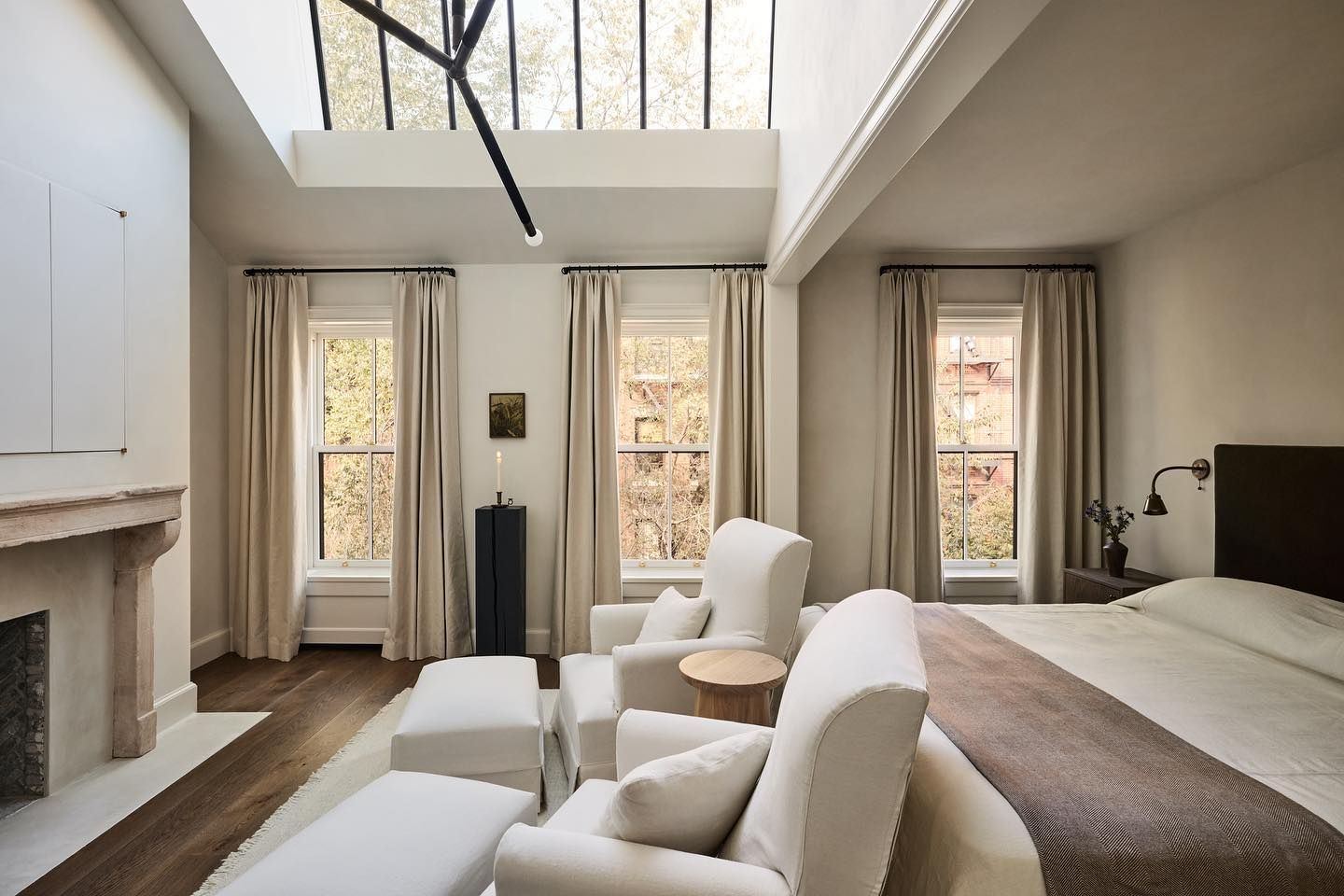 Blinds
Blinds feature horizontal or vertical slats that adjust to control light and privacy. Popular blind styles include Venetian, vertical, mini, and pleated. Blinds are also easy to open and close using either a twisting control rod or a string.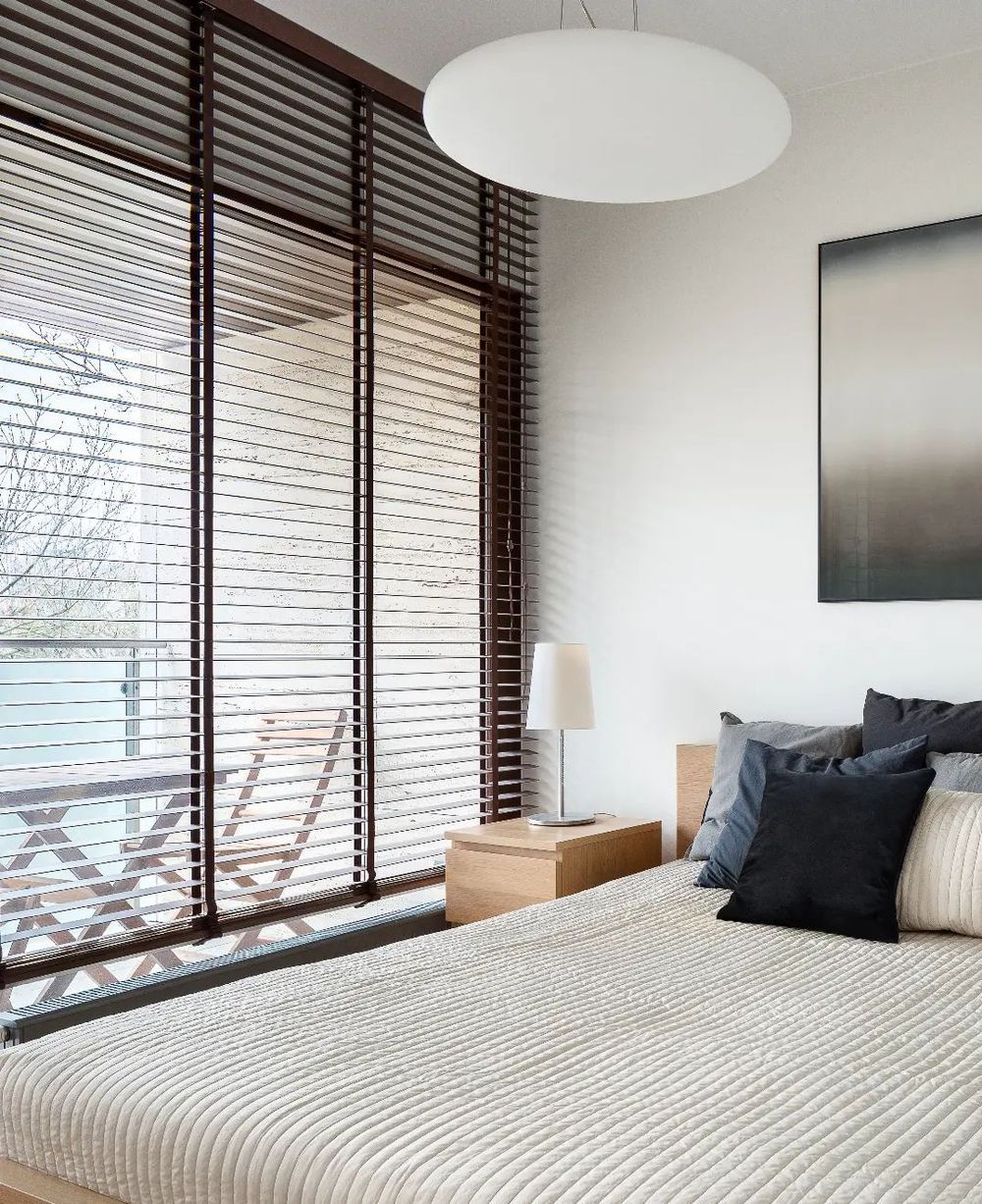 Shades
Shades roll up and down or raise and lower to allow adjustable light control. Common shade types include roller, Roman, cellular, bamboo, and solar. These are small, fitted window treatments that don't take up much room.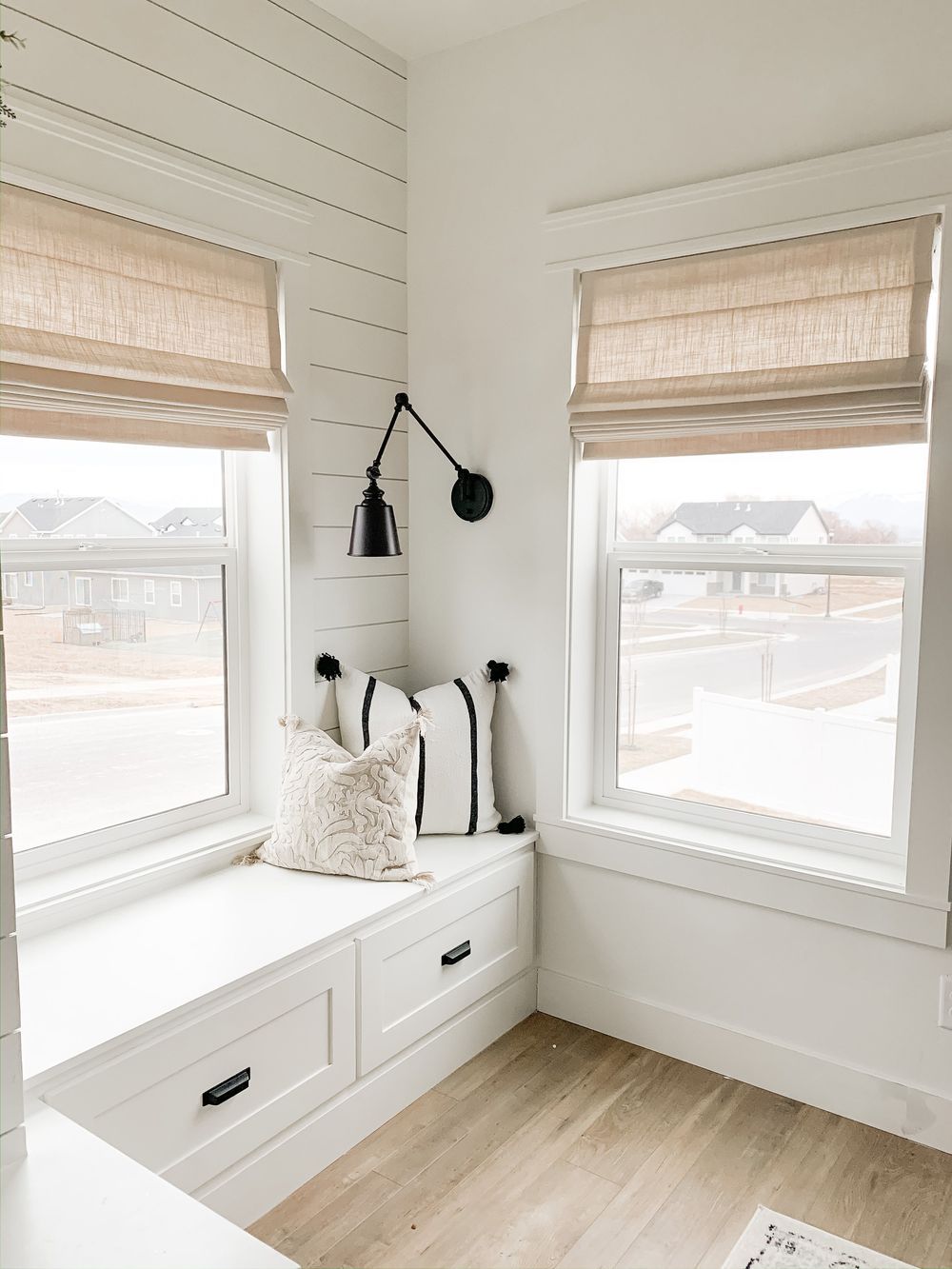 Shutters
Shutters are window coverings with louvers that open and close to regulate light and air. Interior shutters can be made of wood, faux wood, or vinyl while exterior shutters are typically wood or fiber cement.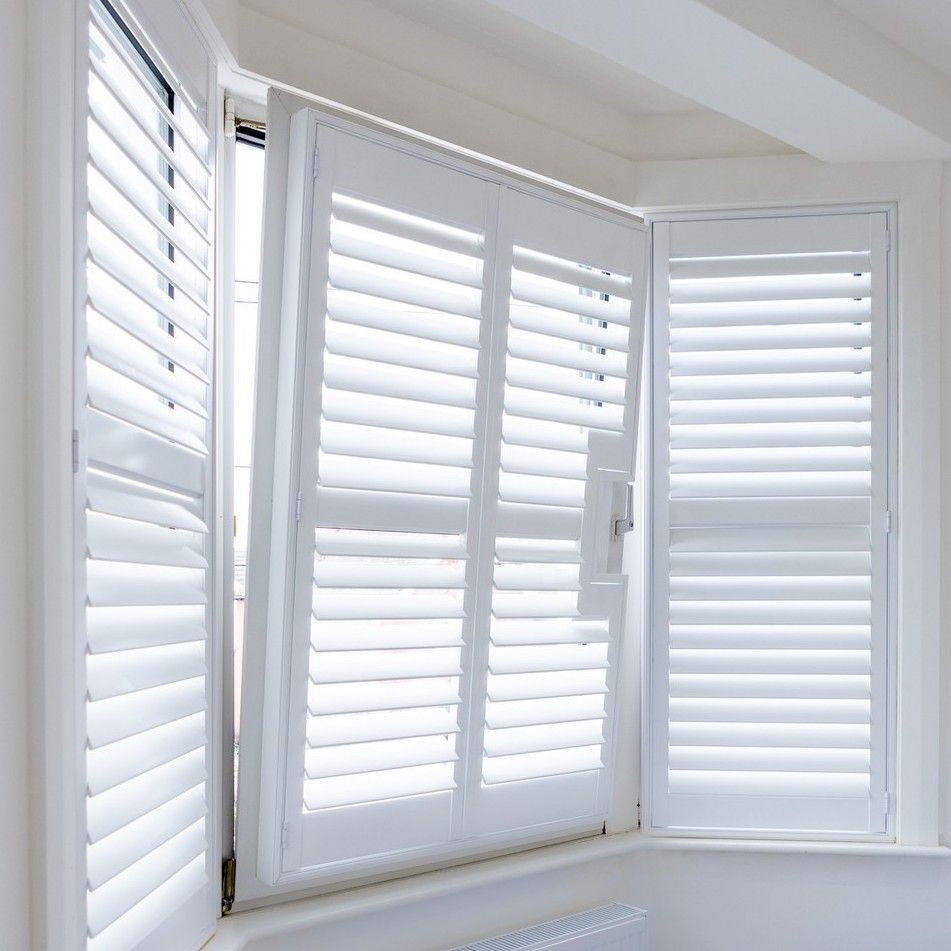 Valances
Valances are decorative fabric pieces that sit atop curtain rods and window frames. Valances conceal hardware and make a bold statement. They were common in upscale, traditional homes, but are less common in modern residences.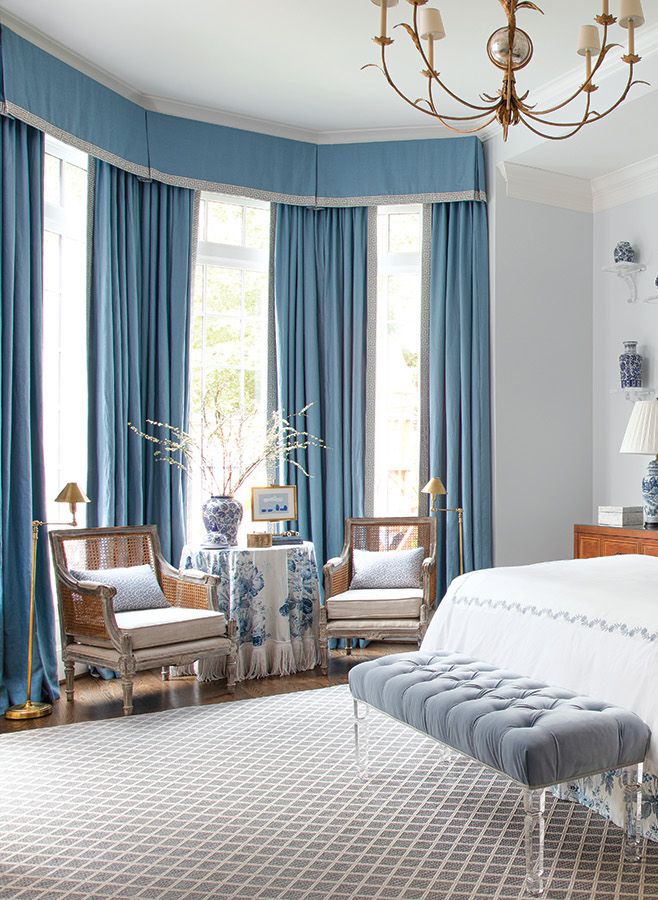 Types of Window Treatment Fabrics
There are several options for window treatment fabrics.
When selecting fabrics for window treatments, you'll need to consider both aesthetics and performance. The fabric texture, color, and pattern should complement your room's decor. But the fabric also needs to withstand sunlight, provide the right amount of privacy and light control, and be easy to care for. Factors like room type, the amount of light, and your design theme should all be considered.
Natural vs. Synthetic Fabrics
The two main categories of fabrics to consider are natural and synthetic. Natural options like cotton, linen, and silk offer a classic look and are more breathable. However, they must be maintained over time and require more careful cleaning. They're prone to fade, wrinkle, and sag.
Synthetic fabrics like polyester and acrylic are generally more durable and easier to clean. They're also more affordable and wrinkle-resistant. They can mimic the texture of natural fabrics quite well. Just be aware that cheaper synthetics may look artificial with time.
It's essential to weigh the pros and cons of each type of fabric relative to where you'll be placing the window treatment. For example, a bathroom with high humidity levels would benefit from synthetic materials that resist moisture.
Sheer, Light-Filtering, or Blackout Options
Another critical factor to consider is the degree of light filtration.
Sheer fabrics allow the most light to enter and offer minimal privacy. These are great for living rooms where you may want abundant natural light.
Light-filtering materials offer a middle-ground solution, providing privacy while still allowing some light in—ideal for a home office or dining room.
Blackout fabric options completely block light, offering maximum privacy and insulation, making them a good choice for bedrooms or media rooms.
Durability Considerations
Durability is a vital aspect to take into account, especially for window treatments in high-traffic areas or rooms used by children or pets. Fabrics that are stain-resistant and easy to clean offer an advantage in these situations. Performance window treatment fabrics with stain protection or blackout linings will last longer.
It's wise to pick a tightly woven, good-quality fabric that will stand up to cleaning and sunlight. Pinch pleated, tab top, and goblet styles place less stress on the fabric.
Synthetic fabrics typically withstand wear and tear better than natural options and are often machine-washable. In contrast, delicate materials like silk may require professional cleaning.
Before making your final selection, consider the long-term maintenance requirements and the longevity of the fabric. Regularly dusting or vacuuming will prolong the life of any window treatment.
Window Treatment Patterns and Textures
The pattern and texture of your window treatments greatly impact the atmosphere of a room. Patterns are a critical element in your interior design scheme. A well-chosen pattern can bring life to a space, through harmonizing or contrasting with other elements.
Solids, Stripes, Prints
Solid fabrics offer a clean, uncluttered look and are easily matched with different decor styles. They're excellent for creating a neutral backdrop that lets other design elements take center stage.
Stripes bring structure and can elongate a space when used vertically. Prints, like florals or geometric shapes, are excellent for bathrooms and kids' rooms.
When choosing between solids, stripes, and prints, take into account the mood you want to set. For instance, a playful print could lighten up a children's room, while a solid neutral might be better suited for a serene bedroom environment.
Texture Options
Texture is another element that adds depth and dimension to your window treatments. Different materials offer distinct tactile qualities, impacting both aesthetics and functionality.
Linen curtains provide a breezy, casual vibe, ideal for a relaxed atmosphere. It's often used in living rooms or sunrooms where natural light and airiness are desired.
Conversely, velvet curtains offer a luxurious, rich texture perfect for creating opulence in spaces like formal living rooms or bedrooms.
Texture isn't just about how a fabric feels to the touch; it's also about how it plays with light. Some materials, like silk, have a light-reflecting quality, while others like wool are more matte, absorbing light for a cozier feel.
Trendy Window Treatments
Window treatments have evolved beyond simple utility to become an essential aspect of home décor. Keeping up with the latest window treatment trends helps you select the best window coverings that are functional and stylish. Here are some trendy window treatment ideas.
Layered Window Treatments
One significant trend is layering different window treatments for a richer look and greater functionality. For example, sheer curtains can be paired with blackout shades to provide light control and privacy without sacrificing style.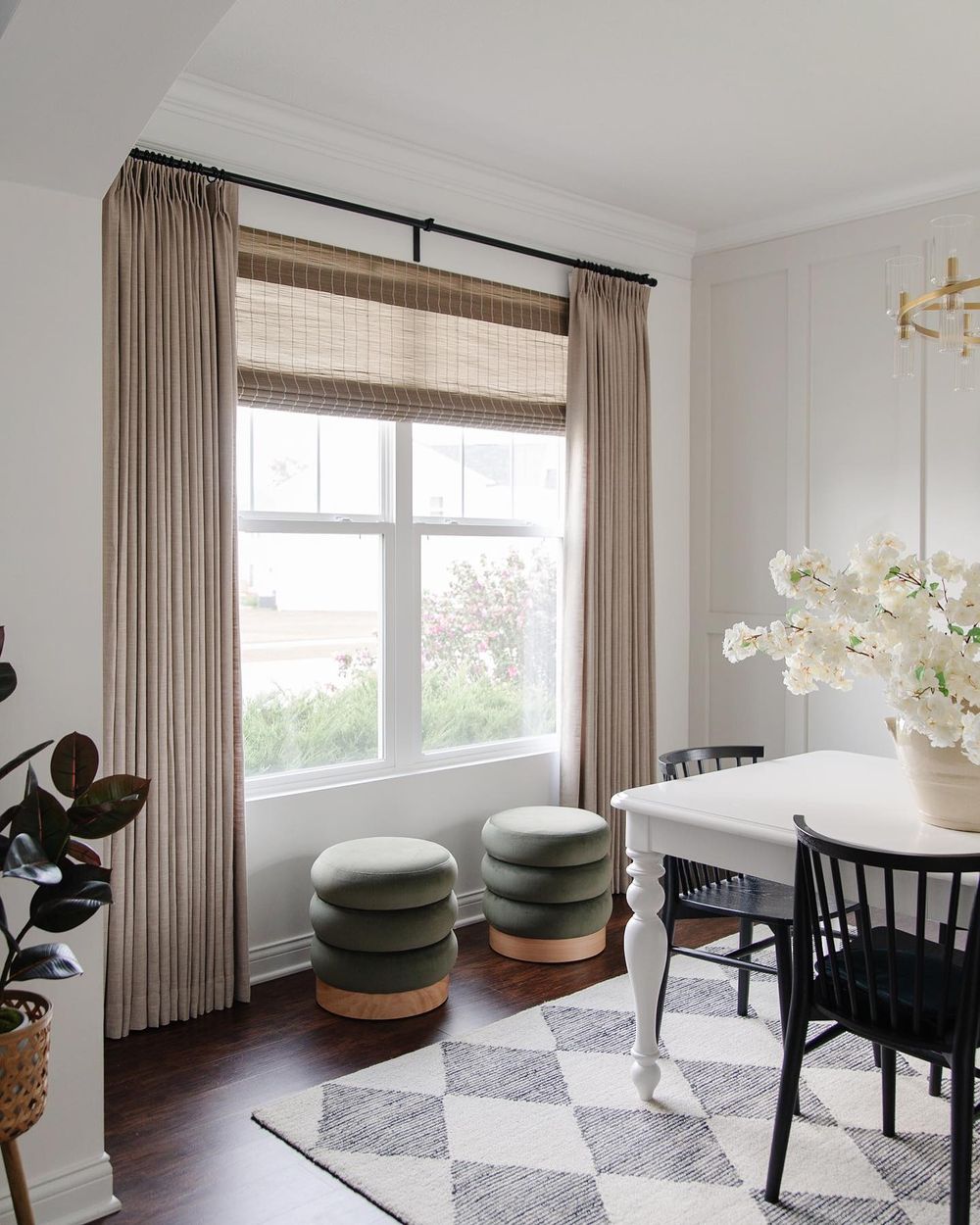 Natural Materials
Sustainability is a big focus in home décor, and window treatments are no exception. Bamboo blinds or shades made from organic, responsibly sourced fabrics are increasingly popular. They offer a tactile richness while aligning with eco-friendly lifestyles.
Bold Patterns and Colors
Minimalism has made way for maximalism in some quarters, with bold patterns like geometric shapes, florals, and even animal prints making a splash. Similarly, vibrant, rich colors like deep blues, emerald greens, and mustards are being chosen to make a dramatic statement.
Smart Window Treatments
Smart home integration is another trend gaining momentum. Motorized blinds or shades that you can control with your smartphone, a remote control, or through voice commands offer both convenience and a modern appeal.
Industrial Aesthetics
Materials like aluminum and stainless steel, often found in industrial settings, are making their way into home interiors. These materials work particularly well in loft spaces, urban apartments, or homes with a modern, industrial vibe.
Roman Shades
Roman and roller shades are enjoying a resurgence, especially those with unique, textured fabrics. Roman shades create elegant, horizontal folds down the window, while roller shades provide a clean, neat appearance when raised.
Performance Fabrics
High-tech, performance fabrics, designed to resist stains, manage light, and insulate rooms, are becoming increasingly popular. These are especially useful in rooms that experience extreme temperatures or high levels of light.
Frequently Asked Questions
What are the most popular window treatment styles right now?
The most popular and trendy window treatment styles currently include layered window treatments, Roman and roller shades, and smart, motorized options. Trends also lean towards natural materials like bamboo, as well as traditional patterns and dreamy colors for a dramatic design.
What fabrics work best for different rooms?
Different rooms require different fabrics; for example, moisture-resistant materials like polyester are good for bathrooms, while lavish fabrics like velvet and silk are best for formal living rooms. Light-filtering fabrics work well in home offices, and blackout options are preferred for bedrooms.