If you've ever lived in a two-story (or more) home, there's a good chance you're familiar with staircases. Even though the staircase is just a pass-through space, bringing us from one floor to another, there's no reason to overlook this necessary diagonal space in the home. Staircases aren't where we spend a lot of time, but they do serve a practical purpose, and thus should not be ignored!
Let's chat about some popular staircase construction design and decorating ideas for your house.
Types of Staircases
If you are in the building stage of creating your home, you may be curious to know the different types of staircases that are available. These are the most common types of staircases that most contractors and developers are familiar with.
Straight Stairs
This type of staircase is very common and, no pun intended – straightforward! Straight stairs are staircases that go straight up, with no twists and turns. They are the most practical and easy to install in the home out of all the different choices. That being said, they do take up quite a lot of space since you need a longer area to install the stairs. They're also the most dangerous as a slip could mean a very long fall down.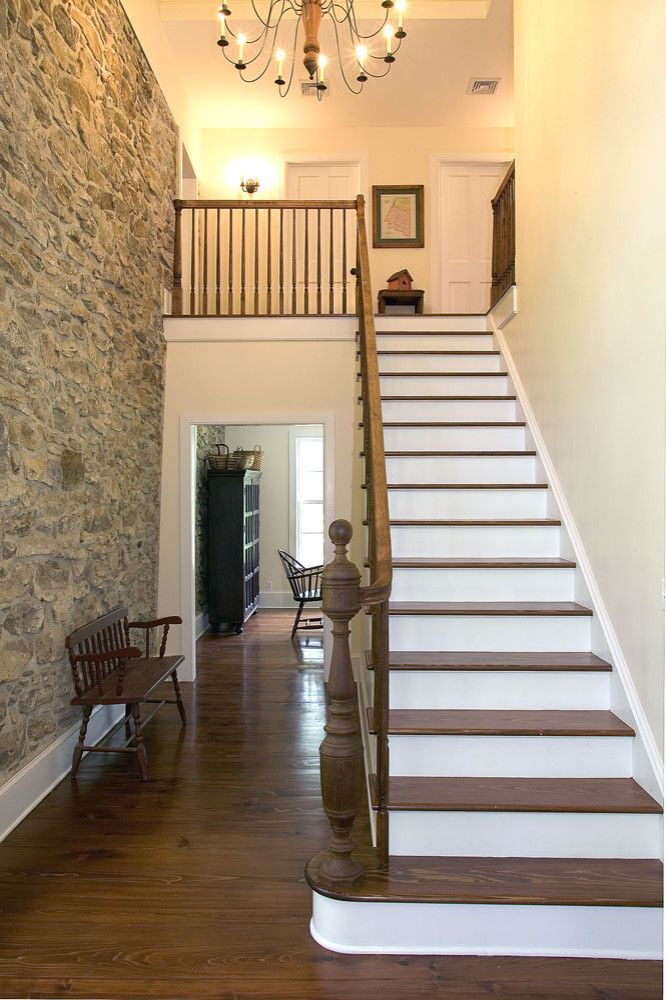 Floating Stairs
Floating stairs are a modern type of staircase that features steps that are not connected to each other. They have open backs, giving them a light and airy appearance. The could have a barrier on both or just one side. Some people love the look of these stairs!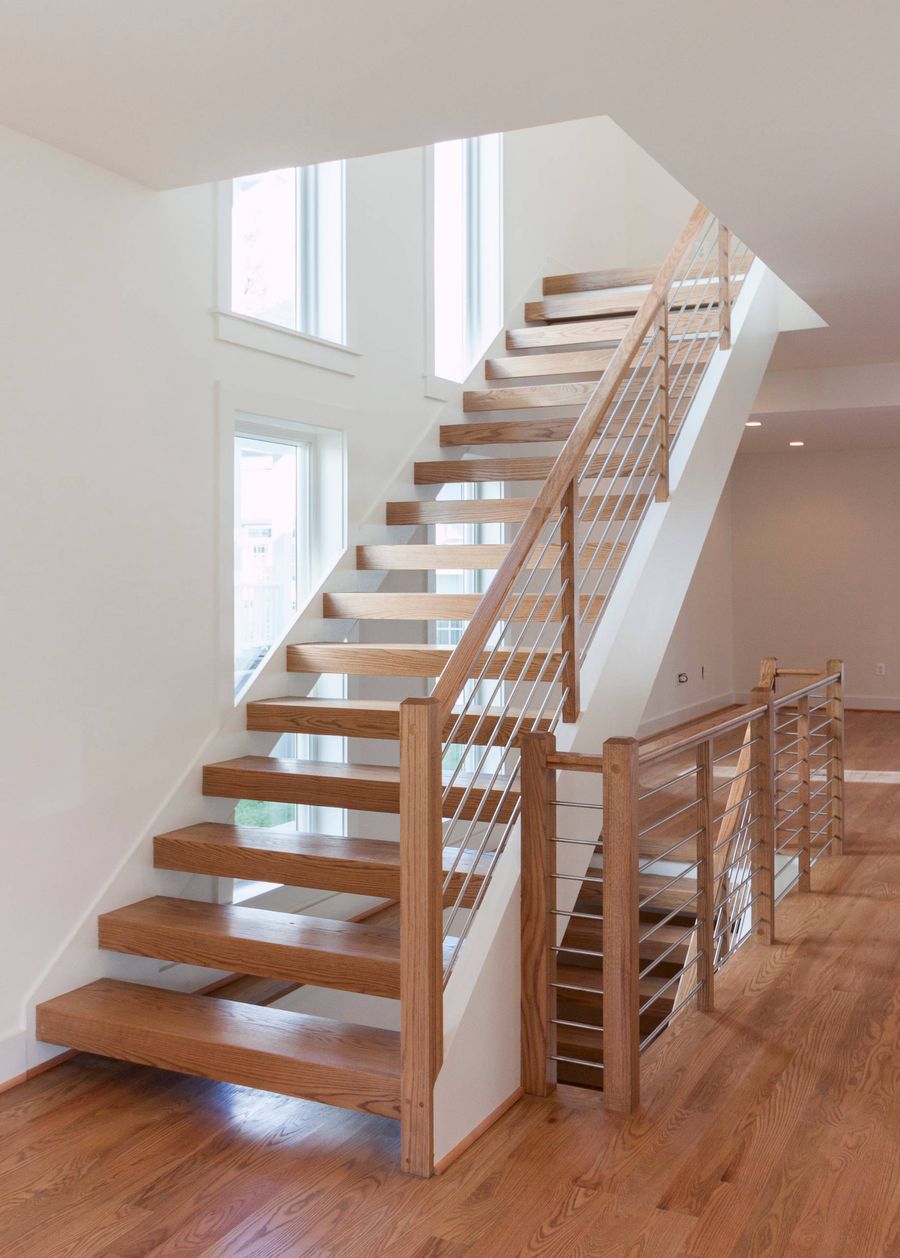 L-Shaped Stairs
L-shaped stairs turn 90 degrees about half way through their elevation. There is generally a flat square landing installed at the turn, to make it easier to continue walking.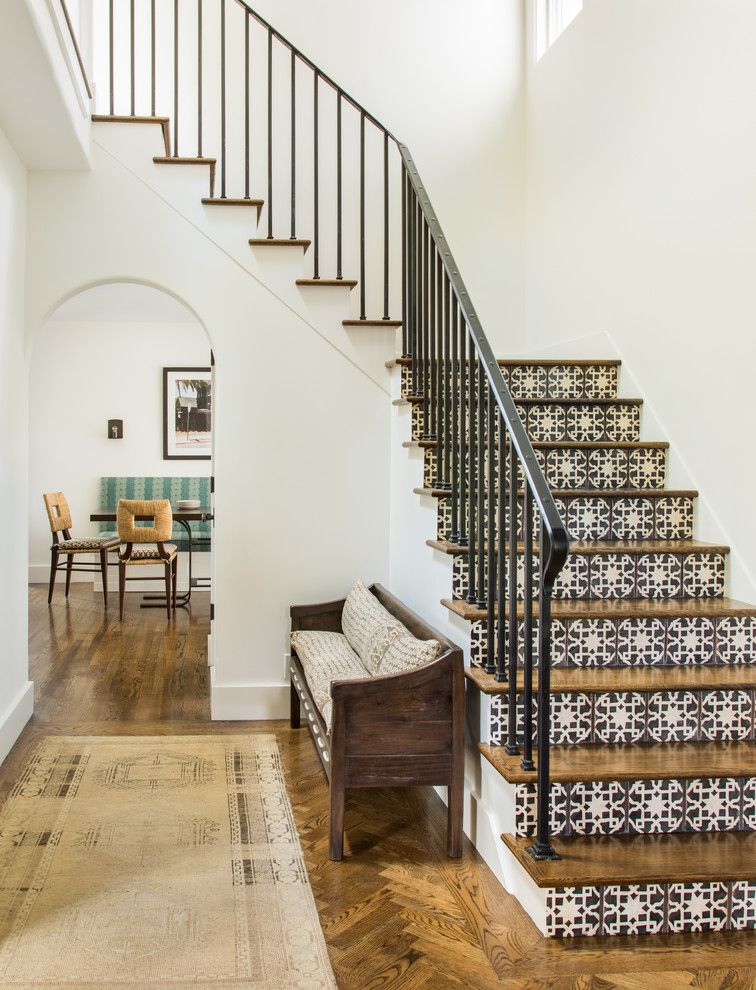 Winder Stairs
Winder stairs also turn about halfway up the staircase, but they don't offer a flat landing. Instead, the steps continue at an even height, and they are cut diagonally, similar to a pie. I'm personally not a fan of these kinds of stairs, as the uneven width of the step can make slipping much easier.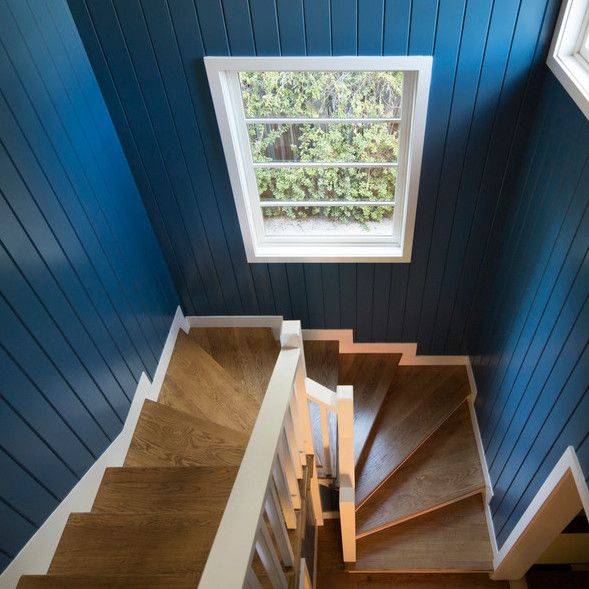 Twin Stairs
For twin stairs, you need quite a large entrance foyer. These stairs offer two matching staircases on either side of the main entrance hall. They create a grand greeting to everyone who walks in the home. The stairs are typically curved to create a feminine and balanced space.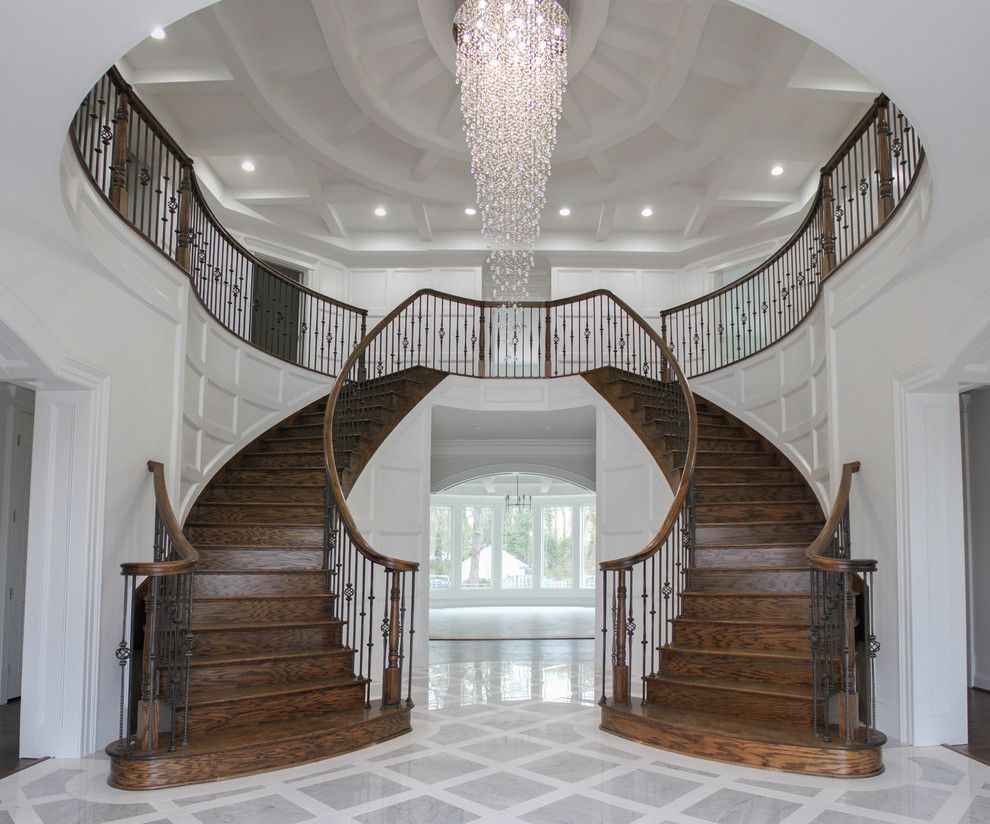 Spiral Stairs
Spiral stairs are great for small spaces, though they can be tricky to mount. They offer a single spiral staircase that goes up quite steeply. Spiral staircases are often found in lofts and smaller apartments.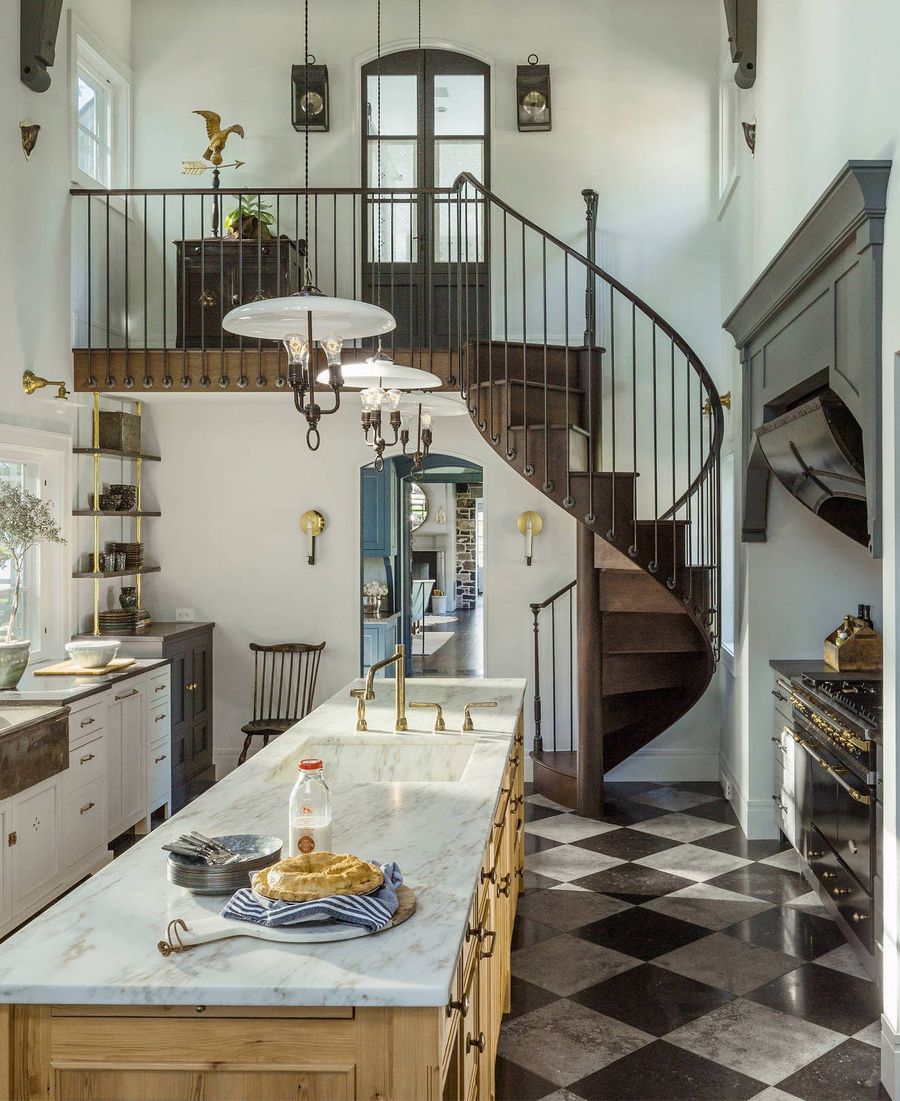 U-Shaped Stairs
U-shaped stairs are a type of staircase that turns 180 degrees, forming the shape of a U. There is generally a large landing mid-way up where the staircase changes direction, but other times, a smaller staircase is installed to bridge the two main staircases. They are also known as half-turn staircases, switchback stairs or scissor stairs.
Curved Stairs
Curved staircases can bring an elegant and feminine look to your home. These types of staircases offer a gentle curve to the staircase structure, similar to a half-circle, though not quite as sharp. These are very popular in French interiors, and often feature a scroll iron bannister.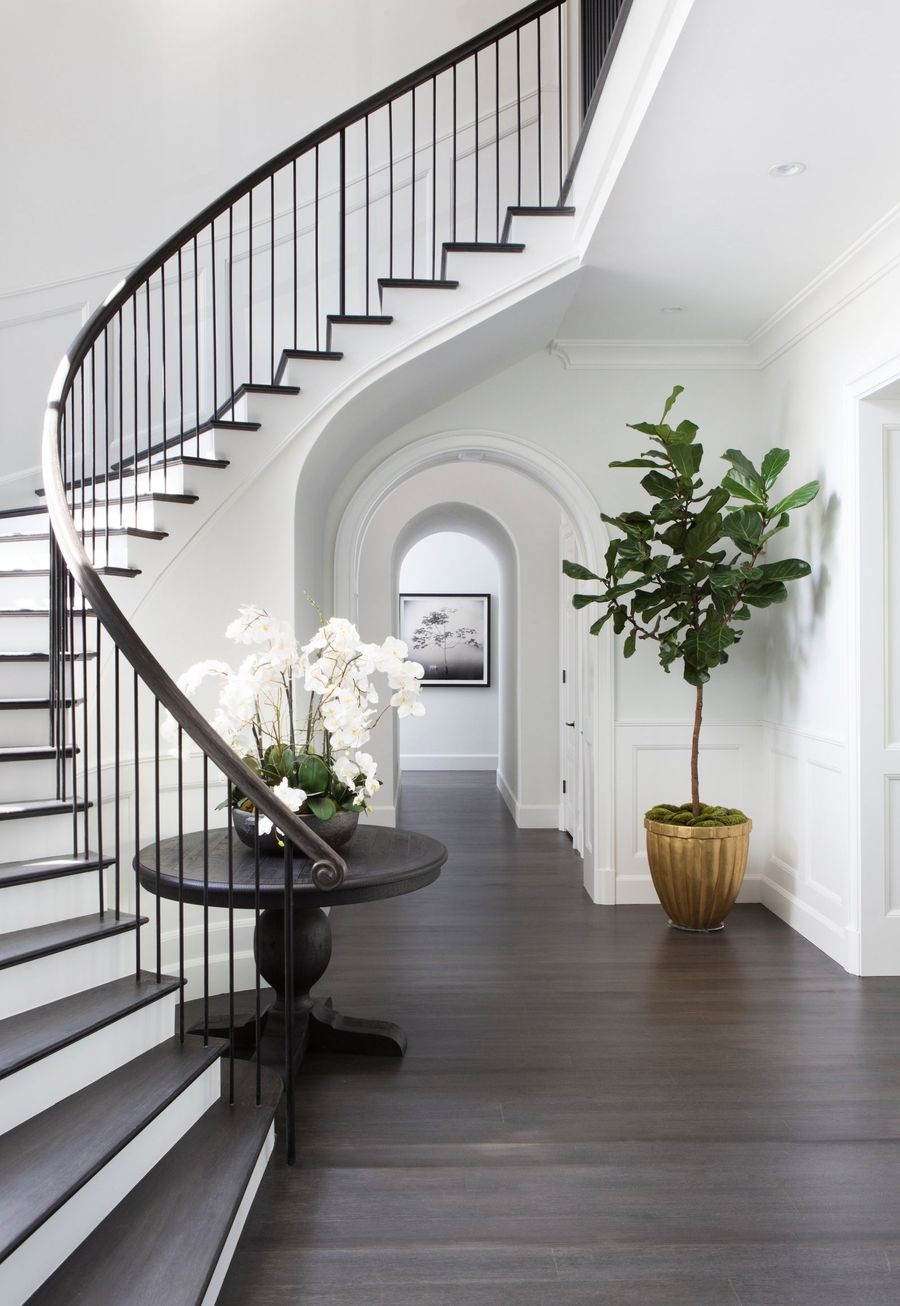 Split Stairs
Split stairs are another type of twin staircase. On a split staircase, the bottom portion of the stairs are centered, and about halfway up, the staircase splits into two, with one portion going right and the other going left, at a 90-degree angle. A small landing is installed at the division, with the opportunity to put a console table or other welcoming focal point.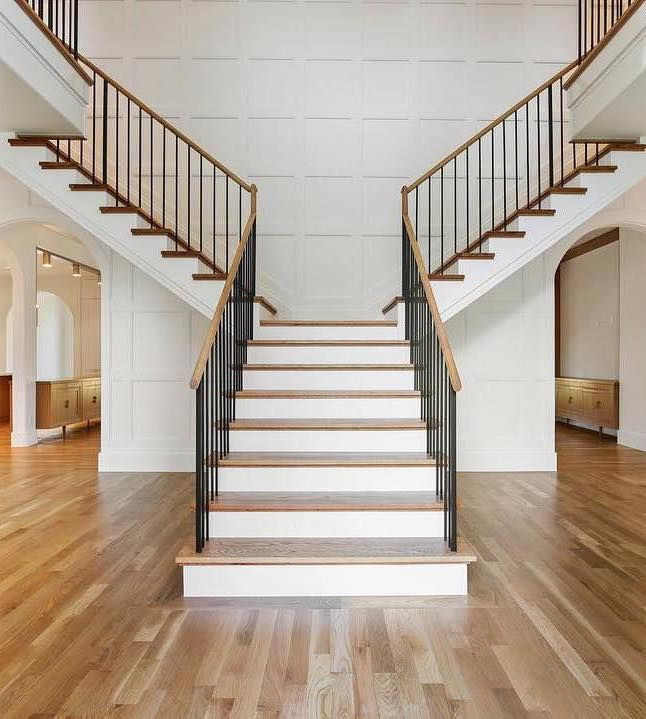 Ladder Stairs
Ladder stairs are generally inexpensive to install and they can even be purchased as one piece. These are often used for very short distances, such as from the ground floor to the mezzanine of a small loft or studio apartment. Ladder stairs are a great space saving choice.
What to Consider
There are a few considerations to think about before making the final decision on a staircase. Here are a few noteworthy features of staircases that you'll need to decide on before speaking with your contractor.
Bannisters
Many staircases feature a handrail and uprights along one or both sides of the staircase. This will help you find balance in case you might fall, and also keep anything from falling to the far ground below. While this portion of the staircase isn't necessary, many people will want one especially if they have children or elderly people living there. Even if your family doesn't need one, it may be good to install one anyway as many homebuyers will be looking for this feature. It's something you must consider!
The Space Under the Staircase
Think about how you want to make use of the space beneath your staircase. Some people like to install closets or have a small storage room available. Other people have a basement, and prefer to create another staircase below their main one to access the floor below. Be sure you're clear on your intentions for this space!
Staircase Decor
Once you've decided on the staircase you wish to install in your home, it's time to decorate this space! We've come up with a few exciting staircase decorating ideas to spark your creativity.
Gallery Wall
One of the most popular ways to decorate a staircase is to install a gallery wall of family photos and precious items along the wall. You could put paintings, photography, and even diplomas or important documents along this wall.
Rug on Stairs
To make going up and down your stairs more pleasant on the feet, consider installing a rug along your stairs. A staircase runner will also help prevent accidental slipping when wearing socks!
Message along the Stair Backs
A trend I've noticed is to write a message, quote, or inspiration saying along the backs of your stairs. People will read it as their eyes travel from the bottom to the top of the staircase!
Beyond these ideas, there are many ways to personalize the look of a staircase depending on your existing home decor style. You can find numerous ways to give your staircase a fresh look. We'll be sharing in-depth guides based on style very soon, so keep checking back on our site to read about them!
I hope our staircase guide helped you understand the different options available when it comes to installing stairs in your multi-level home. Please let us know your thoughts in the comments below!