Many people love Scandinavian decor for its simplicity and coziness. If you are curious how Scandinavians decorate for the holidays, then keep scrolling to see these beautiful Scandinavian Christmas decor ideas! You will fall in love with how simple and peaceful these Scandinavian holiday decor ideas are. I hope they inspire you to decorate your Scandinavian home for Christmas!
Here are a few nordic Christmas ideas from Sweden, Norway, Finland, and Denmark to get you started!
Scandinavian Christmas Decor
So what is Scandi style Christmas decor all about? Well, there are a few rustic elements, a few vintage furniture pieces, and a whole lot of hygge thrown in the mix! In case you don't know what hygge is, it's a Danish and Norwegian word that describes the mood of coziness and comfortable living. It's all about feeling well and content in your home! If you love this idea, then you'll definitely want to get on board with the Nordic style of Christmas decorating.
Some general guidelines for decorating in the Scandinavian style are:
Stick to neutral tones and colors like gray, white, and black.
Use lots of evergreen and other dark plants
Choose lighter toned wood like birch
Go for geometric, minimal designs and patterns
Stick to natural materials like burlap, cotton, and linen
Integrate different sources of light like candles and string lights
When in doubt, it must be cozy. Hygge all the way.
Keep it simple. Don't over-do anything!
Scandinavian Christmas Living Room Decor
When it comes to the living room, the Christmas tree will obviously be the focal point of the space. Scandinavians don't over-decorate their trees, and they definitely don't choose the fullest or most perfect tree. They prefer a natural Christmas tree that looks like it was chopped down in the backyard! It is lightly decorated to add some festive cheer without being an eyesore of bright colors.
As far as the rest of the space, Scandinavians will light candles and hang evergreen wreaths on the walls. They may add a cozy blanket to an accent chair to keep warm.
Scandinavian Christmas Coffee Table Decor
Here is an example of a typically Scandinavian coffee table decorated for Christmas. Four white candles create a minimalist centerpiece, while a group of black Christmas tree decorations adds a touch of festivity. In the background, a rustic miniature Christmas tree sits to the side of the sofa.
Scandinavian Christmas Dining Room Decor
When it comes to the dining room, Scandinavian Christmas decor is all about adding small holiday touches to your existing decor. Scandinavians don't typically buy brand new holiday-themed flatware or table cloths. They work with what they have but add evergreen decorations and white candles where it makes sense.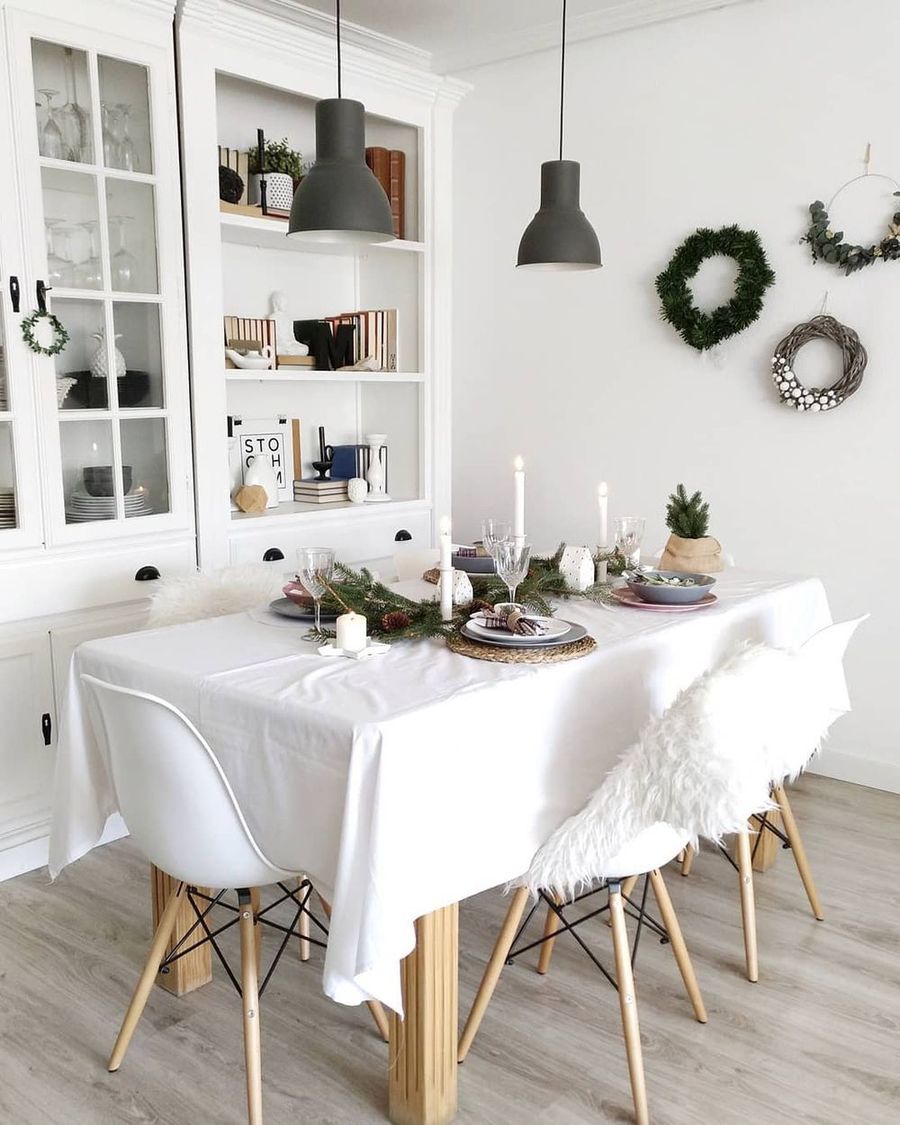 Scandinavian Christmas Bedroom Decor
As far as Scandinavian Christmas bedroom decor, remember that less is more! A simple white star on the window and a miniature natural Christmas tree in the corner of your bedroom is all you could need!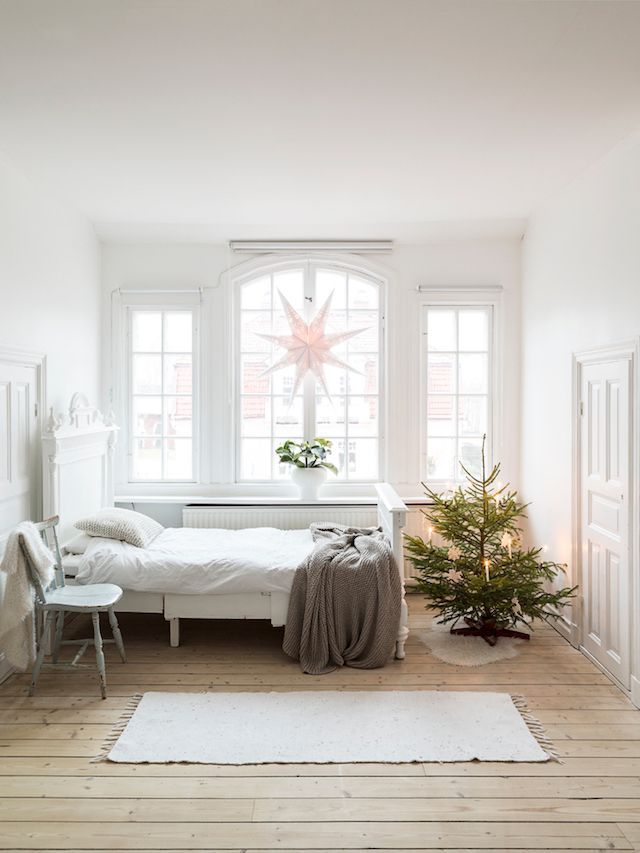 Scandinavian Christmas Home Office Decor
Why not add a small pot of red poinsettias to your home office to decorate in a minimalist, Scandinavian way? If you have the space, then you could even add a full Christmas tree, as seen here!
Scandinavian Christmas Entryway Decor
Scandinavians do love to hang illuminated white stars in their windows for Christmas. It's the best way to greet visitors to your home in the entryway this holiday season!
Scandi Christmas Decorations
Here are a few of our favorite Scandi style Christmas decorations to shop. We've noticed a wide selection of Scandinavian Christmas decorations on Etsy in particular.
Stay tuned for more Scandinavian Christmas decor ideas on Curated Interior!
Merry Christmas!