In my opinion, gold-rimmed tableware is far too often left to dress the tables of weddings – only to be never seen again! It's a shame to leave these beautiful objects for special occasions when so many of them can fit in perfectly with everyday life! The gold-rim look is reminiscent of The Great Gatsby era, and brings a certain elegance to the table. Gilded-rim tableware is aplenty online. Sure, most items are of the classic clear-glass variety, but I did find some really special colorful ceramics that looked marvelous with a golden outline (See above!) Pastel shades of pink and blue were the ones that most caught my eye.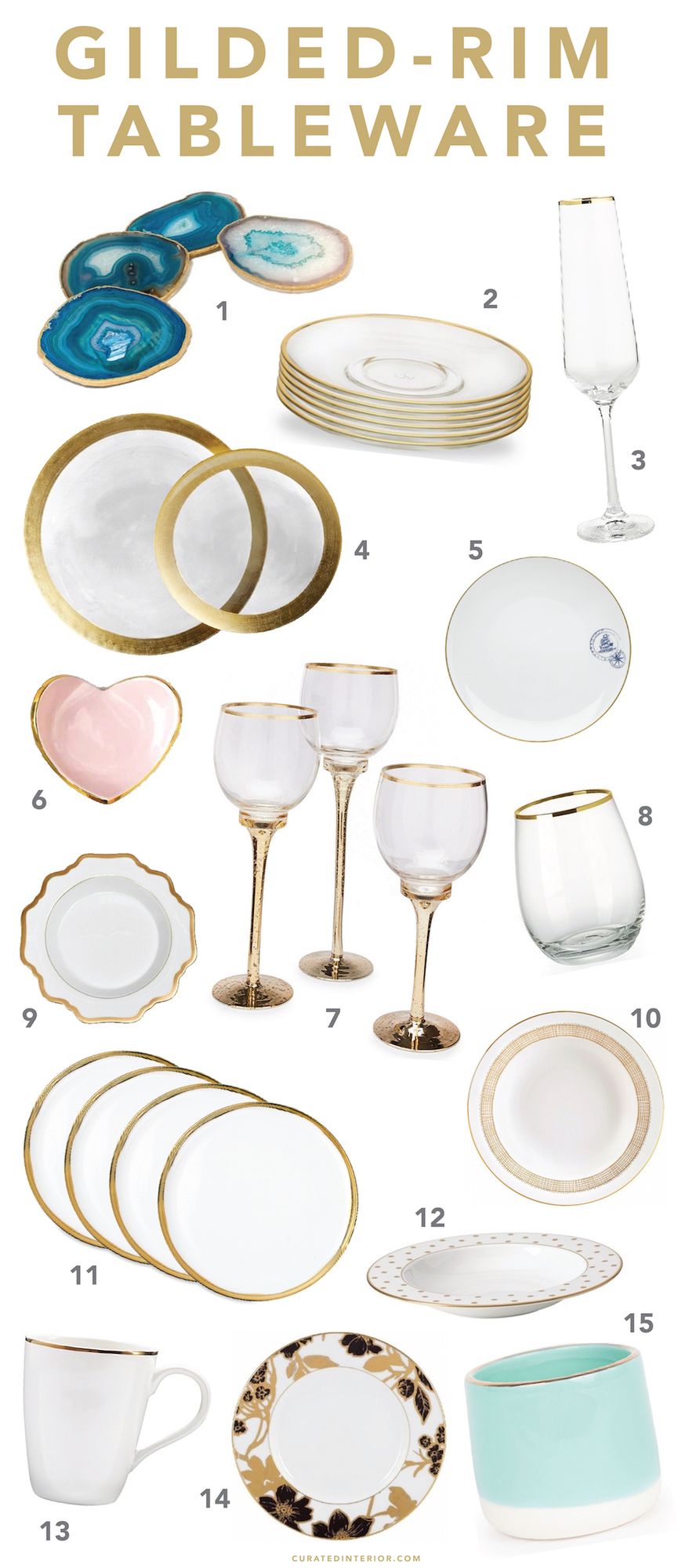 1. Gold Rimmed Agate Coaster – 2. Classic Touch Gold Rim Glass Plate, Set of 6 – 3. Gilded Royale Champagne Flute – 4. Gilded Royale Glass Dinnerware – 5. Transatlantica Gold Rimmed Dinner Plate – 6. Heart Ring Dish with Gold Rim – 7. Home Essentials Cellini Gold-Rimmed Hurricanes, Set of 3 – 8. Gold Rim Stemless Drinkware – 9. Anna Weatherley Antique White with Gold Rim Rim Soup Bowl – 10. Vera Wang Wedgwood Gilded Weave Gold Rim Soup Bowl – 11. Dauville Regency Gold Rim Ceramic Dinner Plate – 12. Kate Spade Larabee Road Gold Rim Soup Bowl – 13. Gigi Gold Rim Mug, Set of 4 – 14. Lenox Minstrel Gold Rim Soup Bowl – 15. Robert Siegel Studio Gold Rim Tumbler – Aqua
Gilded-Rim Tableware Inspiration
Do you own any gilded-rim tableware?