Beige is back, ladies! After taking a backseat to all-white and bold, colorful decor for the past few years, this soft, neutral hue is making a major comeback in the bedroom. As we approach the end of summer, it's time to breathe new life into your personal sanctuary and say hello to the beige bedroom once again.
Why beige? This timeless, elegant shade creates a soothing vibe that promotes relaxation and self-care. Unlike stark white, beige offers just enough color to warm up a space while still maintaining a light, airy feel. When paired with natural textiles and accessories, it creates a cozy but still sophisticated retreat.
If you're ready to overhaul your bedroom into a chic, contemporary oasis, look no further than beige. In this article, I'll share creative ways to refresh your space with on-trend beige accents, bedding, furniture, and more. Get ready to fall in love with this versatile neutral all over again!
Beige Bedroom Ideas
In modern interior design, the beige bedroom is reclaiming its position as a stylish and comforting sanctuary. Beige offers a soft, neutral canvas that invites a diverse blend of textures and styles. Here are some beige bedroom ideas:
Linen Bedding
Opt for linen bedding to create a relaxed yet sophisticated look in your beige bedroom. Its natural texture and light beige tones can induce a serene atmosphere, perfect for a restful night's sleep.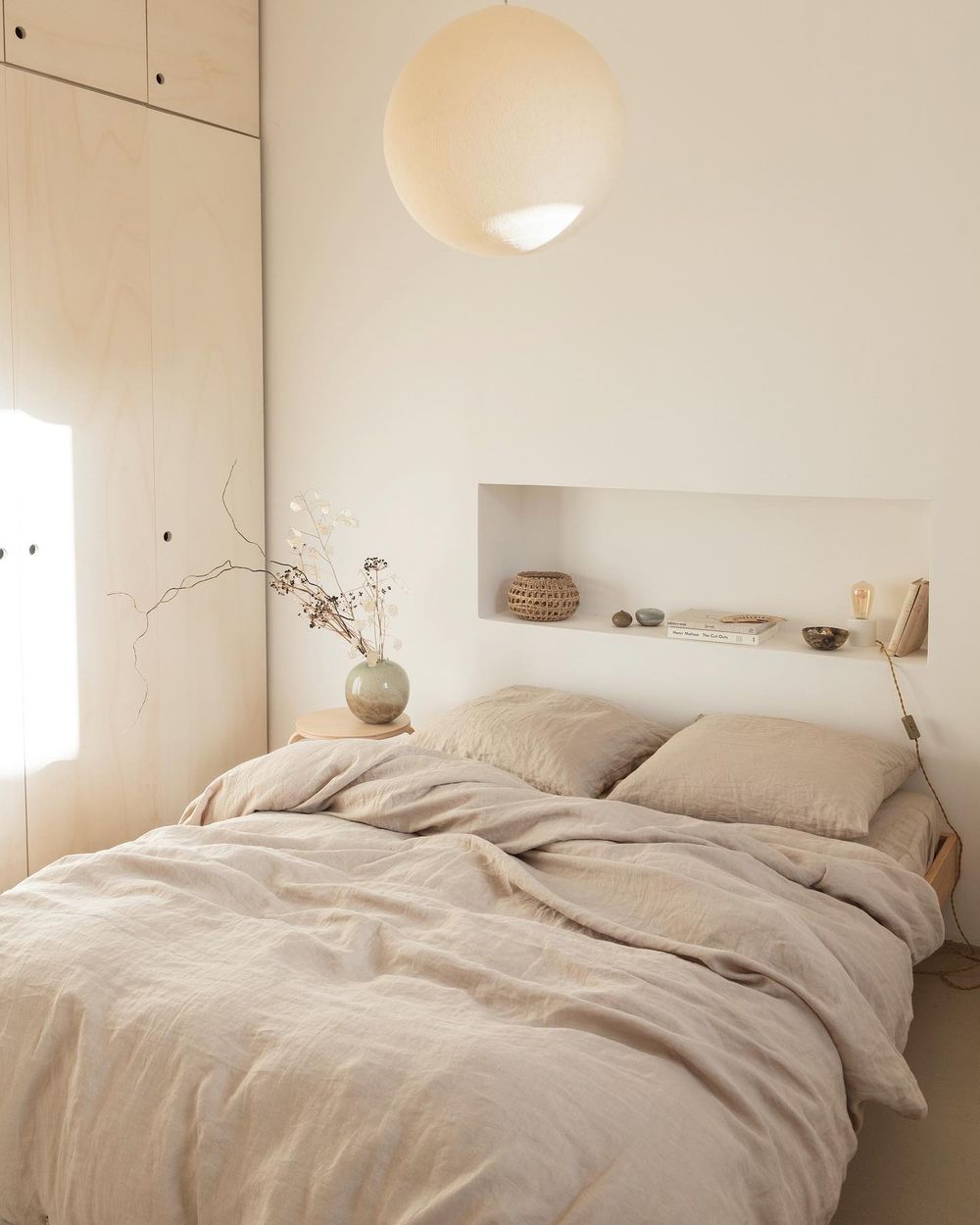 Rustic Wood End-of-Bed Bench
Add a rustic wood bench at the end of your bed. This piece not only offers additional seating but also brings a warm, natural element to the room, complementing the beige tones beautifully.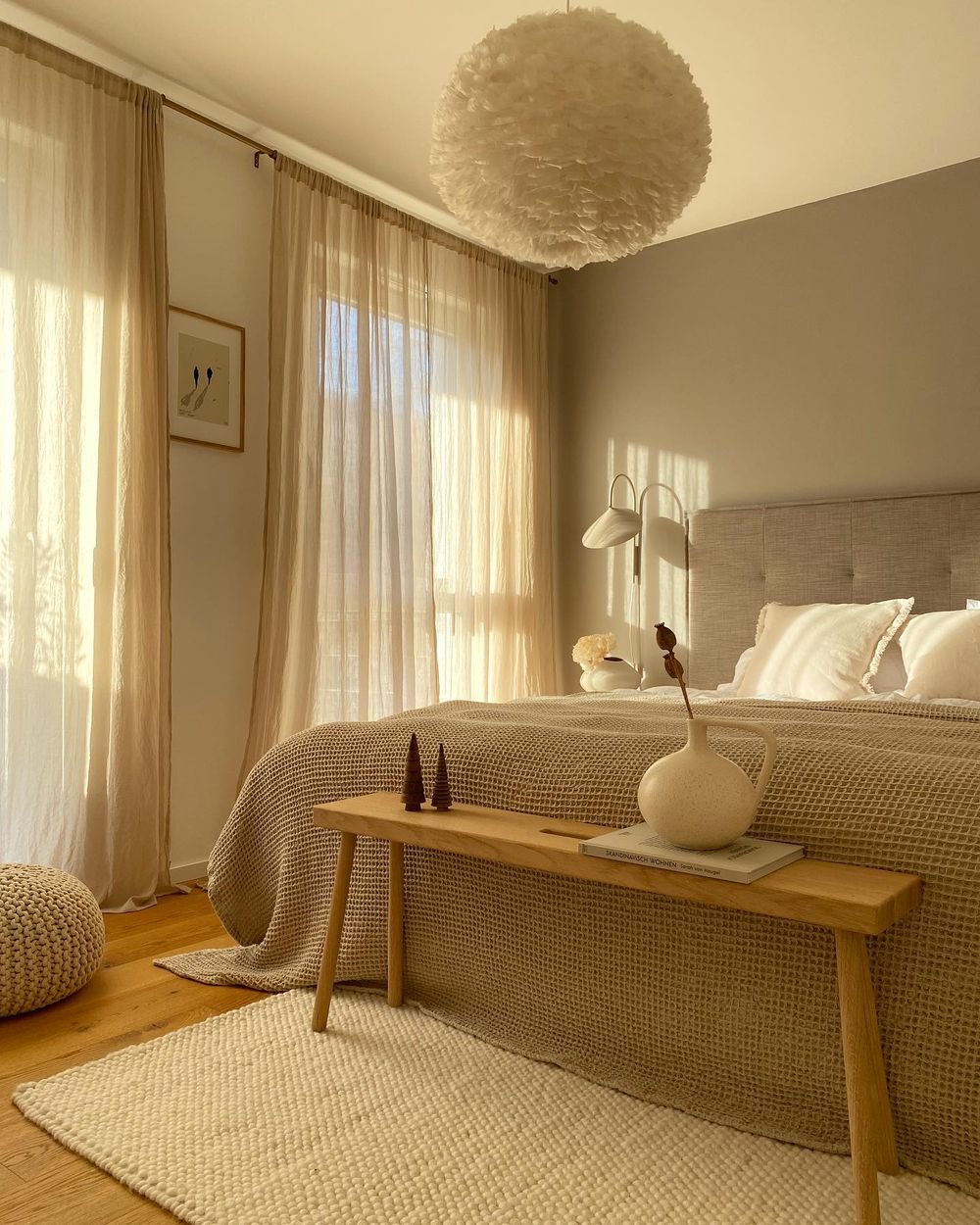 Modern Farmhouse style
Incorporate modern farmhouse elements such as distressed wood furniture and antique accents. This style pairs well with beige tones, fostering a cozy and welcoming environment.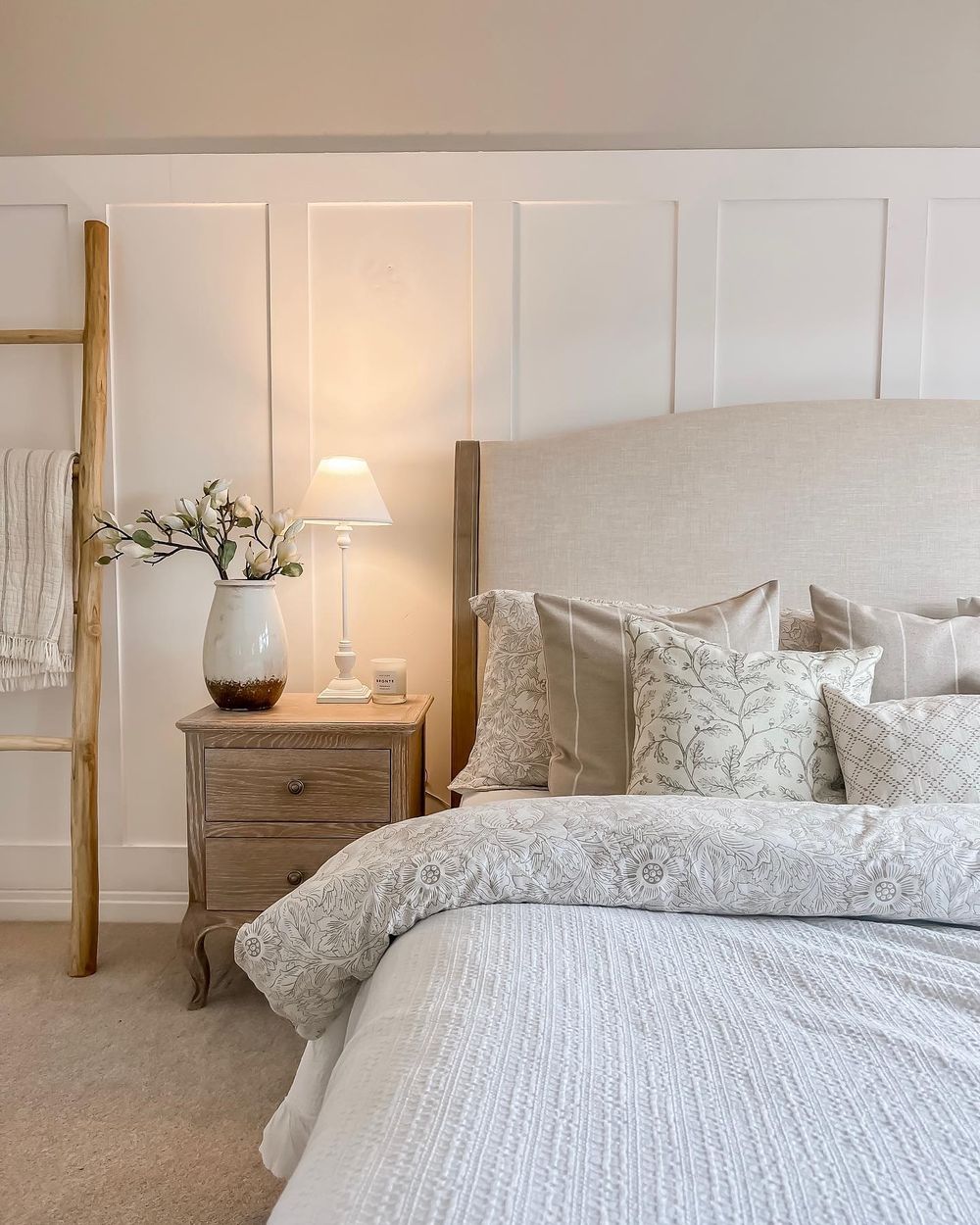 Elegant Mirrored Wall
Install an elegant mirrored wall to add grandeur and light to a beige bedroom. The mirror will reflect the beige hues, enhancing the brightness and spacious feel of the room.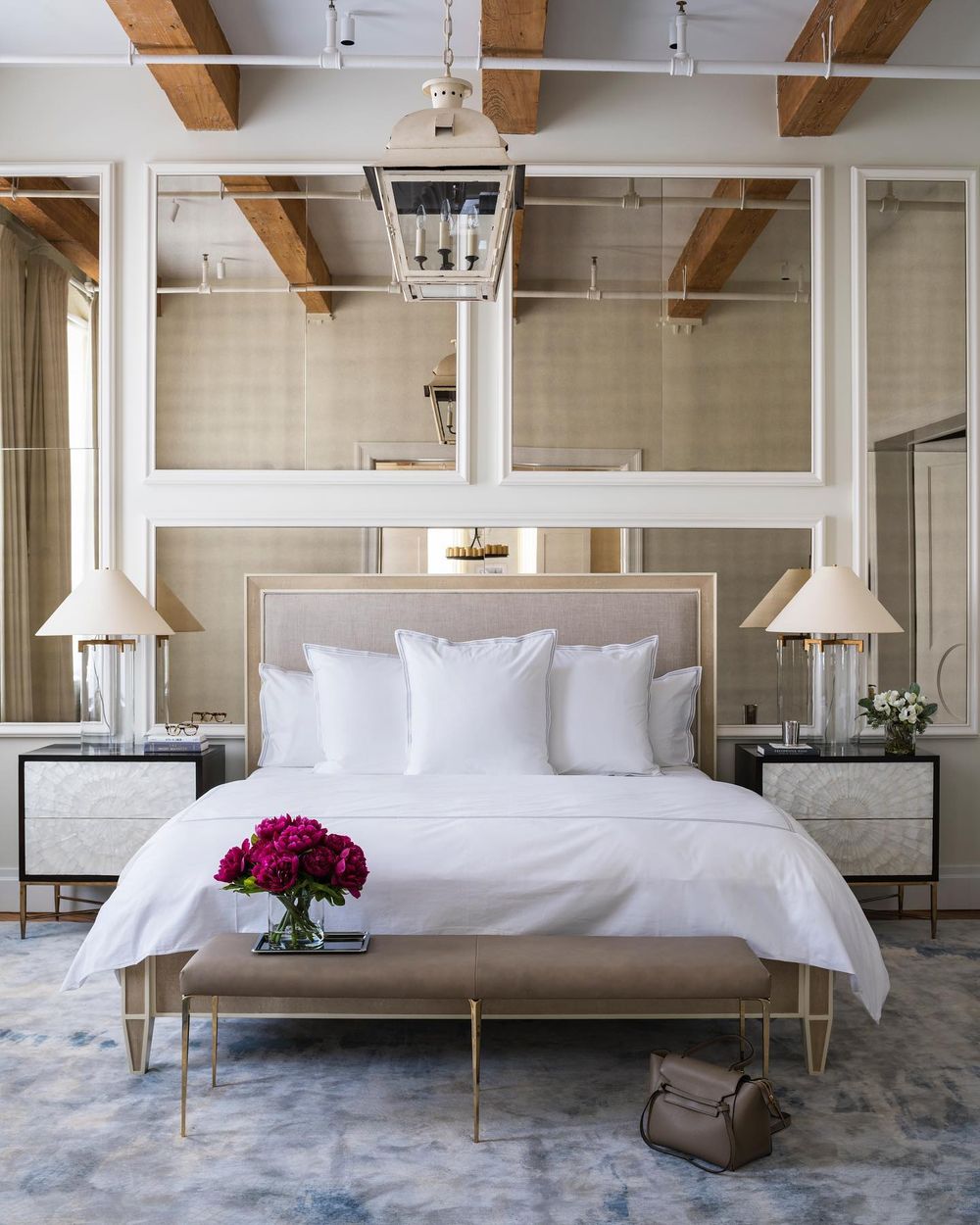 Modern Beige Upholstered Headboard
Choose a modern beige fabric upholstered headboard for a contemporary touch. This feature will not only provide comfort but also unify the color scheme in the room, creating a cohesive look.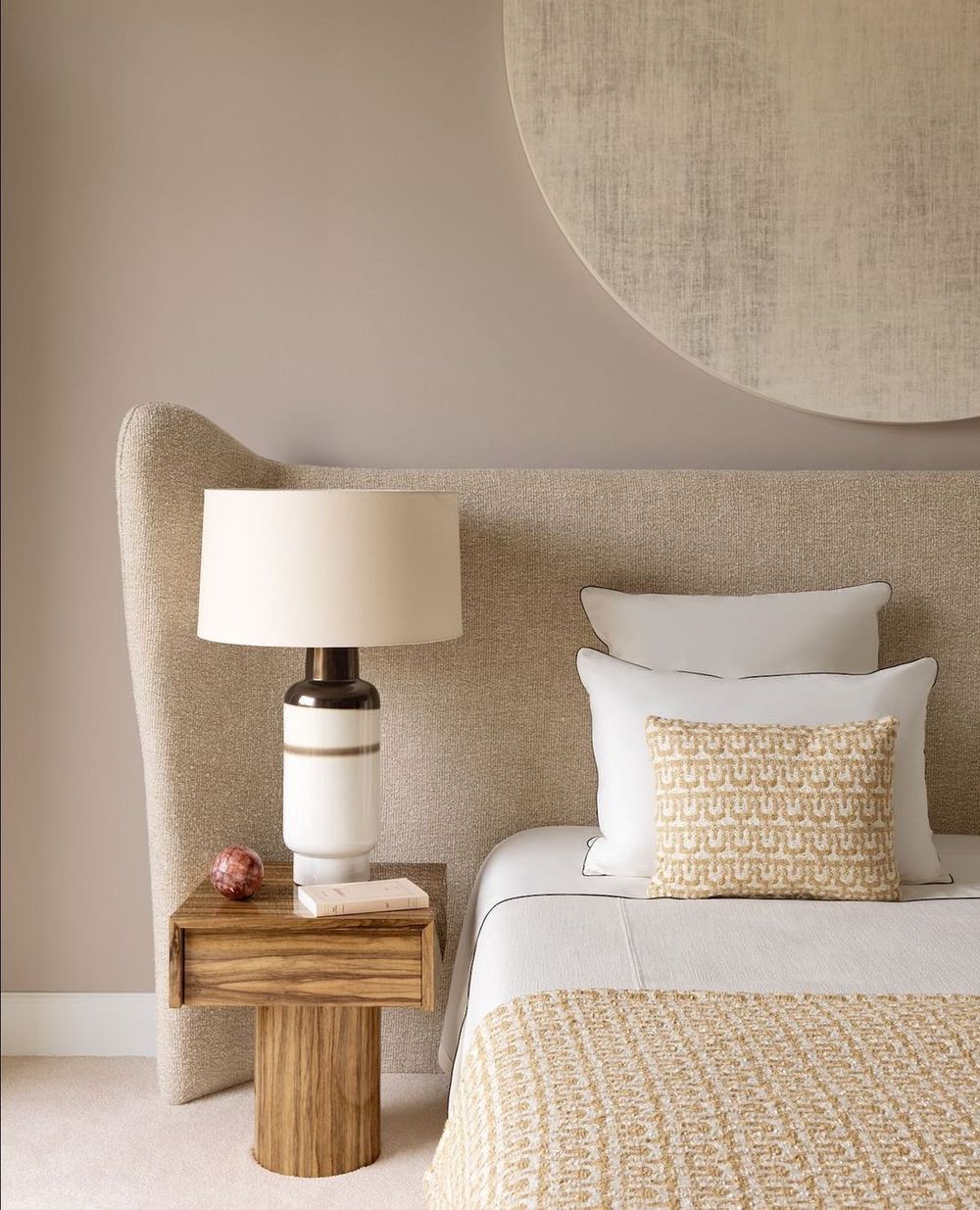 Textured Layers
Incorporate textured layers through rugs, pillows, and throws. These textures will add depth and interest to the beige bedroom, creating a rich and inviting space.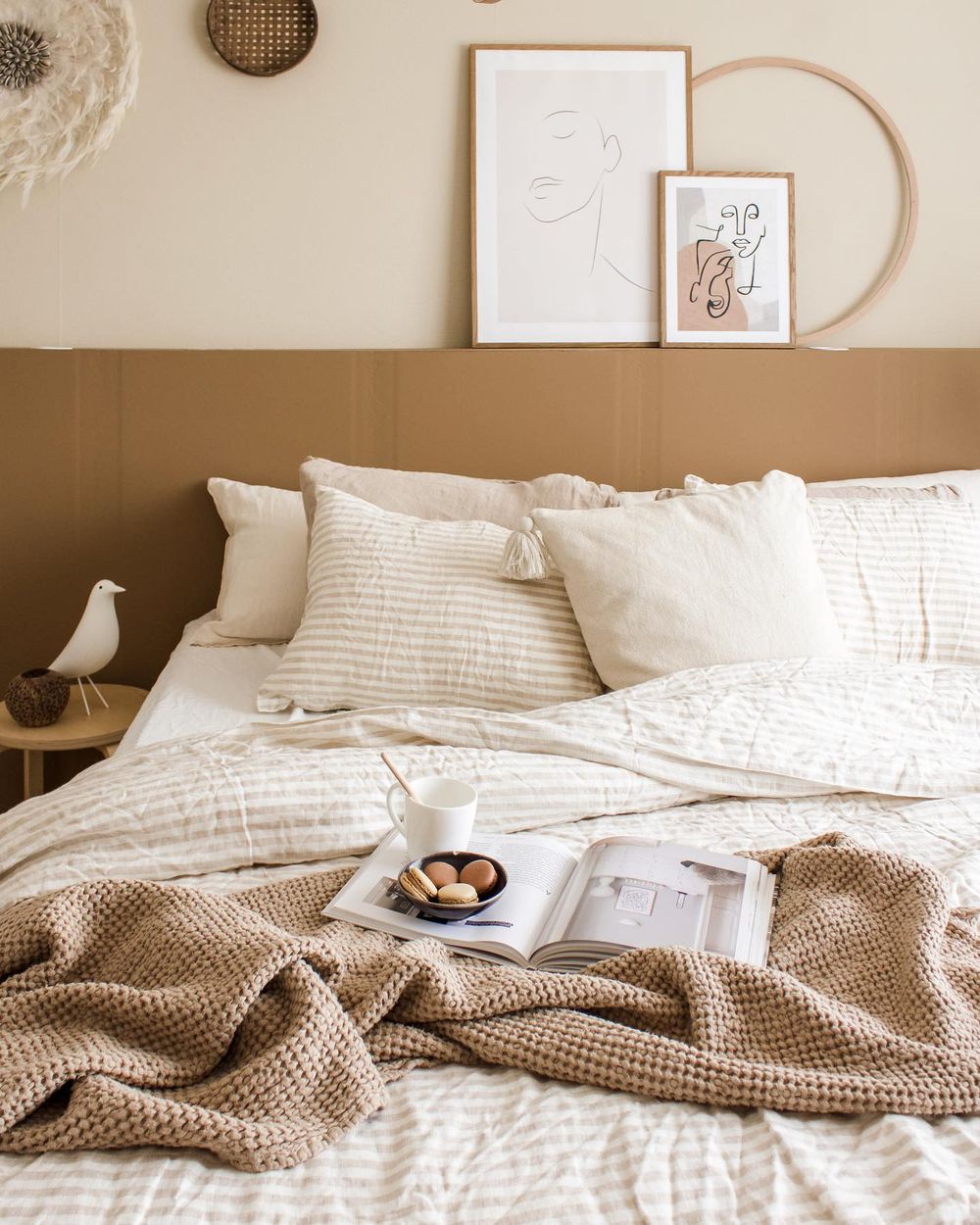 Wallpapered Ceiling
Experiment with a wallpapered ceiling to introduce a surprising element in your beige bedroom. Opt for subtle patterns that complement the beige palette, adding visual interest without overwhelming the space.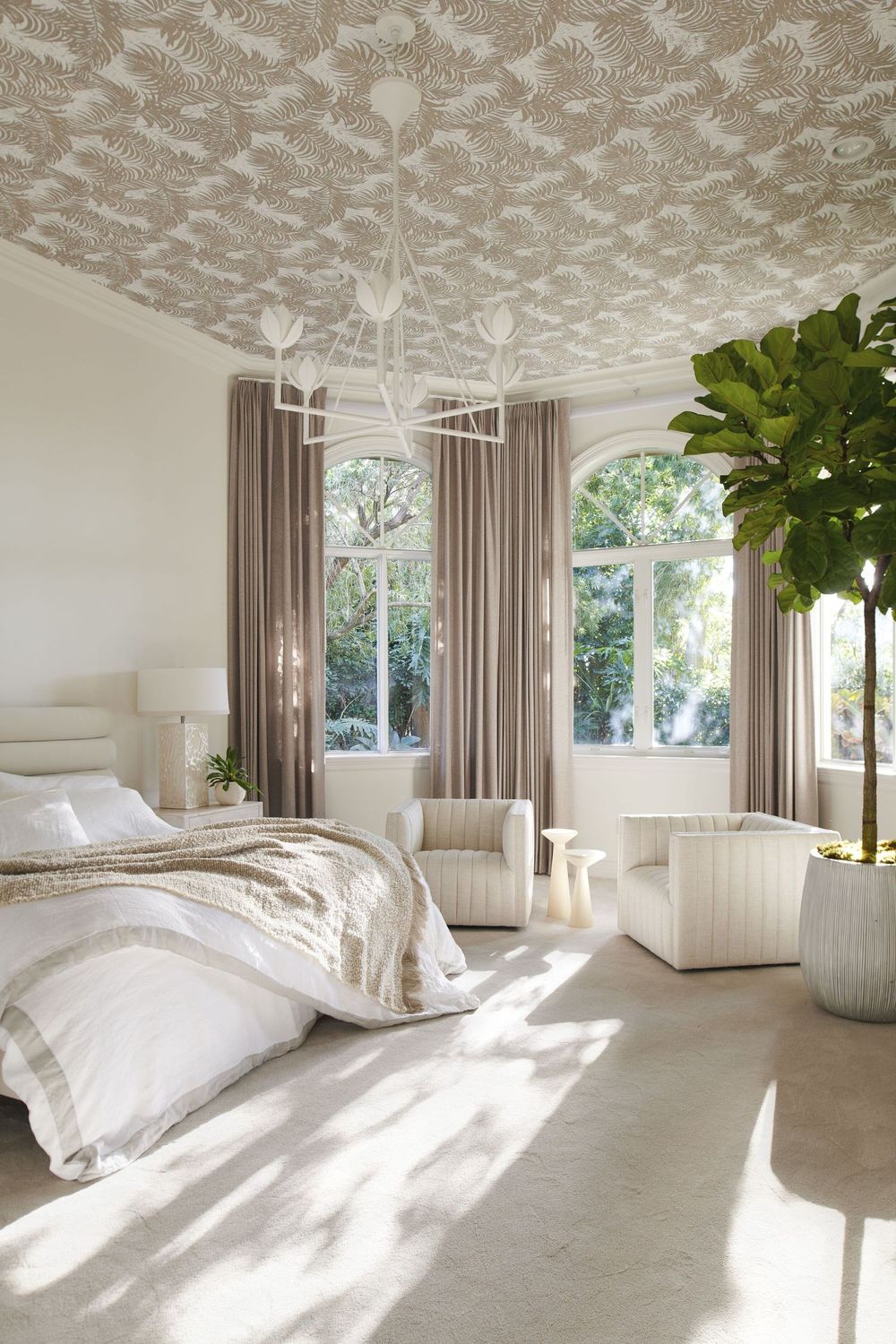 Many Shades of Beige
Don't limit yourself to one shade of beige. Experiment with different hues, combining lighter and darker tones to create a nuanced and harmonious look.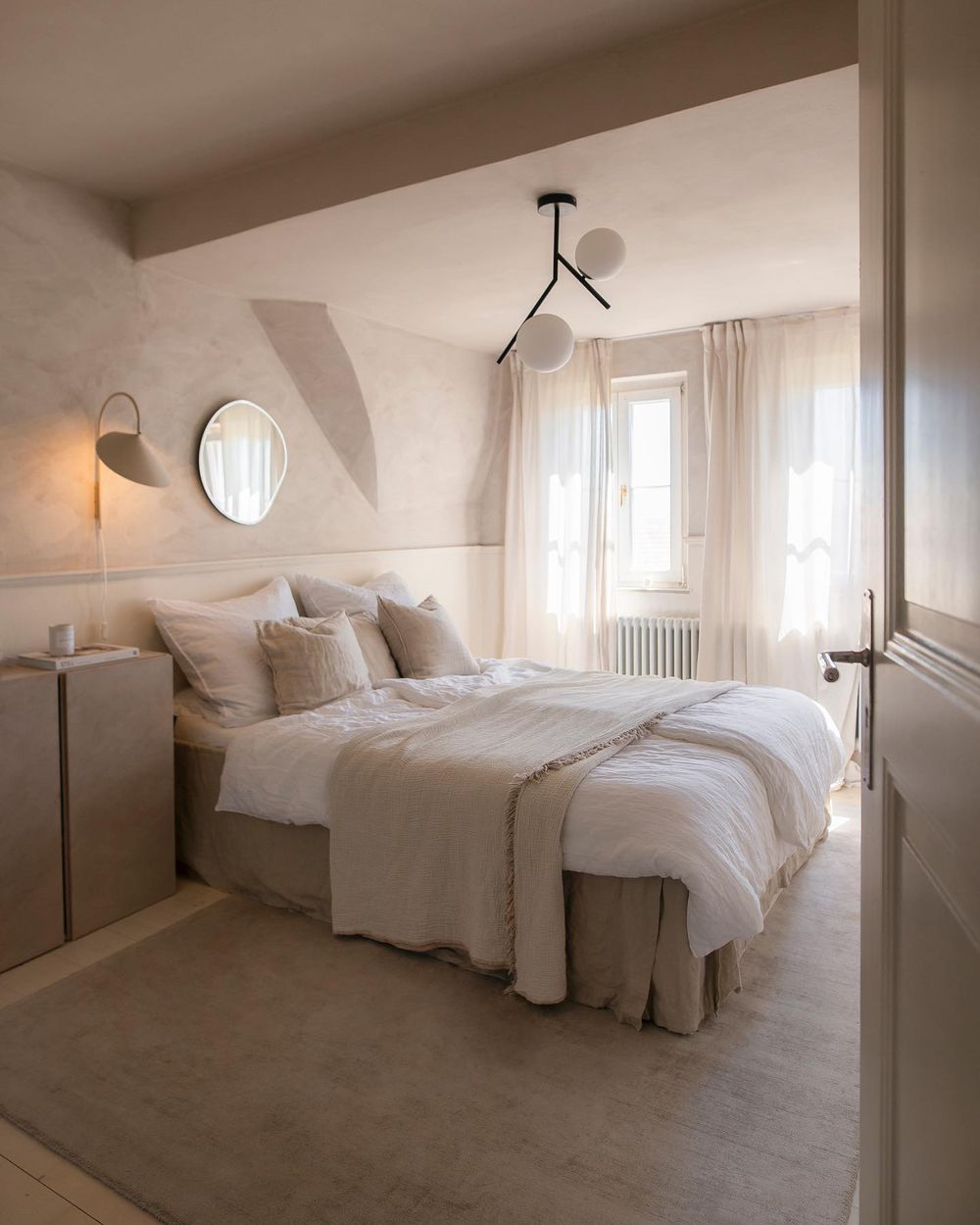 Stone Fireplace
If possible, add a stone fireplace to your beige bedroom. This will introduce a rustic touch, offering both warmth and a focal point that enhances the room's coziness.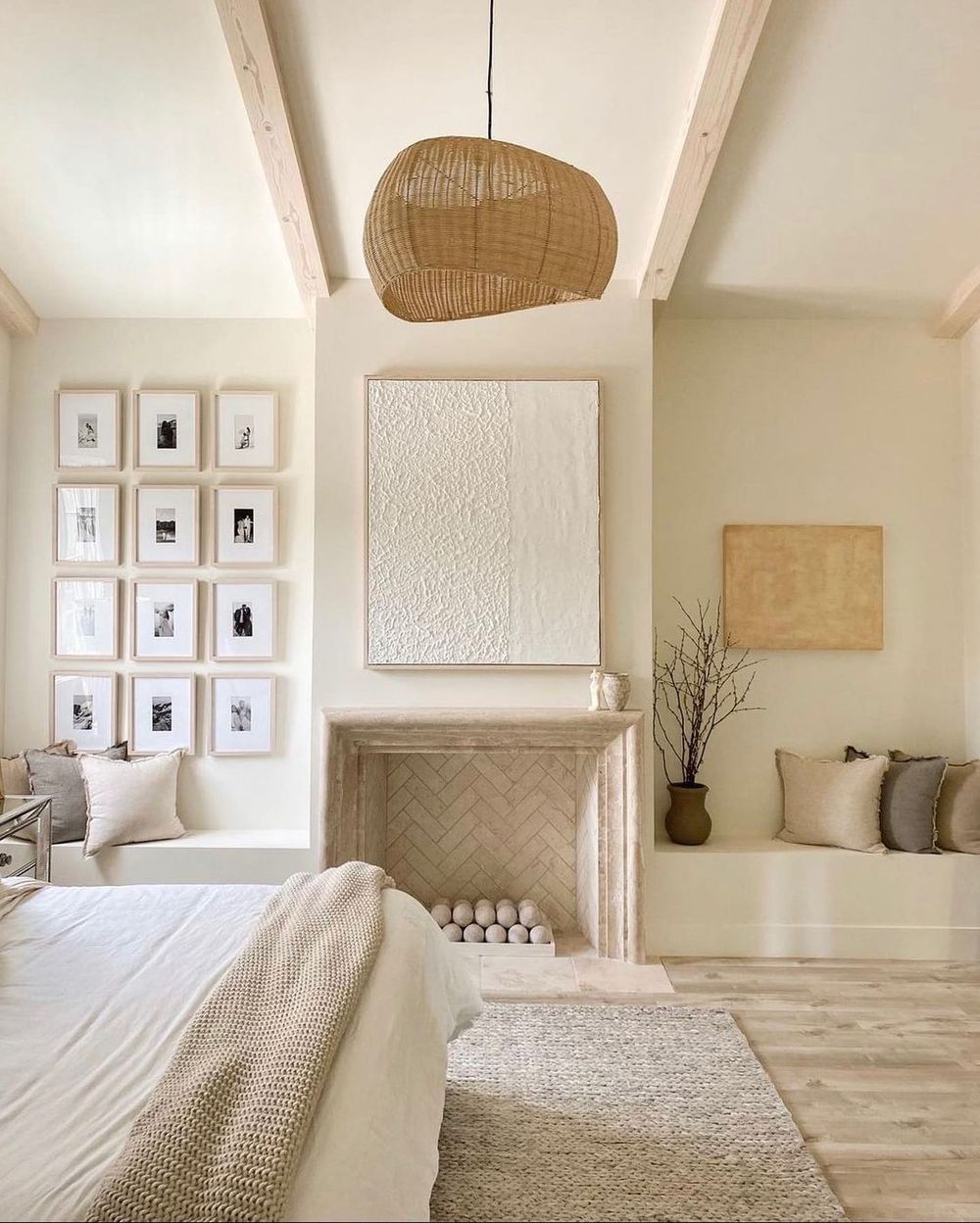 Dark Brown Accents
Incorporate dark brown accents through furniture or textiles to add contrast to your beige bedroom. These accents can provide a grounded, earthy feel amongst the lighter beige tones.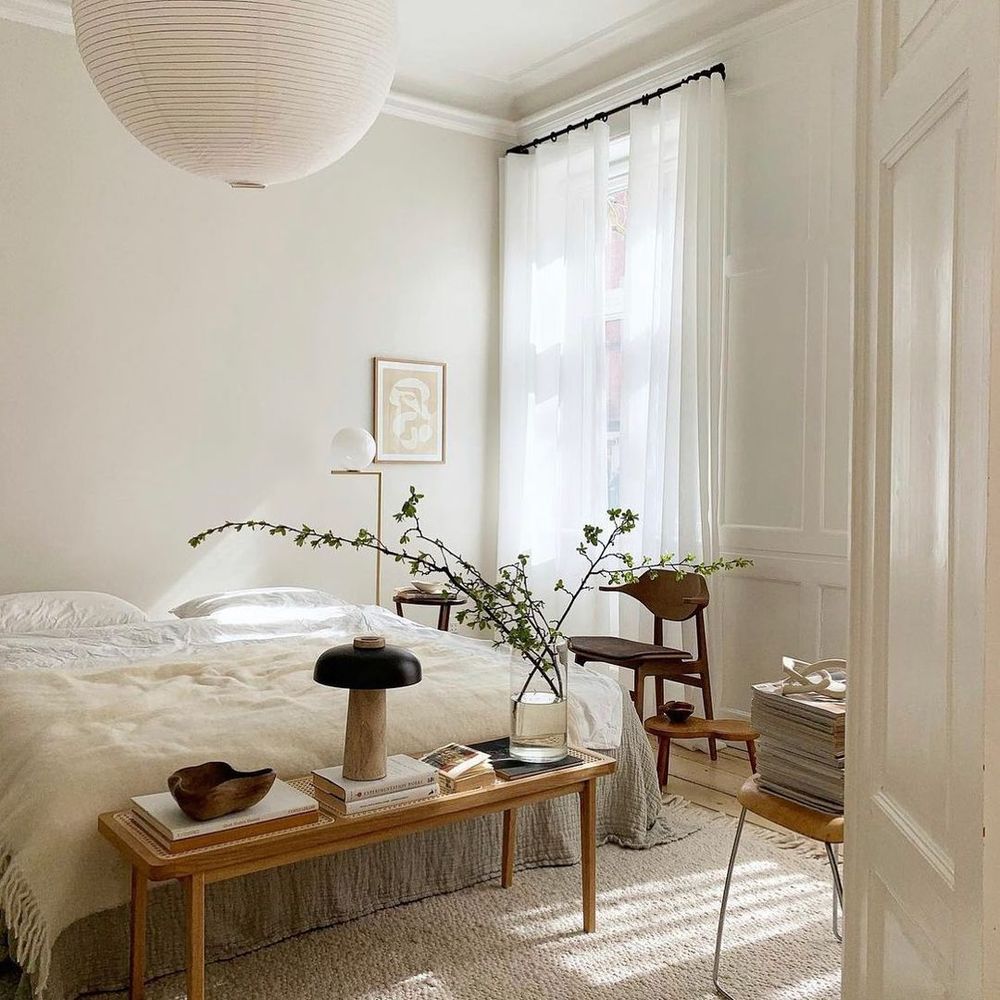 Gold or Brass Accents
Adorn your beige bedroom with gold or brass accents. These metallic tones can bring a touch of luxury and sophistication, adding a radiant contrast to the soft beige backdrop.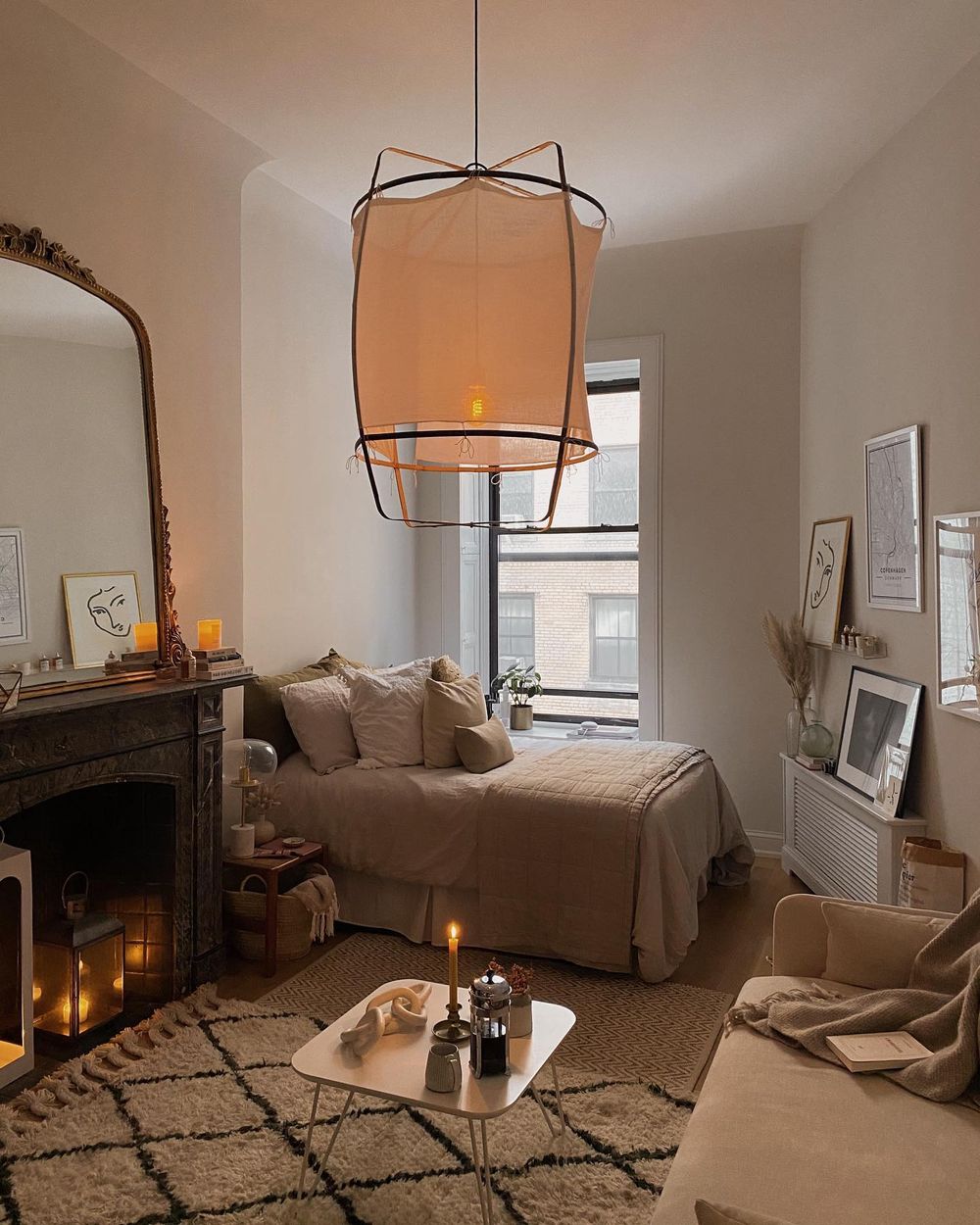 Crown Molding on the Ceiling
Consider adding crown molding to the ceiling for a refined look. This architectural detail can elevate the room's style, offering a classic touch that complements the beige palette beautifully.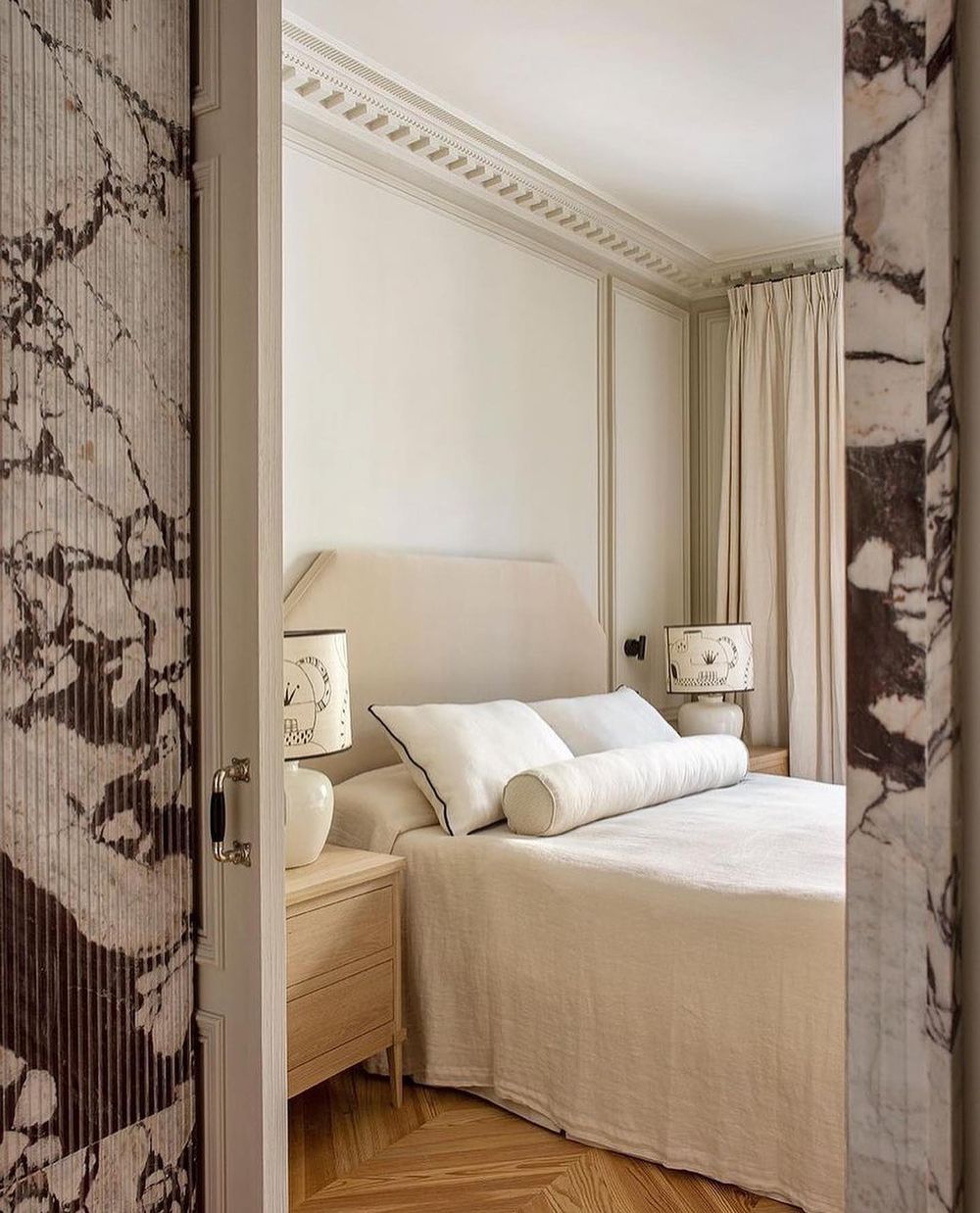 Black Metals
From black metal cage lights to black metal canopy beds to black framed doors, adding hints of black to contrast against a beige bedroom can make for a striking appearance.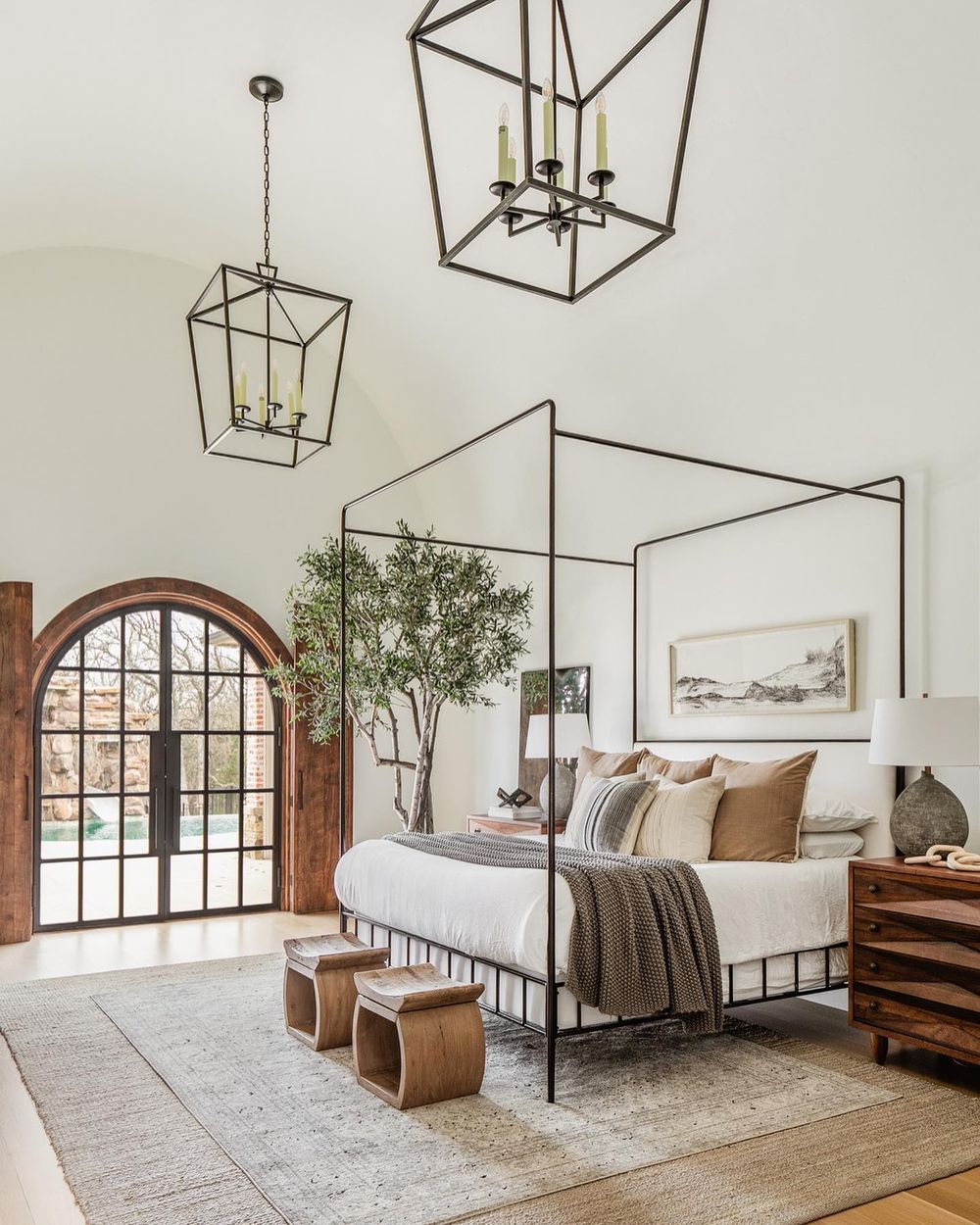 Beige Bedroom Design Tips
How do you make a beige bedroom look good? The key is adding depth through texture, sheen, bold accents, and an eclectic mix of decor. This keeps a beige bedroom from feeling flat or boring. Layer in texture with nubby linens, wool blankets, and shag rugs. This adds visual curiosity and warmth.
Incorporate wood tones—beige pairs beautifully with warm woods like oak or walnut. Use wood furniture, headboards, shelves, or accent walls.
Play with patterns. Set a beige foundation then layer in stripes, florals, or geometric prints. Mixing patterns creates a collected look.