I'm so excited to share my latest home decor obsession – wallpaper! Wallpaper has made a huge comeback in recent years as bold prints, fun textures, and creative patterns have hit the interior design scene.
Are you thinking about decorating with wallpaper at home? Wallpaper is a great way to add beauty and interest to any room in a house. It can be used to decorate your house and show off your taste and personality.
Today I'm going to walk you through everything you need to know about using wallpaper in your home – how to choose the right styles, properly prep your space, calculate how much you need, and properly install it.
I'll also share some of my favorite places to shop for wallpaper online and locally. Get your paintbrushes ready, because we're about to add some serious style to those blank walls. Wallpaper can instantly transform the look and feel of a room, from modern and sleek to boho chic.
Trust me when I say it's easier to work with than you may think. So let's explore the wonderful world of wallpaper! What do you think, is wallpaper in your home's future?
Why Do People Use Wallpaper?
People decorate with wallpaper at home for a variety of reasons.
Wallpaper can be used to express your unique style and taste, allowing you to create a distinctive and personalized space. It can be used to create a specific ambiance or mood in a room, such as a cozy, warm atmosphere or a cool, calming vibe.
Wallpaper can be used to add pattern, texture, and color to a room, which can make it more visually attractive and appealing. It can be used to create a focal point in a room, such as an accent wall, which draws the eye and adds depth to the space.
More practically, wallpaper can be used to cover up flaws in walls, such as cracks or uneven surfaces, without the need for extensive repairs.
Basically, wallpaper can be a versatile and practical way to decorate a home, providing both aesthetic and functional benefits. That's what makes it such a killer design choice for most homes!
Is Wallpaper Still in Style?
The use of wallpaper as a decorative element dates back to ancient China, where it was used as early as the 3rd century BC. The Chinese created wallpapers by gluing rice paper onto their walls and decorating it with delicate hand-painted designs.
Wallpaper did not become popular in Europe until the 16th century when it was imported from China and used primarily by the wealthy. The first European wallpaper designs were created by hand, and the earliest surviving examples date back to the 1500s. These early wallpapers were often made from expensive materials, such as silk, and featured elaborate designs that were hand-painted or block-printed.
During the Industrial Revolution in the 18th and 19th centuries, wallpaper production became more mechanized, making it more affordable and accessible to a wider range of people. Wallpaper designs became more varied and complex, featuring patterns inspired by nature, architecture, and cultural motifs. In the early 20th century, Art Deco and Art Nouveau styles emerged, featuring bold geometric shapes and ornate floral patterns.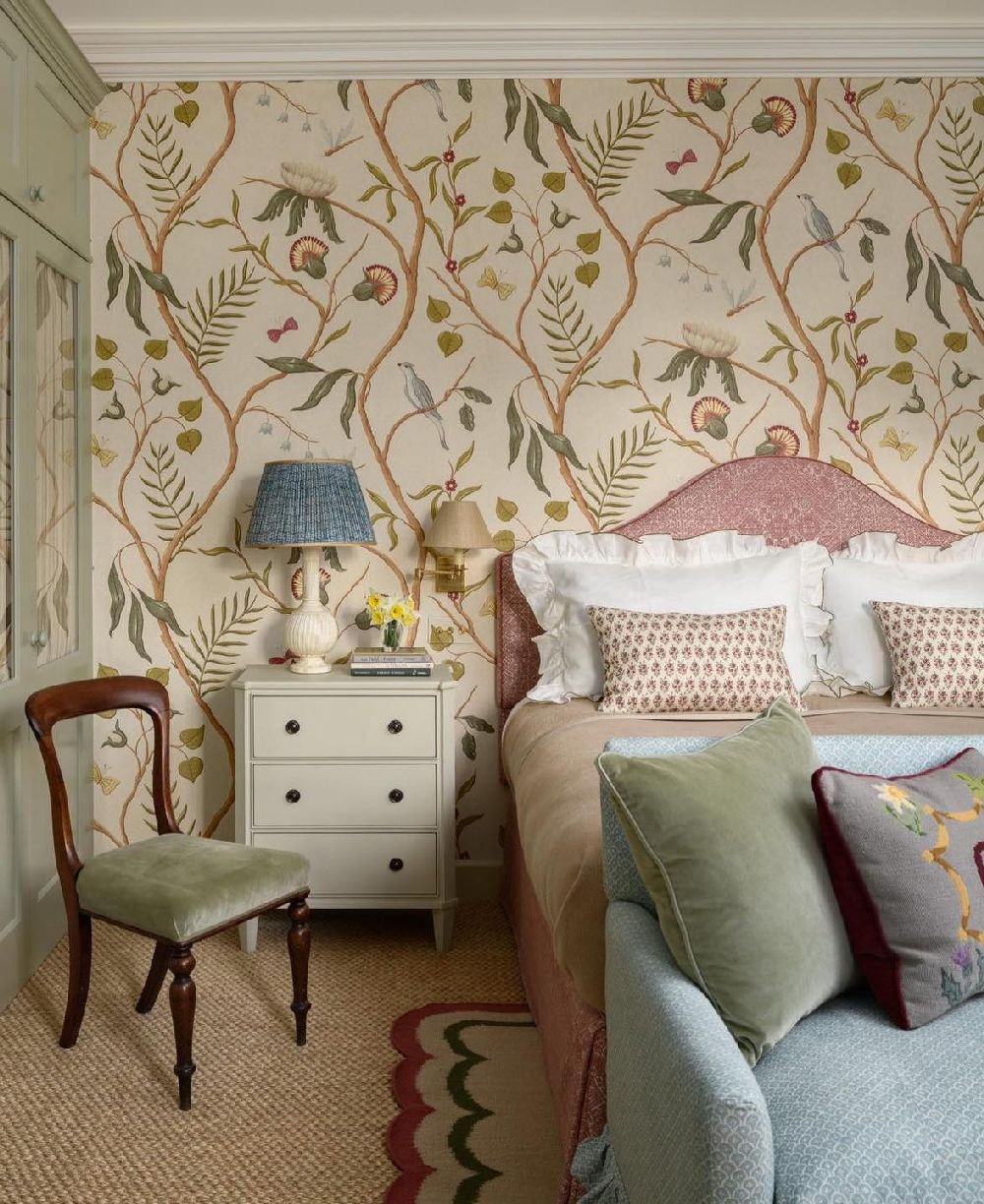 After falling out of fashion in the mid-20th century, wallpaper experienced a resurgence in popularity in the 1980s and 1990s.
Is wallpaper still in style? Yes, wallpaper is most definitely still in style today and has experienced a resurgence in popularity in recent years. Wallpaper offers a wide range of design options, from bold prints to textured finishes, that can add depth and interest to a room.
Advancements in wallpaper technology have made it more durable and easier to install and remove, making it a practical choice for renters and homeowners.
Many interior designers incorporate wallpaper into their designs, using it to create accent walls, add pattern and texture to a space, or create a specific mood or atmosphere. Wallpaper can also be used in creative ways, such as lining the back of a bookshelf or adding interest to a ceiling.
While trends in specific wallpaper design may come and go, the versatility and functionality of wallpaper ensure that it will remain a popular choice for home decor for years to come.
Wallpaper Pros and Cons vs. Painting
Choosing between wallpaper and paint can depend on several factors, including personal preference, budget, and the type of room being decorated. There's no question that painting a wall is perhaps easier if you are renting since it won't need to be removed if you leave the residence.
Pros of wallpaper:
Design options: Wallpaper offers a wide range of design options, including patterns, textures, and colors, which can give the room a unique look and feel.
Durability: Depending on the type of wallpaper chosen, it can be more durable than paint and can resist moisture and stains.
Conceals flaws: Wallpaper can help conceal flaws in walls, such as cracks or uneven surfaces, without the need for extensive repairs.
Easy to clean: Some types of wallpaper can be cleaned with a damp cloth, making it easier to maintain than some painted surfaces.
Cons of wallpaper:
Cost: Depending on the type of wallpaper and the size of the room, wallpaper can be more expensive than paint.
Installation: Wallpaper installation can be more time-consuming and complicated than painting, requiring careful measurement and alignment.
Limited design flexibility: Once the wallpaper is installed, it can be difficult to change the design without removing and replacing it. Patterned wallpaper is especially busy, leaving you with fewer furniture choices. It's tough to mix wallpaper with patterned fabrics, so unless you're a design expert, you'll have to stick with solid-colored furniture upholstery! Just know that it can be somewhat creatively limiting.
On the flip side, painting the walls of a room is generally less expensive than wallpapering it. It's super easy for anyone to apply paint to a room. Painting is a relatively simple DIY project, requiring only a few tools and minimal experience.
At the end of the day, the choice is yours to make!
Types of Wallpaper
There are many types of wallpaper available, each with its own unique features and benefits. Some of the most common types of wallpaper include:
Vinyl Wallpaper: This type of wallpaper is made from vinyl and is a popular choice for its durability, ease of maintenance, and resistance to moisture and stains.
Non-Woven Wallpaper: Non-woven wallpaper is made from a blend of synthetic and natural fibers, making it breathable, tear-resistant, and easy to install and remove.
Grasscloth Wallpaper: Grasscloth wallpaper is made from natural grasses, such as hemp or jute, and is known for its unique texture and earthy, organic look.
Textured Wallpaper: Textured wallpaper can be made from a variety of materials, such as embossed vinyl or textured fibers, and can add depth and dimension to a room.
Foil Wallpaper: Foil wallpaper features a metallic or reflective finish, which can create a glamorous, luxurious look in a room.
Mural Wallpaper: Mural wallpaper features large-scale images or patterns, often designed to create a specific mood or theme in a room.
Peel-and-Stick Wallpaper: Peel-and-stick wallpaper is a self-adhesive wallpaper that can be easily installed and removed, making it a popular choice for renters or those who want to change their decor frequently.
These are just a few examples of the many types of wallpaper available, and homeowners can choose the type that best suits their preferences, budget, and decor style.