When it comes to kitchen remodeling, no details are too small. Did you know that your kitchen cabinets can bring a new look to your space? When designing a kitchen, the cabinets are the largest element you'll see in the space. They need to be visually beautiful, but also functional so they can store all your pots, pans, and kitchen supplies.
Types of Kitchen Cabinets
Kitchen cabinets demand a practical purpose. If you're wondering about the types of kitchen cabinets available, they are split into three major categories: base, wall, and tall cabinets. Before you pick the cabinet design style that suits your space, you should know the pros and cons of each. Cabinet design ideas go beyond the decorative hues and finishes after all.
Base Cabinets
A base kitchen cabinet rests on the floor. It holds other items like countertops, sinks, or cooktops.
Wall Cabinets
As the name suggests, wall cabinets are attached to the wall. They are located above the base cabinets and are designed to fit different kitchen styles. You can pick either standard or custom cabinets.
Tall Pantry Cabinets
This cabinet trend conceals appliances and offers extra storage. To unify the look of your kitchen, tall pantry cabinets can maximize the square footage without building a full-scale kitchen pantry room.
Drawer Cabinets
Drawer cabinets offer robust storage and guarantee optimum space optimization. Every kitchen drawer consists of four sides and has a system of glides that allow it to slide in and out. A quality drawer cabinet is made of hardwood or plywood.
Kitchen Cabinet Quality Grades
Kitchen cabinets are grouped in different grades based on the quality of construction. Depending on your needs, you can choose stock, semi-custom, RTA, or custom.
Ready-to-Assemble (RTA)
The ready-to-assemble cabinets can save money for your remodeling model. When you order RTA cabinets, all the holes and sizes are cut where needed. You also get the installation instructions. RTA cabinets are easy to assemble and come in different trim options.
If you're considering RTA cabinetry, you should ensure you're well-versed with the installation.
Stock
Stock kitchen cabinets come in a variety of colors and styles. They feature self-closing doors and European-style hinges. You can make them your own by adding pulls, knobs, and kitchen organizers. Most stock cabinets are pre-manufactured.
Stock cabinets are a bit specific with 3-inch increments. The materials range from melamine and wood to solid laminates.
Semi-custom
The semi-custom cabinets offer a variety of custom features. You can request door fronts, drawers, and cabinet depth. These cabinets are affordable and can still make a bigger chunk of your budget. The price includes installation.
This cabinetry offers better cabinet construction but can be altered for increased depth.
Custom Cabinets
If you cannot find a cabinet style, then you can customize one. First, you need a designer to access your space. There are many ways to maximize your style – the possibilities are endless.
Kitchen Cabinet Styles
If you want to freshen up the style in your kitchen, there are many cabinet styles to choose from to suit your aesthetic and budget.
Arched Cabinets
Arched cabinets offer a bit of flair in your home. They create a focal point and add a vintage vibe to your space. With arched cabinets, a double arc is included on top and the bottom of the panel. You can create a shadow effect with some dimensions.
Beadboard Kitchen Cabinets
Beadboard front cabinets are reminiscent of classic paneling. The subtle addition of a pattern gives an instant look to your space. You can give your kitchen an old-world rustic vibe.
Modern Cabinets
Modern cabinets are streamlined to give your space an orderly appeal. They feature a design that mimics mid-century furniture. The materials in modern cabinets can combine materials like glass, metal, wood, and laminates.
Country-style kitchen Cabinets
Country-style cabinets give a warm and comfortable natural appearance. They feature a unique design to give your cabinetry a signature look. The popular wood for this design is pine. It features visible knots and can dent easily. Furthermore, the cabinets feature a variety of colors, so you can choose one that suits your space.
Flat-Panel or Slab Cabinets
Flat-panel cabinets make it a great fit for contemporary and modern interiors. They come in a variety of colors. You can choose wood or decorative laminate – but laminate is more budget-friendly.
Glass Front Cabinets
Glass-front cabinets are appreciated by many for their unique qualities. They frame things nicely and create an illusion of depth when backed by a mirror. To make the display look at its best, you can add a layer of warmth to your lighting design.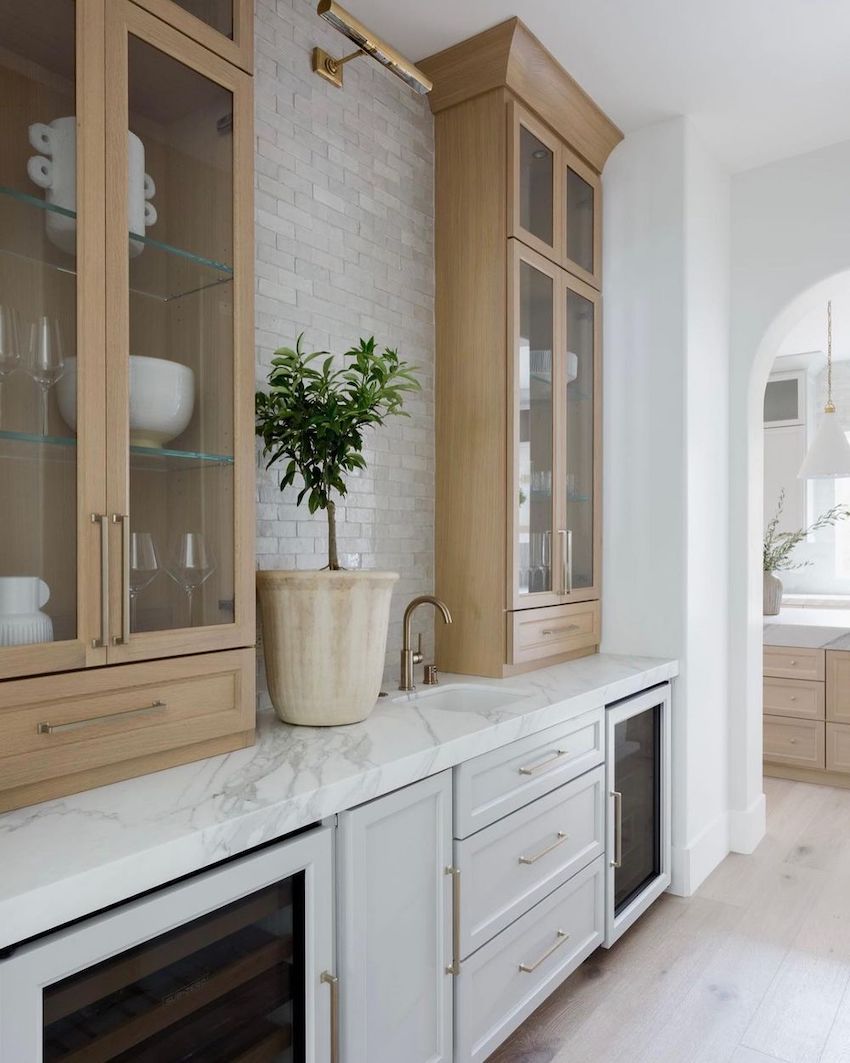 Lacquered Cabinets
Lacquered cabinets are strikingly beautiful and give your kitchen a modern edge. They bring a unique texture and can become the focal point of your kitchen. The solvent-based product creates a synthetic feeling on surfaces to form a gloss shine. Also, their breathable and highly-resistant nature makes them the perfect option for kitchen cabinets.
Inset Cabinets
The inset style is designed with precise measurements but comes with a price tag. This classic look will last for generations.
Louvered Cabinets
Louvered cabinets are great for spaces that require ventilation. They are the most visible design elements for a home design. The horizontal slats bring a distinct architectural style. You can try this if your cabinets are located near routers, stereos, cable boxes, or computers.
No-Hardware Cabinets
If you're tired of cold turnkey, the no hardware cabinets fit the bill. This is the perfect choice if you don't want to cut a hole in your cabinet door. Due to their uninterrupted appearance, you get a dramatic cook space.
Open Upper Cabinets
When it comes to cost, open shelves can beat their closed counterparts. However, they are trickier to install, so you may need extra help.
Closed Upper Cabinets
Upper kitchen cabinets give a clean and composed look. You can use them to conceal disorganized dishes and maintain a tidy outlook.
Lazy Susan Cabinets
Whether you have a new home or you want to redo your storage space, the lazy Susan cabinets are a good fit. The concept entails shelves and racks with a rotating base. This mechanism is similar to a turntable.
Rustic Cabinets
Would you like to add a little farmhouse to your flair? Rustic cabinets will bring a bit of a county vibe. They feature different colors, wood styles, and materials. Off-white is commonly found in rustic style kitchens and can be paired with a deeper color. You'll fall in love with every space when you walk in your space.
Shaker Cabinets
The shaker is a distinct furniture style that emphasizes utility and functionality. It goes with any décor, with multiple variations in stains, wood, and paint colors. Your budget will depend on the style you use.
Traditional Cabinets
Traditional cabinets are so reminiscent not-so-distance past. They use elaborate motifs, colors, and materials that breathe a new life. This style can bring in country, rustic, and eclectic influences.
Tuscan Cabinets
Tuscan cabinets evoke the tradition of the Italian countryside. They bring warmth and elegance to cooking. And because they are predominantly made of wood, the cabinets can be stained with rich brown colors to convey a sophisticated elegance. The cabinet doors can have wood accents like ornate hoods.
Kitchen Cabinet Colors
A fresh coat of paint is an inexpensive way to update your cabinets. Some folks like to embrace bolder colors; others like design elements with a modern flare. Whether you prefer a bold or natural crisp look, these colors will surely inspire you.
Two-tone
Two-toned cabinets blend well with any kitchen style that includes contemporary and traditional. You can paint contrasting colors to the top kitchen cabinets and varying tints to the bottom ones. Two-ton colors are timeless and never go out of style.
White
This is a popular choice of kitchen cabinetry. It's fresh and crisp for a reason – easy to see what needs to be cleaned! If you decide to mix whites, you can go for a white with lower LRV on the walls and true white on cabinets. Since true whites don't have undertones, you can embrace the soft whites without worrying about clashing undertones.
Gray
Gray is a go-to color for many homeowners and those who want to bring a new look to their space. You can give your cabinets a cold or warm gray color. You can also pair it with different countertop materials, designs, and finishes. If your kitchen has limited natural white, you should go for dark gray cabinets. Grey will always hold its space in the contemporary kitchen world.
Black
If you want to add a moody feeling to your kitchen, you can opt for dramatic black cabinets. Black is a bold color for kitchen interior design, yet it can be subtle when you pair it with white countertops. If you're not careful, the interior could end up feeling gloomy. The key to having black as the color of choice is how it blends in with the countertops, walls, and floors. Keep in mind that lighting is a critical factor when using a black kitchen cabinet color.
Blue
There is something about the blue color that catches the eye. It's soothing, calming, tranquil, and stylish. One amazing thing about the blue color is that it's timeless. To avoid the feeling that you want to close down space, you can add blue to the lower cabinets.
Green
For centuries, interior designers have always turned to green color, thanks to its restorative attributes. Whether you plan to go bold or you lean towards a softer shade, dark cabinetry can create a fresh look. If you're anxious about making the wrong choice, you may want to do your due diligence.
Stay tuned for more kitchen cabinet ideas!