If you have children, then you'll likely need to design a kid's room for them at some point. Designing a kids' bedroom comes with its own unique challenges and considerations. While the design of children's rooms should be cohesive with the rest of the house or apartment, it's also a place to be more whimsical and playful.
Involve Your Kids in the Process
Depending on their age, you may want to involve your kids in the interior design process. They might have a certain preference for colors, animals, and prints. Ask them what they prefer and observe what they gravitate towards. This will give you a better idea of what colors and design elements to use in their room.
Consider Their Activities
Think about your kids' daily activities when designing their rooms. If they love to read, then you'll want to include a cozy reading nook. If they're into sports, then you might want to design a space where they can display their trophies and memorabilia. By considering their hobbies and interests, you can create a kids' room that they'll love spending time in.
Pick a Bedroom Theme
Most kids' rooms revolve around a specific theme related to your children's interests or their gender. Once you know what your kids are into, you can start to narrow down your theme options. Some popular kids' room themes include outer space, dinosaurs, under the sea, and princesses. You can also design a classic girls' bedroom or a traditional boys' bedroom.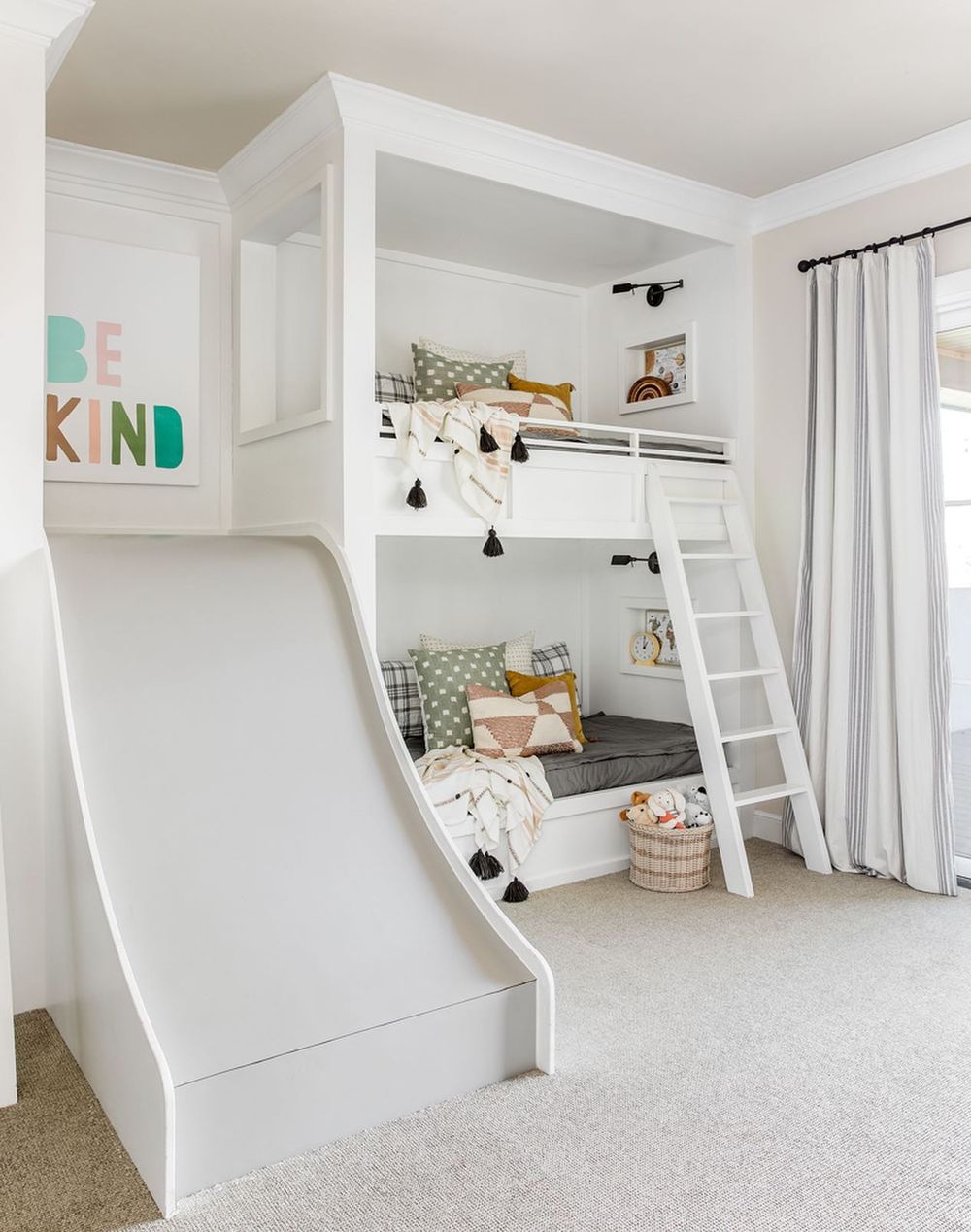 Avoid Trends
Kids' room design trends come and go fast. Stick to a timeless design so you don't waste money on temporary trends for kids' bedrooms. A timeless kids' room design includes classic furniture pieces and simple color schemes that can be easily updated with new bedding, art, and accessories.
Essential Kids' Room Furniture
Every kids' room needs a few essential pieces of furniture. A bed is obviously the most important piece, but you'll also need a dresser, desk, and chair. Look for kids' furniture that's both functional and stylish.
Kids Bed
A bed is the most necessary piece of kids' room furniture that you need. Start there and design the rest of the room around the bed. You could go for a standard twin-sized bed, a full-size bed, bunk beds for sharing the room, or a lofted bed which will give you room to use below the bed. A lofted bed usually has a small ladder that lets your child reach the top. Be sure that the bed is equipped with a rail to prevent falling out. Alternatively, consider installing built-in bunk beds to the room.
Kids Desk + Chair
Your kids will need a place to do their homework, so make sure to include a desk and chair in their room. You can find kids' desks in a variety of colors and styles to match the rest of the room's furniture and decor.
Kids Dresser
A kids' dresser is essential for storing clothes and keeping the room organized. You can find kids' dressers in a variety of colors and styles to match the room's design. Be sure the dresser you buy comes with anti-tipping attachments to prevent it from toppling over!
Additional Kids' Room Furniture
Once you have the essential kids' room furniture, you can add additional pieces to make the space more functional and kid-friendly.
Toy Chest
If you want to avoid having toys strewn about the room, then you'll need some toy storage solutions. Toy chests and bins are a great way to keep toys organized and off the floor.
Bookshelf
A kids' bookshelf is a great way to encourage reading. It can also double as storage for toys and games. Think of adding storage baskets to prevent the shelves from looking too cluttered. Baskets will also make it easier to pick up small items after playtime!
Closet Organizers
Kids' rooms often have small closets, so you'll need to get creative with storage. Closet organizers will help you make the most of the space.
Know Where to Shop
There are several kids' furniture stores known for selling high-quality furniture.
Now that you know all about kids' room furniture, it's time to start shopping!
Storage and Shelving
Kids have a lot of stuff, from toys to clothes to books. Your kid's room should have a closet even if it's small. Buy a bookcase for storing books or install wall shelves if you prefer. Toy chests are great for keeping your children's games and toys neatly stored away.
Kids Room Decorations
The sky's the limit when it comes to kids' room decorations. You can find kids' wall art, rugs, throw pillows, curtains, and more to match any room theme.
Kids Room Lighting
Good lighting is essential in kids' rooms. You'll need a combination of overhead lighting and task lighting. A kids' ceiling fan is a great way to provide overhead lighting and keep the room cool. Desk lamps or wall sconces are perfect for targeted lighting.
Add a Unique and Fun Element
From hidden playrooms to swinging chairs to tee-pee hideouts, there are lots of ways to add a touch of personality and whimsy to your children's bedroom design. If you have the budget then consider adding a unique and fun design element to your kid's room design.
Think Long-Term
Kids can grow up fast! One day they are toddlers and the next they're teenagers. If you plan to be in your home for the long term, think about buying furniture and kids' decorations that they can grow into. Invest in high-quality materials so you don't have to replace the furniture just a few years later.