I know – the last thing on your mind when you bought all those amazing Christmas decorations is: where am I going to store this? Don't worry, we've got you covered with the ultimate list of practical and useful Christmas storage products for keeping your decorations organized during the year when they're not in use!
Here are some common products people use for Christmas decoration storage:
Christmas tree storage bags/boxes – These are large bags or hard plastic boxes used to store artificial Christmas trees between seasons. They protect the tree from dust and damage. They also make assembly easier year after year!
Wreath storage bag – A large, circular plastic bag designed to flatten and store artificial Christmas wreaths to prevent damage. Maintains the wreath's shape.
Christmas ornament storage containers – Smaller cardboard boxes, often acid-free, are used to carefully store very delicate ornaments individually. They have dividers and padding. Clear plastic containers can neatly store delicate Christmas ornaments year after year. Some have dividers and padding to separate and protect ornaments.
Christmas lights storage – Plastic reels, cord wraps, and light storage bags help keep Christmas lights organized and protected during storage. This prevents tangling and bulb breakage.
Garment bags for holiday decor – Large zippered bags that allow you to store table linens, stockings, and other non-breakable decorations compactly.
Stocking hangers – Plastic or wood hangers that allow you to store stockings flat when not in use. Keeps stockings looking nice.
Christmas village storage sets – Modular plastic trays, padding, and compartment boxes designed to neatly store an entire Christmas village setup.
Holiday photo storage – Albums and boxes for storing Christmas cards, photos, and other keepsakes from your celebrations over the years.
Christmas gift wrap storage – Large bags or containers designed for neatly storing rolls of wrapping paper, tissue paper, gift bags, bows, and other gift packaging supplies.
Christmas cookie/candy storage – Airtight plastic containers to store and keep holiday baked goods fresh during the season.
Decorative storage bins/totes – Festive plastic storage bins in red/green or with Christmas motifs can neatly store wreaths, garlands, holiday linens, decorations, etc. They can be stacked for space savings.
Christmas decoration storage tubs – Clear plastic tubs sized for storing wreaths, garlands, and other holiday decor. Stackable for compact storage.
Attic stairs storage lift – A mechanism that allows you to safely lift and lower large/heavy storage bins and decorations up and down attic stairs. This can prevent injury.
The key is finding storage solutions that will keep everything organized, protected, and easy to access next Christmas season! Proper storage helps cherished holiday decor last for many years.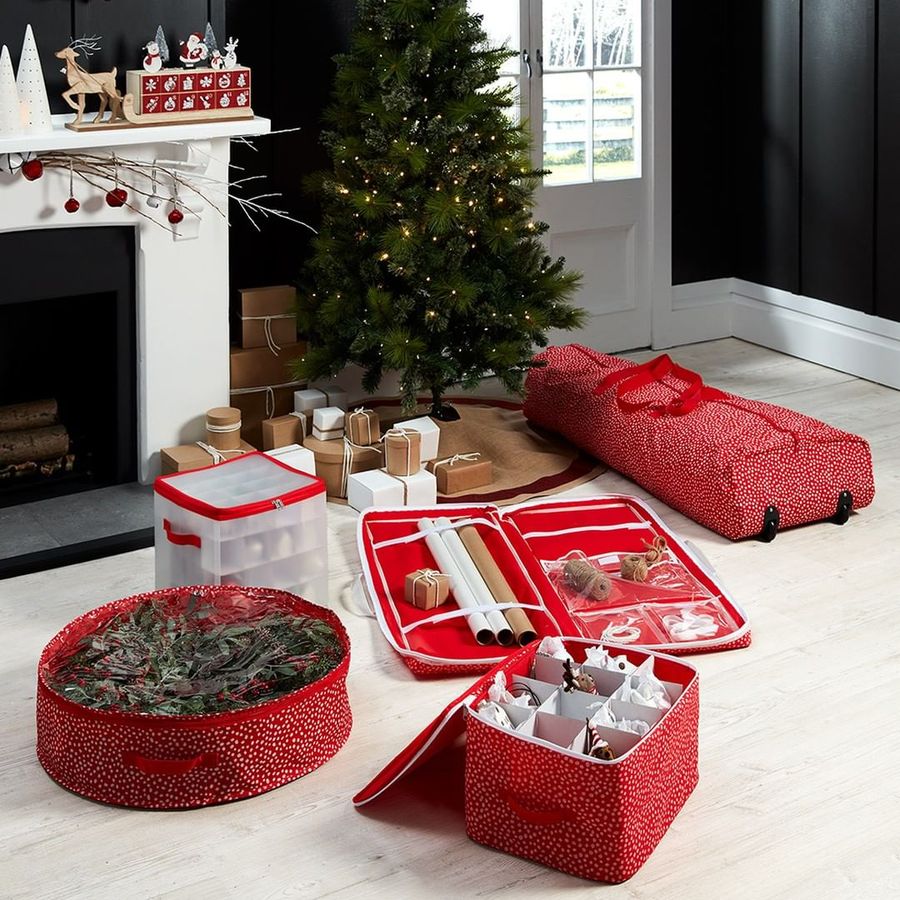 I hope you found some Christmas storage solutions that will suit your needs this holiday season! It's difficult to stay organized after the holidays, but with the right products, you can make storing your holiday decorations a breeze!
There are lots of options to keep Christmas decorations organized and damage-free during storage! Proper storage helps preserve cherished holiday items.
Check out more creative home storage solutions and ideas!