There are several essential components that are important for every kitchen to function. Things like a stove, oven, sink, and cabinets all work together to serve a family's everyday needs. Each of these items plays a vital role in the operation and efficiency of a kitchen.
But sometimes the beauty of a kitchen is in the details. That's where kitchen hardware comes in! Today we are going to talk about the basics of kitchen hardware and how it affects your kitchen design.
What is considered kitchen hardware? Kitchen hardware refers to the fixtures and accessories installed in a kitchen for function and decoration. This includes cabinet handles, drawer pulls, sink faucets, and even kitchen lighting fixtures.
Kitchen Cabinet Hardware
Kitchen cabinet hardware includes all of the knobs, pulls, and hinges used on kitchen cabinets. Common cabinet hardware finishes are brass, bronze, nickel, chrome, and matte black. Styles range from simple round knobs to intricate wrought iron pulls. The hardware should be coordinated to match the cabinet style and the overall kitchen decor.
Cabinet hardware is one of the most important elements in a kitchen, as it can help to finish off the look of your cabinets and provide added functionality. There are many different types and styles of cabinet hardware available.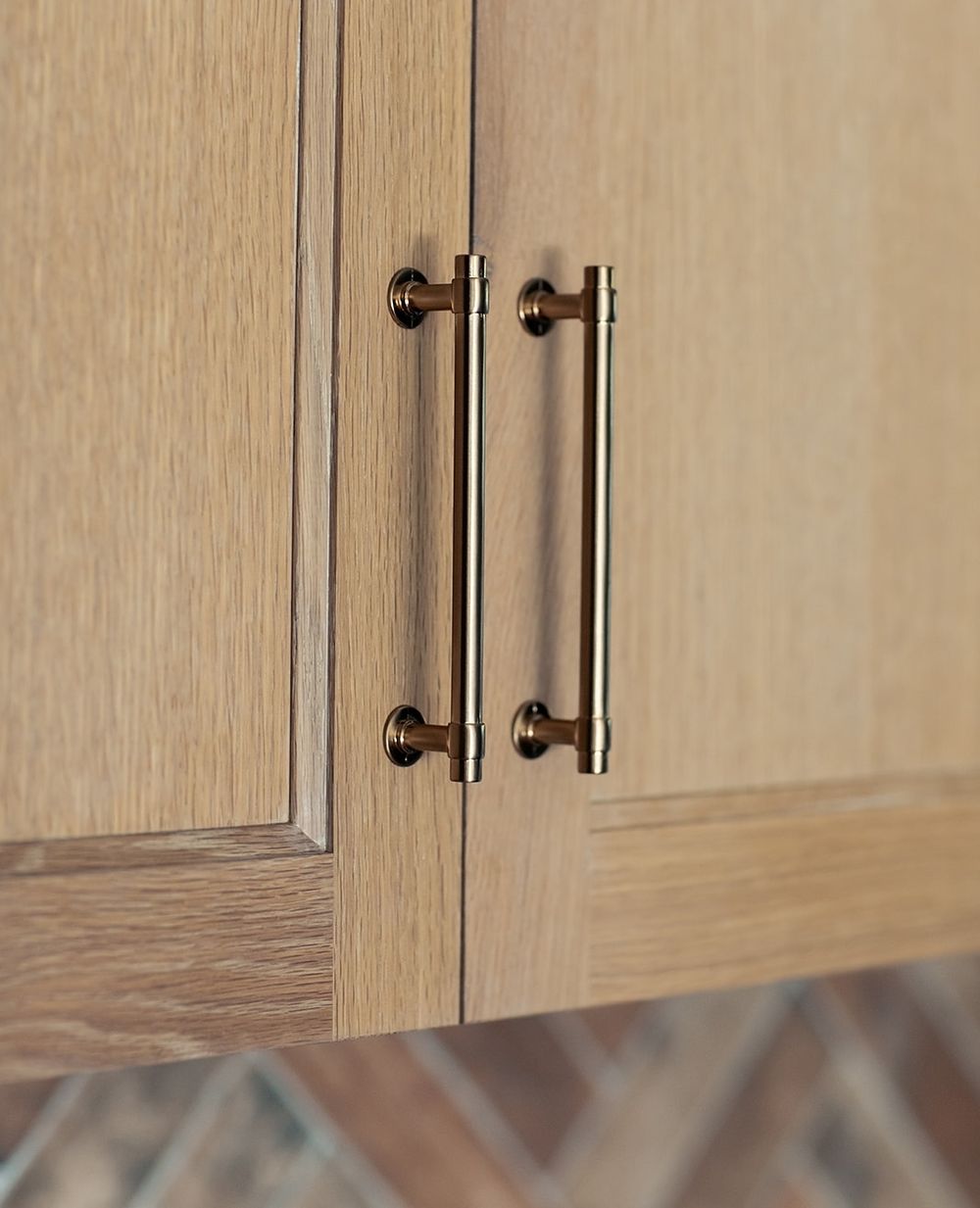 Some of the most popular types of cabinet hardware include:
Knobs are small handles that are attached to cabinet doors and drawers. They are typically made from materials like metal, glass, or plastic, and they can come in a variety of styles to match the look of your kitchen.
Hinges are used to attach cabinet doors to the frame of the cabinets. There are many different types of hinges available, including hidden hinges, which are not visible when the door is closed.
Latches are used to keep cabinet doors and drawers closed. They can be made from different materials, including metal, plastic, or wood.
Drawer Hardware
Drawer pulls or handles need to be sturdy enough to open and close potentially heavy drawers. Bar pulls are a popular modern style for kitchen drawers.
Pulls are larger handles that are also attached to cabinet doors and drawers. They can be made from the same materials as knobs, but they are usually more ornate and decorative.
Sink Hardware
This includes the faucet, sprayer, soap dispenser, and any other accessories accompanied with a kitchen sink like a drain strainer or stopper. Sink hardware comes in a wide variety of shapes, finishes, and functionality.
The kitchen sink faucet is one of the most important pieces of kitchen hardware. It's responsible for providing water for tasks like washing dishes, cooking, and cleaning.
Some of the most popular types of sink faucets include:
Pull-down faucets are designed to be used with sinks that have a single hole. They have a long, flexible hose that can be pulled down from the faucet to reach the sink.
Pull-out faucets are similar to pull-down faucets, but they have a shorter hose that is designed to be pulled out from the faucet.
Touchless faucets are a type of hands-free faucet that uses sensors to turn the water on and off. They are a great option for kitchens where hygiene is a concern.
Wall-mounted faucets are a type of faucet that is mounted to the wall instead of the sink. They are a great option for small kitchens or areas where there is limited counter space.
Kitchen Lighting Fixtures
Kitchen lighting like pendant lights over islands or recessed lighting are impactful hardware. The style makes a statement in kitchen decor.
Appliance Hardware
Oven knobs, refrigerator handles, and any other hardware on kitchen appliances should coordinate with the rest of the hardware finishes.
By carefully selecting complementary kitchen hardware, the space can feel cohesive and put-together for a polished look.