If you have friends who love home decor and interior design as much as you do, then this homebody gift guide will help you shop for them this holiday season. These homebody gifts are perfect for people who just love spending time in the homes they've created for themselves! Our guide features gifts in the feminine style and a few farmhouse style gifts, too. We hope you like it!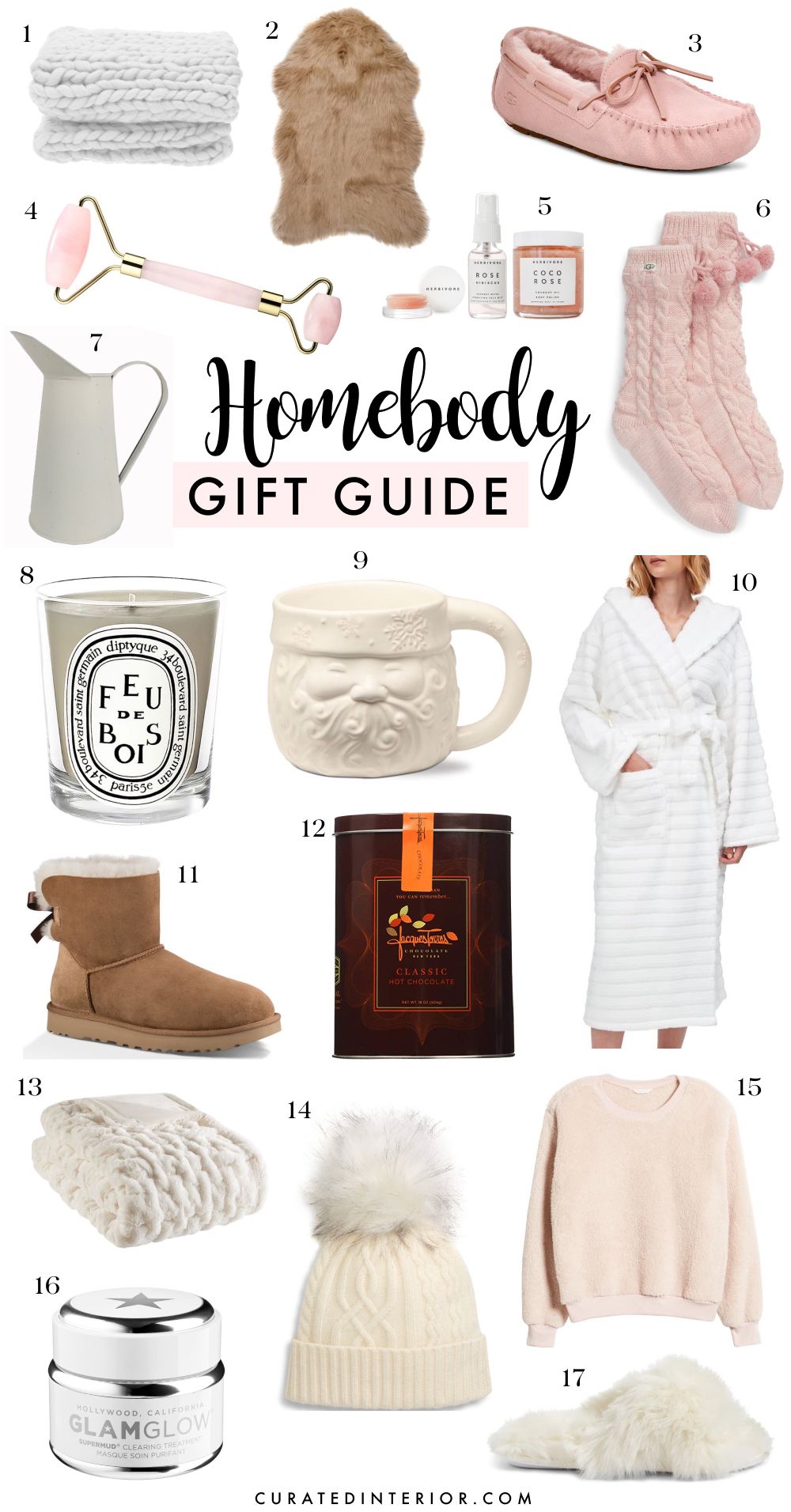 1. Chunky Knit Blanket: Chunky knit blankets are very on-trend these days. This Scandinavian-style blanket has made its way to the mainstream and it's easy to see why: the thickly knitted strands offer a cozy warmth with holes for ventilation so you don't start sweating. It's the perfect cozy blanket to use all winter long!
2. Tan Faux Sheepskin Rug: This affordable faux sheepskin rug makes a great gift. It comes in a calming neutral brown, making it perfect for rustic, Farmhouse homes!
3. Indoor/Outdoor Slippers: This water-resistant slipper has a rubber sole so it can safely be worn outdoors and indoors. Great for checking the mail early in the morning before you're ready to actually get dressed and put on shoes.
4. Jade Roller: This rose quartz facial massager features two rollers that support lymphatic drainage to reduce the appearance of wrinkles and control puffiness.
5. Hydration Kit: Winter can be so harsh on our skin. This hydration kit will work to ensure your skin doesn't get too dry all season long.
6. Pom Pom Fleece Lined Socks: What's better than curling up on the sofa with a cup of hot chocolate? Doing it while wearing these cable knit fleece-lined socks, of course!
7. White Pitcher: This white, vintage, decorative pitcher is so versatile. It can be used for serving liquids or as a vase, for example.
8. Firewood Scented Candle: The perfect winter fragrance to keep the home smelling like a calming fireplace.
9. Mug: This understated white Santa mug is the perfect gift for the homebody minimalist in your life!
10. White Ribbed Robe: This ribbed cotton robe even has a hood for extra coziness.
11. Shearling Boots: These camel-colored genuine shearling boots will keep your homebody's feet warm all winter long!
12. Hot Chocolate: Jacques Torres is famous for his NYC hot chocolate. Buy this powder to make it right from your own kitchen!
13. Faux Fur Blanket: Available in many colors, this classic faux fur blanket will add a touch of elegance to any homebody's sofa.
14. Winter Hat: The pom poof on this cable knit ivory winter hat is the perfect accessory for keeping warm at home.
15. Fleece Sweatshirt: This fleece sweatshirt comes in blush pink and ivory cream. It's perfect for cuddling and keeping cozy during the long cold winter.
16. Glamglow Charcoal Mask: This charcoal mask was formulated from the same products used to treat celebrities' skin in Hollywood. I can personally confirm that it works wonders on the skin!
17. Faux Fur Slipper: This dreamy slipper comes in cream and blush pink. It's like having a soft blanket wrapped around your feet as you walk through the house. The back is open to allow your feet to breathe.
Happy holidays!